SEC Commissioner Hester Peirce is optimistic about crypto regulation in 2021
The SEC Commissioner doesn't want the blockchain and cryptocurrency industry to obsess over regulations, but 'think about how the technology can be used.'
Welcome to Forkast Forecasts 2021. In this series, leaders, innovators and other visionaries in crypto and blockchain-related fields tell Forkast.News what they see as the most noteworthy industry developments over the past 12 months and their predictions for the new year.
Hester Peirce
Hester Peirce is a commissioner at the U.S. Securities and Exchange Commission (SEC). She is currently serving her second term as one of the SEC's five commissioners.
In a recent interview with Forkast.News, Peirce said "The U.S. government needs to provide more clarity and guideposts for crypto regulations — and better cross-agency coordination is needed."
"Enforcement actions can indeed provide clarity, but it's not the right way to do it from my perspective," she said. "We want to provide people clear guidelines ahead of time and then they can figure out how they can do something so that it is legal."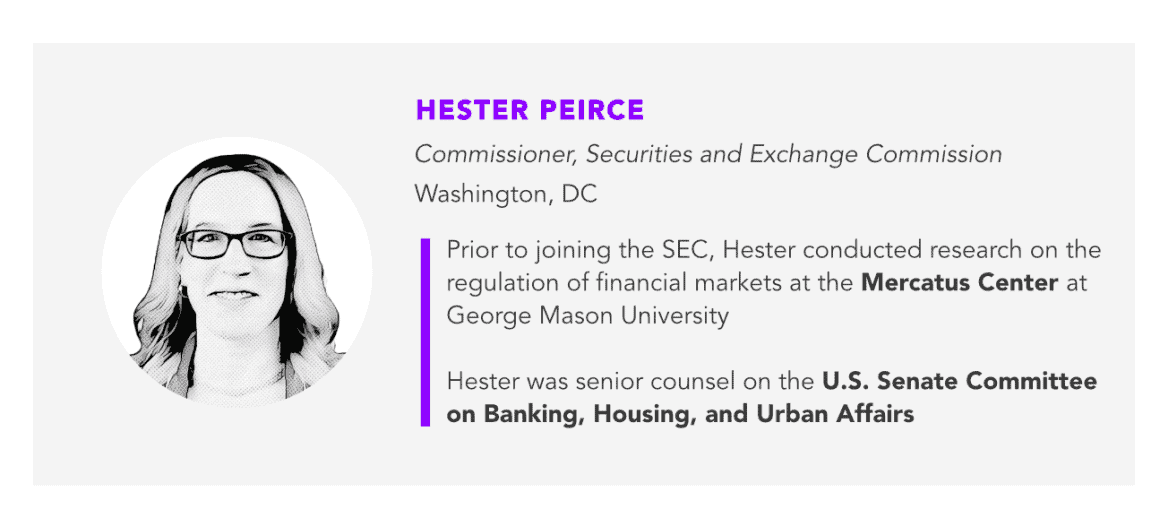 Peirce has been dubbed "Crypto Mom" by the cryptocurrency community due to her positive regulatory stance on digital assets. Previously, Peirce publicly dissented on the SEC's decision to reject a bitcoin exchange-traded fund application filed by Cameron and Tyler Winklevoss. Peirce has also proposed a three-year "safe harbor" period for token sales so as to allow crypto entrepreneurs to build their networks without fear of running afoul of securities laws.
Prior to joining the SEC, Peirce conducted research on the regulation of financial markets at the Mercatus Center at George Mason University.
See related article: SEC commissioner Hester Peirce says enforcement is never good way to provide clarity
Biggest developments in 2020
Regulation and Wyoming's issuance of crypto banking licences to crypto exchanges: "Developments in Wyoming were quite meaningful in the past year."
Predictions for 2021
Continued institutional interest in crypto: "I think we'll continue to see institutional interest. It will be interesting to see — both what happens with bitcoin, the interest in bitcoin — and then also we're seeing a lot of developments around ether. So that should be fun to watch as well."
On changes at the SEC: "I'm hopeful that we'll see some changes at the SEC in terms of predictions on what will happen. I'll just say, generally, that I think that we will make some strides. But again, that's probably informed by my optimism. But I hope that we'll make some progress there."
See related article: SEC 'Crypto Mom' Hester Peirce: US will lose out in crypto innovations if regulations remain in limbo
On what we can expect from her: "I think the industry can expect the need for me to hear from them, the need for them to interact with regulators. At the same time, I don't want them to spend all their time thinking about regulation. So, I'm going to leave with the note that you should continue to think about how the technology can be used in developing your projects."
On her hope for 2021: "I'm optimistic that 2021 will be a time for us to kind of recalibrate. And so, we have a lot of really great people in the agency and outside the agency trying to help us think through how to approach these issues. And so, it's a fresh start, a new year. And I'm hopeful that it will bring more clarity."
See related article: 'Crypto Mom' Hester Peirce calls for more regulatory coordination