Digital Asset's Yuval Rooz on China's Blockchain Service Network and CBDC interoperability
In this edition of Forkast Forecasts, Digital Asset's co-founder and CEO offers his views on central bank digital currencies and blockchain developments in Asia.
Welcome to Forkast Forecasts 2021. In this series, leaders, innovators and visionaries in blockchain-related fields tell Forkast.News what they see as the most noteworthy developments for this industry in 2020 and their predictions for the year ahead.
Yuval Rooz
Yuval Rooz is co-founder and CEO at Digital Asset Holdings, a New York-based enterprise blockchain company.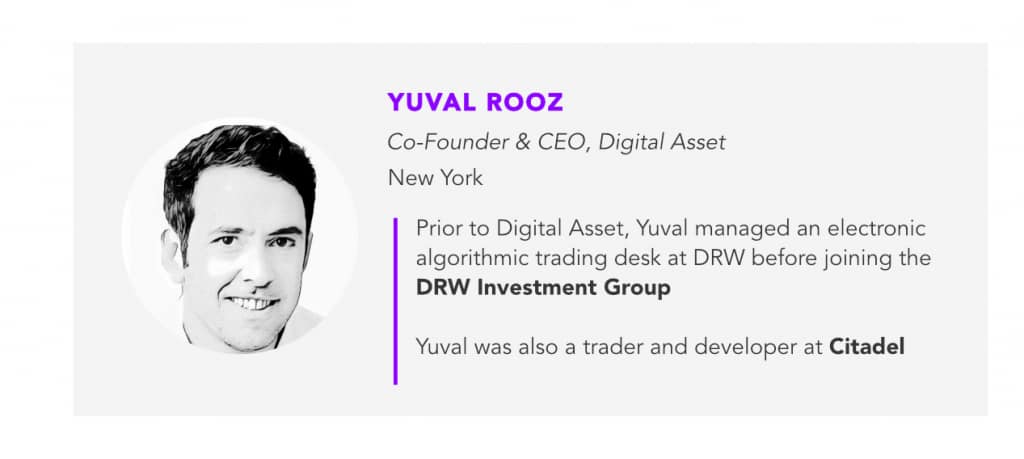 Digital Asset works with companies to create business applications through distributed ledger technology. Their smart-contract programming language, Digital Asset Modeling Language (DAML), aims to automate transactions as well as digitize agreements.
See related article: How to make blockchain development code-agnostic, with Digital Asset CEO Yuval Rooz
Prior to establishing Digital Asset, Rooz managed an algorithmic trading desk at DRW Trading and helped launch DRW Venture Capital. Rooz was also a trader and developer at Citadel.
Biggest developments in 2020
Covid's impact on companies that were unprepared for digitization and automation: "Nobody predicted what it would mean when everybody needs to work from home. Every company that had these manual processes really got hit hard. A lot of companies in financial services couldn't process their day-to-day transactions because they were heavily reliant on manual processes. So that was something that really surprised me, but also created a lot of opportunity for our industry."
See related article: ConsenSys, R3 and Digital Asset execs say enterprise blockchain is changing finance world
Advancement of central bank digital currencies (CBDCs): "It was really surprising how fast it picked off this year. What surprised me is this focus of 'let's just create another digital currency' rather than thinking about really the bigger picture that I think CBDCs can bring. So, for example, about interoperability, the fact that so many people are rushing just to issue currencies, but not focus about what happens a year from now, two years from now, when there's going to be other technologies that come to life and [a CBDC] cannot seamlessly interact with those systems."
Asia's growing blockchain industry: "We've done quite a lot of interesting and exciting things in Asia from a blockchain industry perspective. So we've done the issuance with the Singapore Exchange showing how this technology can improve the issuance of assets. We declared project sign-ups with the Hong Kong Stock Exchange, which we're super excited about improving the settlement efficiency between Hong Kong and China."
See related article: Hong Kong may be first global 'sandbox' for China's DCEP digital yuan
China's Blockchain Service Network (BSN): "There's not going to be one chain, there's going to be many of them and that's why they're called Blockchain Service Network. It's not just one blockchain, it's many blockchains… So that announcement from BSN that they're choosing DAML as the language to develop applications on BSN and later on will offer interoperability is super exciting."
See related article: How China is embracing blockchain, from DCEP to BSN
Predictions for 2021
CBDC from a western country: "We're going to see a central bank from a western country — not China which has already shown that they can — issue a central bank digital currency at limited capacity."
See related article: Q&A with CEOs of Digital Asset & R3: China, US aren't in tech arms race
Interoperability will become live: "I do think that interoperability is going to become live and people are going to use it and maybe we [at Digital Asset] have something to do with that."