Participants in the non-fungible tokens (NFTs) market were not prepared for the Securities and Exchange Commission's declaration of war against NFTs last week when charges were filed against Impact Theory. I predicted that traders would start exiting the market. This week brings some confirmation that my own theory was right, and strong evidence that the era of NFTs' beginning is at an end.
By nearly every metric the NFT market is down, though admittedly, not all are as extreme as I was expecting. The Forkast 500 NFT Index shows that the global NFT market lost 2.11% of its value since the SEC's charges were made public. That rate of decline was significantly less than the prior two weeks, which showed a 3.67% decline the week of Aug. 21, and 5.81% the week of Aug 14. It doesn't mean there weren't major losses on NFTs though.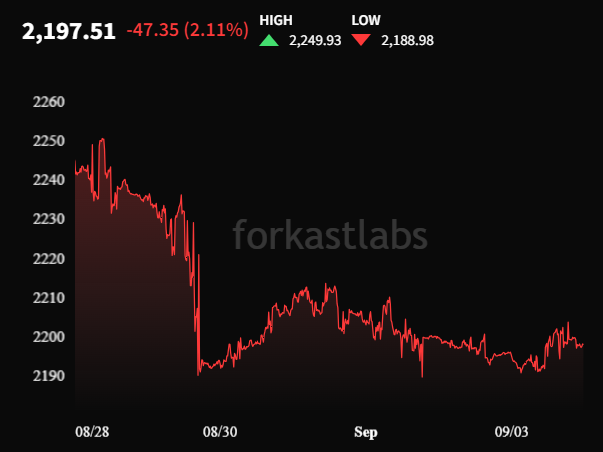 Across individual pricey NFTs, sellers took huge losses last week, like CryptoPunk #9842 which sold for a US$160,000 loss, Bored Ape #996 at a US$212,000 loss, Bored Ape #8262 at a US$300,000 loss and Bored Ape #2530 sold at a US$319,000 loss. Just a few sellers got hit hard, taking US$11.9 million in losses on their trades for the week. 
Other metrics seem to show a muted reaction, but still combined tell a more complete story; NFT traders are on their way out. In last week's NFTs On Deck, data showed double-digit changes in major categories, but this week, which captures the period after the SEC's announcement, only two of the seven reflect that type of significant change. 

Wash trading fell to US$29.8 million and unique sellers dropped to 216,723, both representing the lowest we've seen in 2023. Weekly transactions also fell 16.13% from last week. and dropping to the fourth lowest this year. Traders' lack of participation tanked global sales to a 117-week low, with just US$72.5 million in sales.
August's final numbers reflect two parts of a fundamental change to the NFT market, one that represents the next chapter of NFTs with high transactions and lower sales. Global transactions hit an all-time high for the NFT market, with over 11 million total transactions. Sales, however, are down tremendously. The month finished with US$395 million in sales, a new 30-month low, and the second lowest we've seen since January 2021's US$100 million in sales. 
Sales is the metric that resonates with the public, and August's shocking new low in the modern NFT market gives us the signal we've been waiting for. The first chapter of NFTs has ended, and we're now writing chapter two. It's a less exciting part of the story, but this is where the world-building happens, setting up a payoff down the road that you'll be glad you stuck around for. 
Peep the charts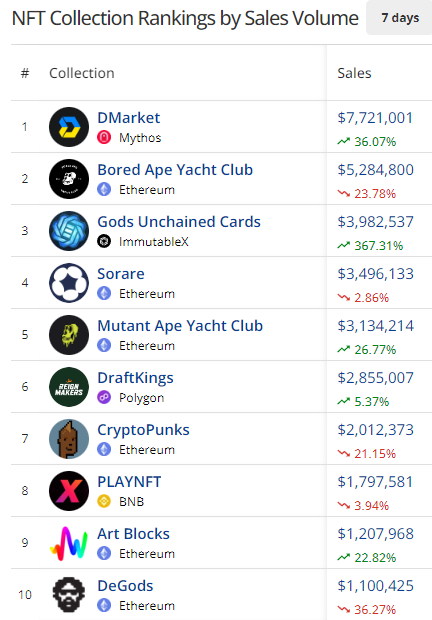 DMarket is averaging over US$1 million in sales daily now, a three-month high, helping it flip BAYC this week for the first spot.
Bored Apes holders realized some massive losses this week, with multiple BAYC NFTs selling for six-figure losses.
Gods Unchained came roaring back into the top ten, seemingly taking all of the volume from ImmutableX's other hot NFT collection, Cross the Ages, which this week only saw US$209,000 in sales.
Mutant Ape Yacht Club's Mega Zombie was the top collectible NFT sale this week, selling for US$809,000 (500 ETH) to Machi Big Brother.
DraftKings NFL and PGA pack sales along with their free NFL Reignmakers football pack promo helped the collection claim the fifth spot behind US$2.8 million in sales.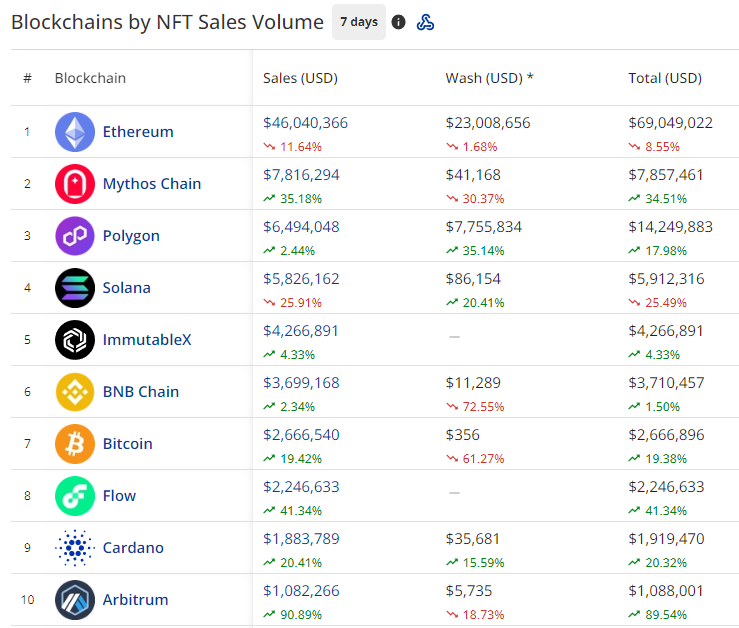 Ethereum's US$5.4 million in total sales beats out the next nine blockchains combined in the rankings, with over US$1 million in extra padding. No matter how much other chains have grown, Ethereum is still the king.
Mythos Chain's DMarket is averaging US$1.2 million in sales not only helped push Mythos to the two spot, it highlighted that a single collection can outsell entire blockchain ecosystems all on its own. 
Polygon is seeing 43% of its sales come from the red hot DraftKings collection again helping Polygon secure the third spot in the blockchain rankings.
Average sales on Solana have fallen to an all-time low for a seven-day period, down to US$25.70.
ImmutableX is looking impressive at five, but over 93% of the blockchain's NFT sales come from the Gods Unchained game that lives on the Epic Games store.