What a week in non-fungible tokens! No, you didn't miss a major happening or a hot mint, but there's actually something to be excited about. The market and news are still very slow, with little trading volume, and tumbling sales. What's significant in this week's market is a smorgasbord of NFT offerings with actual utility that's often overshadowed during hype cycles.
Counter-Strike: Go skins from DMarket, gaming NFT cards from Gods Unchained, Sotheby's new generative art platform launch, fantasy sports NFTs from Sorare, and an innovative Watch2Earn program backed by NFTs all showcase how diverse NFTs have become, and how much growth the industry has witnessed in just a few years. These NFTs span blockchains, with Mythos Chain, ImmutableX, Ethereum, and Binance, and importantly show how NFTs have large bases of collectors outside of Ethereum.
NFTs are growing, and while it's hard to see in the moment when we're sometimes so fixated on prices, I implore you to zoom out and see how far NFTs have come. It's an exciting time for NFTs and one that's worth your attention, especially in this major bear market.
The market itself is struggling as you would imagine. The CyberKongz Genkai mint couldn't sell out 9,000 NFTs on Ethereum, so the mint instead was slashed to 3,000. The remaining NFTs were given as free bonus NFTs to anyone who purchased a Genkai. The Ronin side however sold out of their 3,000 NFTs in under an hour, showing that there are pockets of the ecosystem that still are hungry to collect
Bitcoin's Ordinals are having a hard time finding buyers in this market, and can't even crack the top five in the blockchain rankings. The blockchain itself, once firmly in the second spot in the rankings, now has fallen to seventh with just US$4.2 million in secondary sales for the week. 
The limitations of Bitcoin have become a hindrance to growth. Without utility or high-end art, collectors have no little reason to trade on Bitcoin when they could be trading $BTC itself. However, ordinals saw a record-high 442,000 ordinals minted in a single day recently. Even if traders aren't willing to collect ordinals on secondary, they're still very active in the ecosystem itself.
Total sales for July reached just US$493 million, the lowest since June 2021 when global sales were US$404 million. While the market was down from last week, it remained close to last week's totals, maybe reflecting some incoming stability. Expect more of the same action for the foreseeable future, though the space can pivot at any moment on news or hype.

Let's take a look at what was moving the markets this week.
Peep the Charts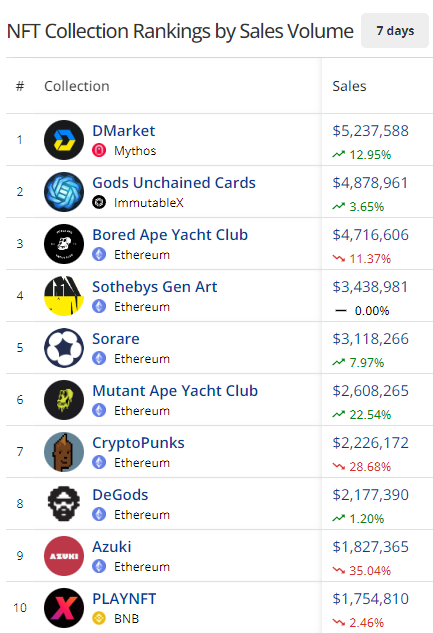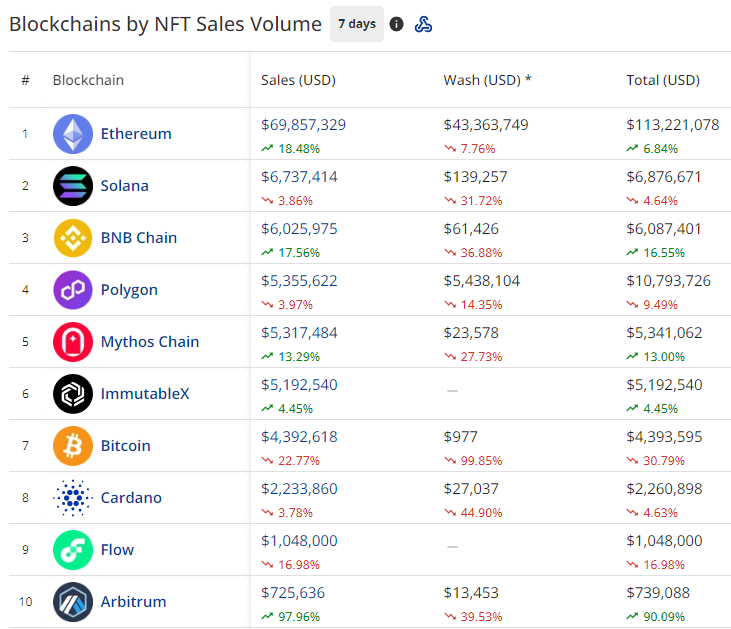 Noteworthy Happenings
CryptoDickButts, one of the ultimate meme NFT collections to come from 2021 will be turning the project over to the biggest holder of their new series of four NFTs. The winner will get control over the official Twitter, Discord, and multi-signature wallet.
MemeWhales did $1.1m in trading volume behind their trading bot that collectors can purchase access to via NFT.
AIWorld Nodes on Binance allows collectors to purchase nodes that will power the AI platforms ecosystem. Holders can expect rewards through the platform's currency, and more as they seemingly become validators.
PROOF announced Grails series IV, which will see a new collection of art arrive from 20 as of yet unnamed artists. Previous artists include Deafbeef, Tyler Hobbs, Claire Silver, Matt Kane, Zancan, and other legends of NFT art. Expect this to be a major event that will use the Art Blocks Engine for the mint.
The Palm blockchain along with their big brand NFTs like MLB, Netflix, NASCAR, and more are joining Polygon's new 2.0 ecosystem.