Disclaimer: I own multiple CyberKongz NFTs, and I have family who work on the CyberKongz leadership team. I'm writing about this topic as an NFT market analyst who sees a major shift in NFTs coming as collections merge, partnerships are formed, and ultimately a more streamlined, more robust NFT ecosystem emerges. Sky Mavis' Axie Infinity is the #1 all-time NFT collection, having traded over US$4.2 billion in secondary sales. The CyberKongz genesis collection ranks 26 all-time, and their CyberKongz VX ranks 52.  Combined, the CyberKongz collections have traded for over US$300 million on secondary markets.
---
A one-two punch is heading for the NFT ecosystem this week when the CyberKongz return to the blockchain with their first new NFT collection in almost two years. Don't expect everyone to throw bananas at them though, because just as quickly as these apes swing through, they're taking their NFTs to a new home next to Axie Infinity on the Ronin blockchain.
Sky Mavis now has their first PFP collection and first third party NFT mint coming this week following their announcement that the CyberKongz Genkai collection will be partially minting on Ronin. Later this year the CyberKongz existing Play and Kollect game and assets, currently living on a Polygon, will be bridged to Ronin, where hopefully we'll see a more fleshed out game be assembled.
The CyberKongz Genkai collection will face a major test in a market whose traders may not have much ETH left to spend following Azuki's US$37 million NFT sale in June. Initial feedback to Genkai's 0.25 ETH mint price has been mostly negative, and while that's to be expected given today's market, just a few weeks ago, many in the space bought Azuki's Elementals NFTs for 2 ETH per NFT. That burn probably still stings as the NFT market has seen a steep decline since.
1️⃣ News:@CyberKongz's new project, "Genkai" will launch soon.

What do you think about the mint price of 0.25 ETH?

(2/22)

— wale.swoosh 🐳 (@waleswoosh) July 22, 2023
By most metrics the NFT space continues to find new lows, and now Genkai's mint may bring another hit to traders' liquidity. Global sales continue to fall as we head into the slow part of the year, and without profits to be found on secondary, one has to ask where traders will find funds to buy into a new collection. 

While it's worth watching the market's reaction to a new pricey mint, most potential buyers of CyberKongz are probably not expecting a profit on secondary immediately. In many ways this week's mint will be a test of how many true collectors there are in NFTs as opposed to traders looking to flip for profits. Instead, my focus is on Sky Mavis, the developers behind Axie Infinity and Ronin.
Tipping their hand with today's announcement of their partnership with CyberKongz, my spidey senses are telling me that this is just the start of established NFT projects coming to Ronin. There are rumors from around the NFT scene that more projects are looking to merge, and while none reference Ronin, (some seem to be attached to Arbitrum and Pixel Vault's GG protocol), all of these point to a new period of consolidation for NFTs. For some it's to survive, but for the Sky Mavis and the CyberKongz, it's to grow beyond what may be possible on their own.
Sky Mavis has the reach to help drive NFT adoption across the globe, especially in Asia, where gamers from the Philippines once propelled Axie Infinity to mainstream news. It's exactly this audience that Genkai was designed for. Consider recent news from Yuga Labs that Ape Fest 2023 will be hosted in Hong Kong, and you'll get an idea of how well timed the Sky Mavis and CyberKongz partnership may be. At the very least, it shows two teams with their finger on the pulse of the NFT market, and track records of building some of the NFT ecosystem's most highly regarded products.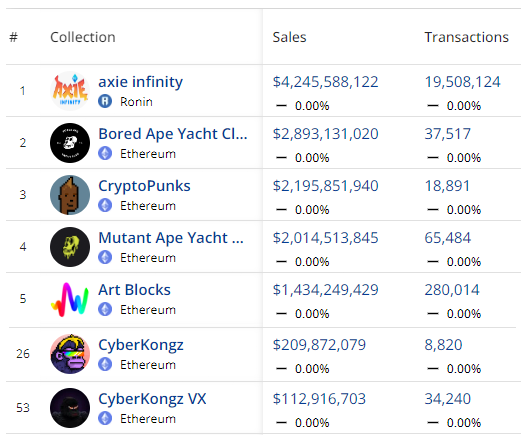 This is a pivotal time for NFTs where many projects are fighting for survival in a market that offers little profit and no margin for errors. Perhaps now is the time for them to lean into some of NFTs strongest use cases, their promise of interoperability and their provenance.
DeGods and y00ts moving from Solana to Ethereum and Polygon, Gods Unchained from Ethereum to Immutable X, and even Axie Infinity itself moving from Ethereum to Ronin, and now the CyberKongz move all show a shift towards scalability and consolidation. While we won't see the results of these moves for years to come, they will serve as the building blocks for a more complete foundation for Web3. It is a foundation that will help NFTs realize their true potential as interoperable digital assets that make up a more complete Web3. This is the iteration of NFTs that we've all been waiting for, and it's only this version that has the chance to bring in the masses.
Peep the Charts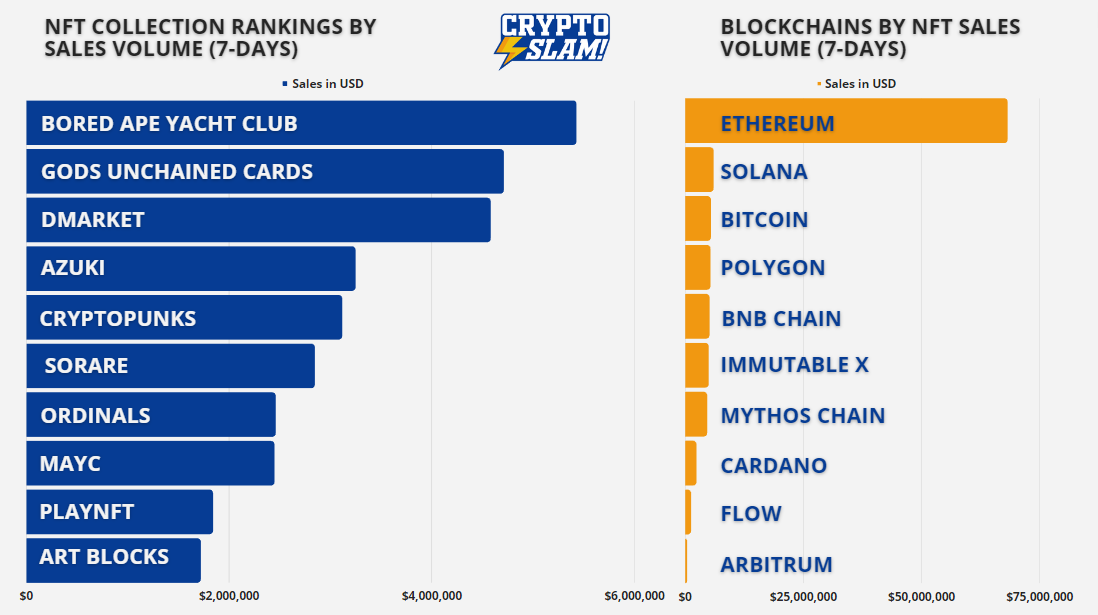 Bored Ape Yacht Club is king this week with over US$5.4 million in volume behind big sales like the US$311,000 sale of BAYC #7403.
Gods Unchained traded over US$4.7 million on secondary markets, driven by appeal from the Epic Game Store.
DMarket's US$4.5 million in sales also shows that mainstream gaming skins are a sustainable NFT use case. Last week Dr. Disrepsect pulled a US$16,000 knife from a loot box.
CryptoPunks are back in the top ten with US$3.1 million in sales behind multiple hoody punk sales for more than US$300,000 each.
PLAYNFT's reward platform for YouTube viewers gives Binance a top 10 presence while doing US$1.8 million in sales.
After a down week last week, buyers across all of the top 10 blockchains have seen an increase this week. 
Ethereum sales volume is down over 9% but still is the top-ranked blockchain by NFT sales volume with US$68.2 million in sales.
Solana has been hot for weeks, trading over US$5.9 million on secondary.
Bitcoin, once talked about as the chain to challenge Ethereum's sales volume, is struggling to stay in the top 5, with US$5.4 million in sales volume.
Polygon and BNB stay in the top five with US$5.3 million and US$5.1 million in trading volume.
Noteworthy Happenings