The cryptocurrency market capitalization crossed the US$2.7 trillion mark this week, buoyed by a rally in Bitcoin prices to a new all-time high, following comments from U.S. Federal Reserve Chairman Jerome Powell that he had no intention to ban cryptocurrencies and the approval of a Bitcoin futures ETF in the United States.
But the rapid rise of Bitcoin, Ethereum and other cryptocurrencies has also left regulators grappling with how to establish rules that would protect investors and guard against anti-money laundering (AML) while not choking off a growing industry or driving crypto users underground.
Singapore, one of the biggest financial and fintech centers in the world, is taking what many consider a forward-thinking approach to regulating cryptocurrencies by enacting laws that lay down clear rules for how crypto companies should and should not act, and a licensing process that guides companies to compliance.
Under the legal and policy framework spelled out in Singapore's 2019 Payment Services Act, the Monetary Authority of Singapore (MAS) — the country's financial regulator — has now granted licenses to three business entities — FOMO Pay, DBS Vickers and Independent Reserve — to provide digital payment token services.
See related article: Singapore grants FOMO Pay the city-state's first crypto license
FOMO Pay, a Singapore-based fintech company, obtained its licenses on Sept. 1 — the first such approval out of some 170 applicants in the city-state that is rapidly becoming a global crypto hub. Its licenses will enable the company to provide regulated activities such as money transfer services domestically and abroad as well as digital payment token (DPT) service, which applies to transactions involving cryptocurrencies.
What is it about FOMO Pay that switched on the regulators' green light while over 165 other crypto companies in Singapore are still waiting for approval? Forkast.News interviewed Louis Liu, FOMO Pay's CEO and founder, to find out.
FOMO Pay, which was founded in 2015, is a payments aggregator gateway for merchants. It was one of the founding members of the SGQR Taskforce, a Singapore government-led initiative to develop a common QR code standard for e-payments. The company currently serves over 10,000 merchants and financial institutions with one-stop digital payment services, including QR code payment, e-wallets, credit cards, and buy-now-pay-later programs.
License in hand, the company — which also operates in Malaysia and Hong Kong — is now planning to launch digital payment token services starting with Bitcoin and Ethereum in the near future. The company is also positioning itself to offer central bank digital currencies (CBDCs) as a payment mode to its merchant base as well as investing in research and development in 5G, which could radically transform how money and data will flow.
"Interoperability between countries will definitely be the next megatrend regardless of whether it is through CBDC, or e-wallet, or QR," Liu said.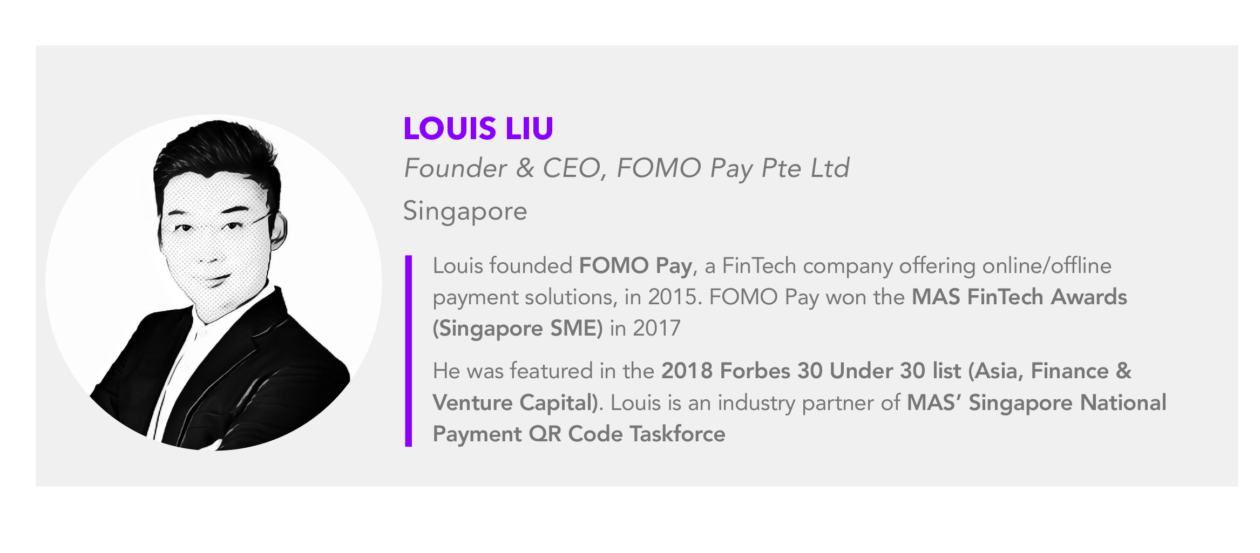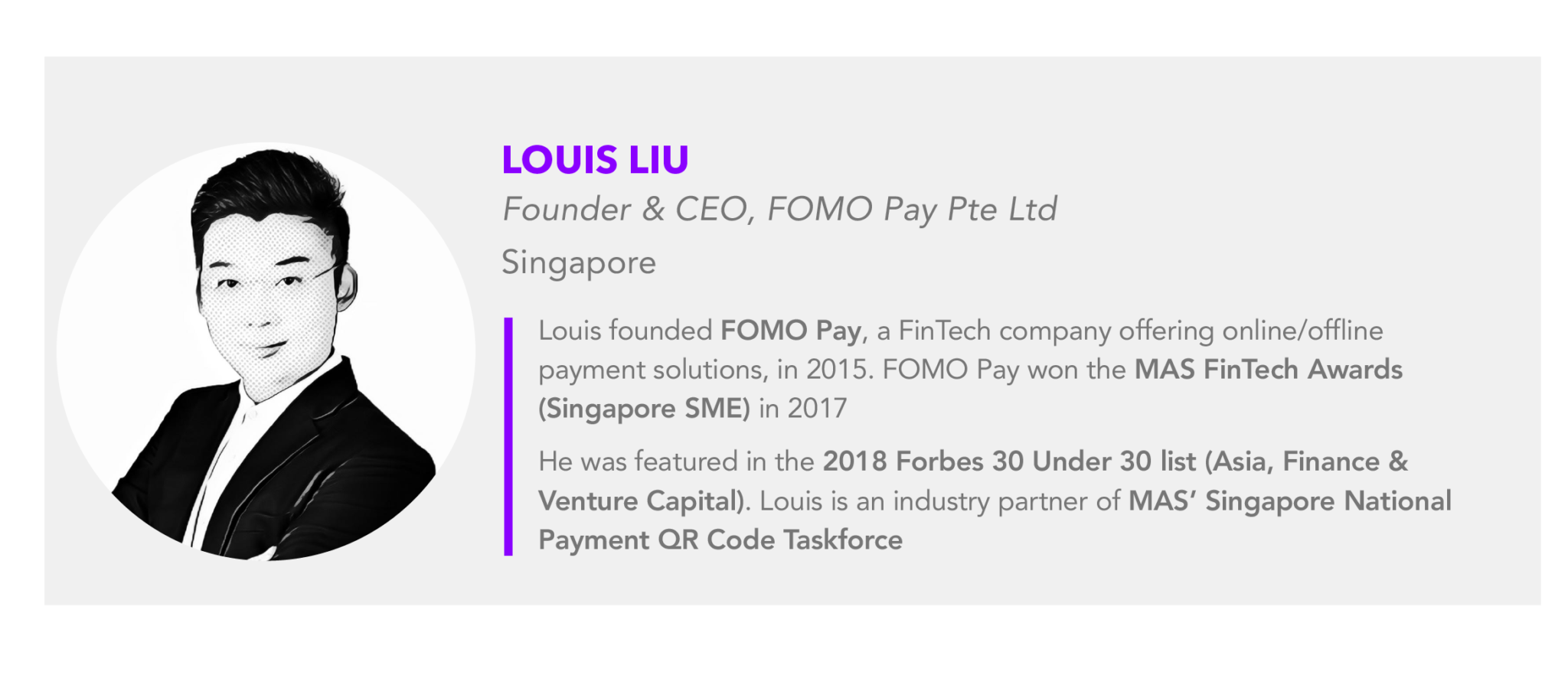 The following Forkast.News interview with Liu has been edited and condensed.
What does the license mean for FOMO Pay and the payments industry?
FOMO Pay has been working on providing a one-stop digital payment solution to corporates, small and medium enterprises (SMEs) and financial institutions since 2015 when the company was established. We've had clients come to us in recent years asking about using cryptocurrency as a payment mode and that's when we first started looking into it. The more we looked into it, the more market demand we saw, and we were one of the first applicants when MAS introduced the digital payment token license in 2020 under the new Payment Services Act. It's a new payment method different from traditional fiat payment and our compliance, KYC, operations and IT teams have put a lot of time and effort into enhancing our system to show that we are ready to support digital payment tokens.
We currently have a wide merchant base and will be able to offer crypto or CBDC as a payment mode under this license to merchants. It will be no different compared to consumers using e-wallets or credit cards to make a payment to a merchant. After the solution is rolled out, consumers will be able to use their own crypto as a new digital payment method to make a payment at our merchants' shop or on their website.
How do you see central bank digital currencies (CBDCs) being used for payments?
According to a survey, over 80% of central banks are now actively exploring or developing CBDCs. China is taking the lead — they have done retail CBDC trials and are planning to roll out on a bigger scale by 2022. It's still more for domestic use, but cross-border will definitely be one of the potential use cases. I believe Singapore could be one of the first or pioneer partners for the e-CNY cross-border use case experiment.
In Singapore, there was a five-year project called Project Ubin, which was initiated by the central bank to explore blockchain technology for wholesale banking settlement. Project Ubin is now completed and has evolved into two projects — one called Project Dunbar, a multiple CBDC project for wholesale cross-border payments, and the other called Partior, a blockchain-based platform for payments.
There are more and more countries working on the cross-border use case for CBDCs. Singapore, Malaysia, Australia and South Africa are collaborating on a multi-CBDC project similar to what China, Hong Kong, Thailand and the UAE are doing. Singapore is definitely watching this area closely and there are many projects ongoing.
FOMO Pay is actively involved in a few CBDC projects, not only in Singapore. For the past six years, FOMO Pay has been providing QR code and cashless payments to merchants. We deal with merchants directly, and if the CBDC is distributed through intermediaries such as commercial banks or payment companies, FOMO Pay could technically be a good distributor of the CBDC to help the merchant receive the money — which is a CBDC — from the end customer and do the processing etc. We have a good distribution value in this model. But at the end of the day, it is up to the central banks to decide the model that they wish to take.
See related article: BIS: cooperation essential for CBDCs to improve cross-border payments
What are your thoughts on digital payments and regulations in Singapore? The application process for FOMO Pay took close to two years. What was going on behind the scenes with MAS?
The digital payments industry landscape has been evolving very quickly — from e-wallets, to digital banks, to buy now-pay later, and now, the cryptocurrencies.
Singapore is one of the few jurisdictions right now that has clear rules and regulations around digital payment tokens, including cryptocurrency. That's why we see many companies coming to Singapore to set up an office and are in the process of applying for the license.
The regulator has taken a practical risk-based approach to clearly break down the activities that need to be regulated and compliance is a top priority. From the regulator's perspective, you need to demonstrate that your solutions are trustworthy, compliant and be able to identify the real risk associated with each transaction. AML, KYC and the Financial Action Task Force's travel rule are all very important. But the [Monetary Authority of Singapore] will guide you. They are open to discussion and were like a partner or collaborator.
It was definitely a long process that took close to two years. By getting this license, it means regulators recognize your program, your policies, your compliance, and this is really a big recognition for the entire team for what we're doing.
See related article: How Singapore is emerging as a safe harbor for the Chinese crypto industry exodus