Tesla CEO Elon Musk recently announced on Twitter that "You can now buy a Tesla with Bitcoin." One Bitcoin — that's the prize of the world's first Bitcoin sailing competition — the Liberty Bitcoin Cup — that is coming to Hong Kong in early 2022.
Youth sailing teams will compete in three qualifying regattas around the world before a final showdown in Hong Kong, where the final five will race for the first prize of one Bitcoin — valued at about US$57,500 as of publishing time — the largest prize for any junior sporting competition worldwide, according to event organizers.
In the inaugural race held in Gaeta, Italy this month, Team Dutch Sail – Janssen de Jong took the top spot on the podium ahead of Italy's Young Azzurra, followed by the Royal Hong Kong Yacht Club's RHKYC Team Agiplast, according to a news release.
"It was impressive to see the next generation of World Class sailors competing fiercely to win a place in the finals in Hong Kong. Team DutchSail – Janssen de Jong did incredibly well and is the first team to secure its place in the finals in the race to win the Bitcoin," said Martin Baumann from CMCC Global, the company behind the Liberty Bitcoin Fund, the race's title sponsor.
⛵️ 9 world class sailing teams

🗺 3 qualifying regattas

💰 1 Bitcoin for the winner

The Liberty Bitcoin Cup is coming to Hong Kong as the world's first #Bitcoin sailing competition!#RaceForTheCoin pic.twitter.com/R7mhjEbyNz

— Liberty Bitcoin Cup (@LibertyBTCcup) March 15, 2021
The Liberty Bitcoin Cup was initiated in 2020 by the Royal Hong Kong Yacht Club, Rune Jacobsen, a former Olympic sailor and managing director and senior partner at the Boston Consulting Group in Hong Kong; Max Dubreuil, partner at plastic compounding company Agiplast, and CMCC Global, a venture capital fund focused on blockchain technology. The competition aims to be a premier global youth event for foil sailing, and make world-class youth sailing accessible and affordable for international teams.
"The Liberty Bitcoin Cup is an exciting and brand new three-series competition to be sailed on amazing foiling boats, the Persico69F and, for the first time ever in the world, sailors will be competing for a Bitcoin," Denis Martinet, commodore of the Royal Hong Kong Yacht Club, told Forkast.News in an email.
The youth teams, which are presented by a yacht club representing a country, must consist of three or four sailors on a team that is under 25 years old, with at least one or more girl or young woman on board. "Being here on foiling boats on an event sponsored by Bitcoin fund which is a disruptive innovation, foiling is disruptive innovation, it's a bit of a revolution really," said Nicolai Jacobsen, a crew member of RHKYC Team Agiplast in a video.
CMCC Global's Baumann told Forkast.News in an interview that the idea for the Liberty Bitcoin Cup came up after the youth America's Cup was canceled due to the Covid-19 pandemic. "Some of these upcoming world-class sailors took a year off to train for the Cup, hired professional trainers and invested a lot of money, so we saw the need to do something for these ambitious athletes," he said. "We saw the opportunity to provide a different type of event."
"With the unfortunate cancellation of the Youth America's Cup, in which we had entered our own team, RHKYC Team Agiplast, it was clear that we needed to keep up the momentum and through a lot of energy from a lot of people, we decided to create a new event," Martinet said. "Now thanks to our new similarly forward-thinking title sponsor, the dream is now a reality."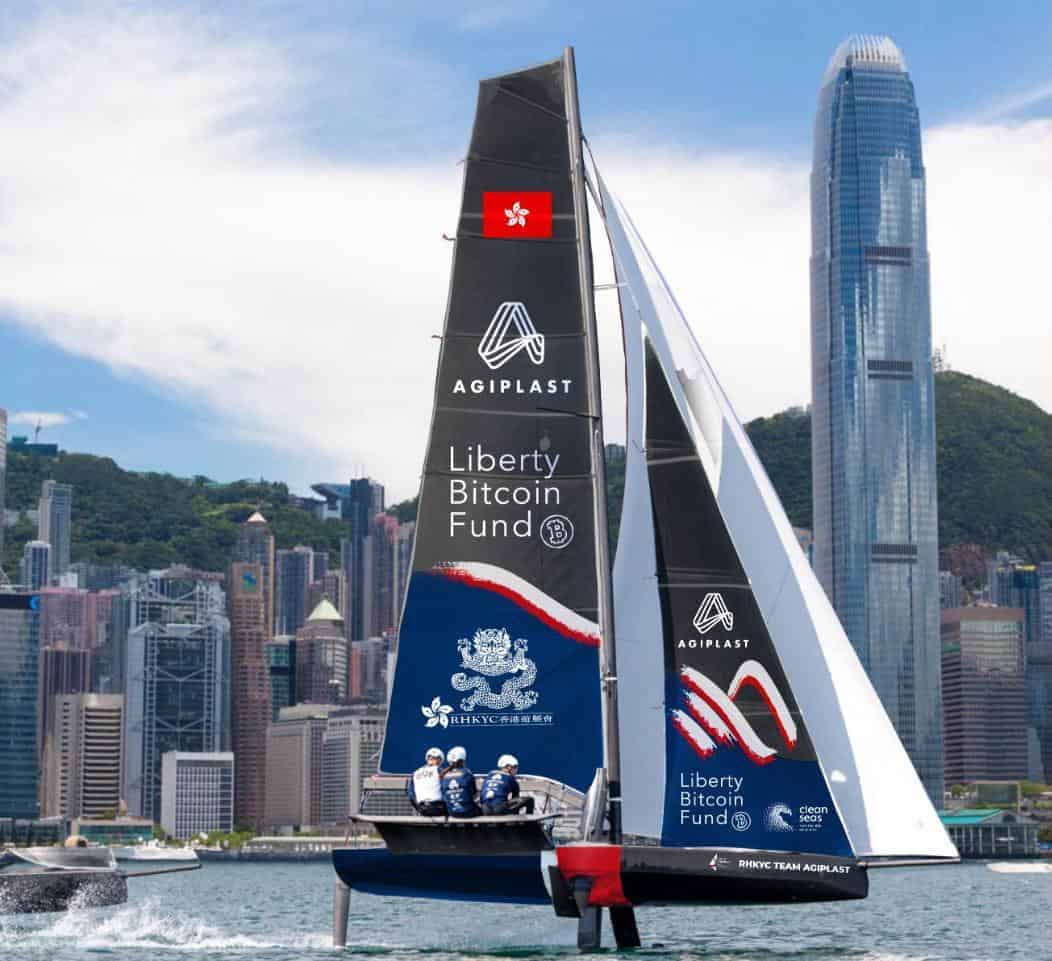 Other than the America's Cup, many of the most prestigious competitive sailing events are Gold Cups, Baumann said. "It resonated well with me to have this next generation of world-class sailors competing on the next generation of high technology sailboats, now also being powered by the next generation of gold — Bitcoin," said Baumann, who is an avid sailor.
"I figured there is an opportunity to create this Cup with the financial power of the crypto world to help young adults finance sailing and make it accessible. Having Bitcoin as a prize just came naturally. There are several qualifying events and it would be nice to see how the Bitcoin price evolves over time, while the sailors are competing," Baumann added.
Baumann does not see the Cup as a one-off sailing event. "Our goal is to build a next generation America's Cup for the youth. And this should become an annual event. I want to build a Cup that will be hosted for the next 20 years, and each year with one full Bitcoin as a reward, so this will be an attractive and desirable prize at some point," Baumann said. "It is probably the highest prize money for a youth event globally."
"I'm talking to some of the largest crypto companies in the world, some very large exchanges who are interested to sponsor teams, just like the America's Cup where you have team Prada competing against team Oracle. And here it could be Team Binance competing in the finals against Team Gemini," Baumann said.
The location and details of the second regatta will be announced soon. The winning team from Gaeta, and the winning team from the second event in Europe in August 2021 will secure their spots to compete in the final race in Hong Kong for the grand prize of one Bitcoin.
"With the rise in popularity of Bitcoin and its price rising, the reward for winning this event gets bigger and bigger," said Calum Iain Gregor, skipper of RHKYC Team Agiplast in a video. "The prize money of course it's a great incentive to push you harder on the racecourse."