A rising tide or a sinking ship?
Last week, OpenSea announced that they will stop enforcing royalties beginning next year. It's a polarizing decision that is many things at the same time — bold, narrow-visioned, and above all else, probably inevitable. One thing is for sure, it's market-impacting.
You can't call OpenSea's decision right or wrong, because it's both depending on who you ask. Tech purists may argue that digital ownership means we own our assets and don't want to be told what we must do with them. Creators on the other hand will say that you'll have no non-fungible tokens (NFTs) if there's no incentive for them to create them. They're both right.
The full impact of their new policy hasn't come close to being realized yet. Yuga Labs is now making plans to prevent their NFTs from being traded on OpenSea entirely, while Mark Cuban called their decision "a HUGE mistake".

Already the value of NFTs has plummeted by almost 6%, with nearly all of it representing a reaction to OpenSea.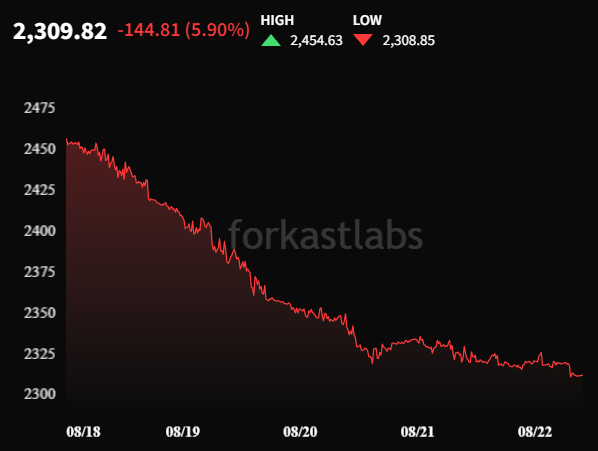 Last week's average sales prices took a huge hit after the announcement, falling to just US$26.29, the lowest since NFTs average sale price of US$24.98 the week of Aug. 17, 2020. Value is evaporating and traders know it. Sellers' losses fell to US$9.5 million, and it seems that they're increasingly looking to exit positions with whatever returns they can get.

Bored Ape Yacht Club #8585 is a perfect example of the hits traders are taking to their investments, which sold over the weekend for US$255,000 (153 ETH), a huge loss from its last sale of US$1.03 million (777 ETH).
While there's no denying that value is sinking, more emphasis needs to be put on the parts of the NFT market that are growing. Last week's 3,701,871 total transactions is an all-time high for NFTs, and we reached that milestone with 36% fewer sellers and 67% buyers than the previous high during the week of Feb. 14, 2022. Traders who are here are more engaged than ever, and the infrastructure that has been built around that action is designed to scale. That's good because we're going to need it for the next run.
So back to the opening question "is the NFT tide rising or is the ship sinking?". Like the royalty dilemma, it's both at the same time. Your answer depends on one of two things, were you here for profits alone, or were you here to witness technical innovation and a cultural phenomenon? Now you have your answer.
Peep the charts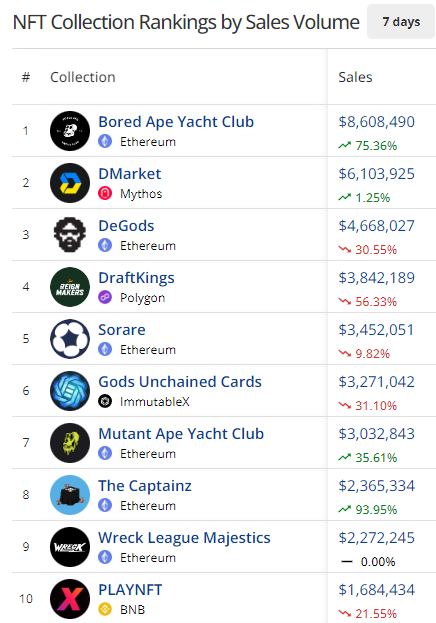 Bored Apes volume has them on top of the Collection Rankings, but it's largely driven by big sales at huge losses. Average daily sales prices in the BAYC collection have fallen to as low as US$38,000 on Aug. 21.
"The Four" DMarket, DraftKings, Gods Unchained, and Sorare are some of the primary drivers of the new all-time high transactions in the NFT market with their more than 750,000+ combined transactions.
Wreck League has over US$3.5 million in secondary sales across its two collections. An impressive feat considering that the primary sale only sold one-third of its supply.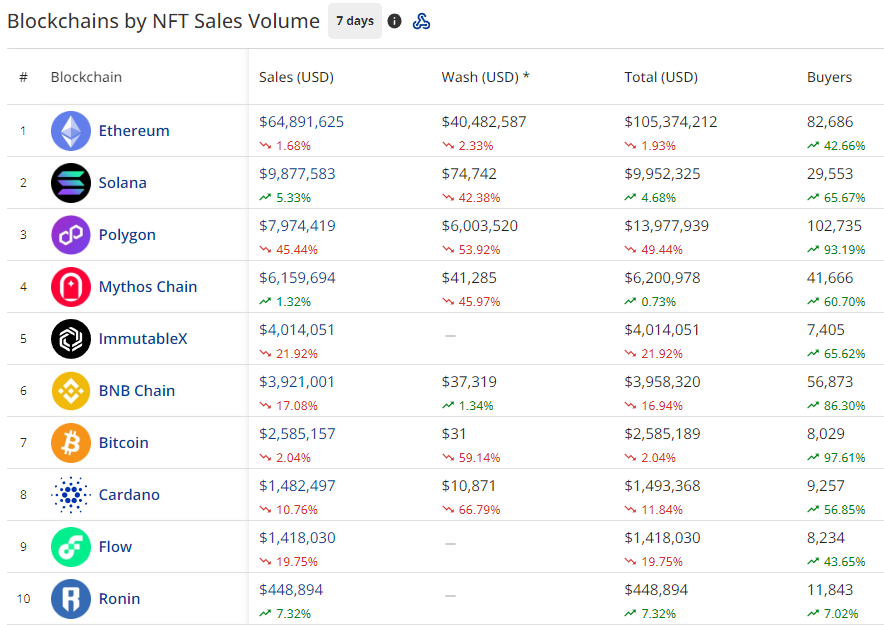 Noteworthy Happenings
Sam Spratt launched an interactive game and art experience called The Monument Game yesterday. The collections' 1/1 NFT currently has a 95 ETH bid, and the 256-edition NFT for entry into the game sold out in just 2 minutes, priced at 3.3 ETH.
Milady doesn't seem to care that we're in a bear market or that other projects' prices are tumbling. Their average sales price of US$7,000 to US$8,000 has propelled them to be the third most expensive 10k edition NFT on any given day now, leapfrogging DeGods.
The Heist on Solana launched a new collection of NFTs and kicked off their gaming ecosystem with a new token called $COCO. The collection has over US$1.5 million in secondary sales in the past seven days.
Slimesunday's The Great Purge event is allowing the public to burn NFTs on Base or Ethereum to receive one of his open edition NFTs. Over 1k editions of the Ethereum version have been minted so far, along with over 2k versions of the Base version.
Opepen is on a tear, dropping three new opt-in opportunities for holders to claim new art following their red-hot Pudgy Penguins collaboration.