Gaming non-fungible tokens are getting ready to take center stage this year with the arrival of one of the biggest cross-project games we've seen yet, Wreck League. Just announced last week, the Animoca-backed player-versus-player fighter will feature custom NFT-assembled mechs battling it out for a spot on the leaderboard for on-chain rewards. 
There may be some profits here for degens, with tons of mech parts to trade and even the ability to sell your completed mech skins. Throw in the fact that Yuga Labs will be officially partnered with Wreck League in season one with Bored Ape Yacht Club and Koda-themed mechs, and it seems that we're looking at a real juggernaut of an NFT game.
The NFT ecosystem has never been more ready for play-to-earn gaming, even if the space hopes to move away from that term. Traders have been conditioned to expect massive gains from almost any NFT you would mint for years. Today's NFT ecosystem couldn't be more the opposite, and a tremendously down market has instead conditioned traders for lower profit or maybe even no expectations for gains.
Be honest, anon, when was the last time you saw some profits? Sellers have seen only a small handful of days in the profit since March, and we're now on steep monthly decline since May. 
If traders can't find profits in established NFT projects, or new mints, they will need to find a new type of NFT to turn their attention to. Gaming NFTs, you're on deck.
Affordable NFTs are the future of NFTs, and it's not just DMarket and Gods Unchained giving us a glimpse of this new meta. DraftKings and Sorare, with their fantasy sports NFTs, show that with high volume and low priced NFTs are the sweet spot for NFTs. Give us 10 cents here, a few dollars there, and occasionally a home run, and we'll be hooked for the long haul. Those small sales are nothing to snicker at too. DMarket's gaming skins to date have traded for over US$171 million, NFL Rivals over US$772,000, Gods Unchained over US$212 million, and Sorare over US$669 million.
Wreck League, Land of Valeria, Pixel Vault's Battle Plan!, and Parallel are all blockchain games that have been on my radar, some for years while they've been patiently building. All of them are preparing for prime time, and the market is maybe perfectly primed to accept them. As always, do your own research, and learn as much as possible so you're set up to win. 
Peep the charts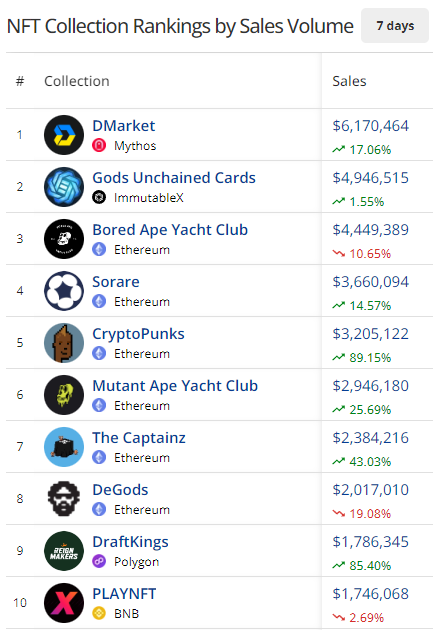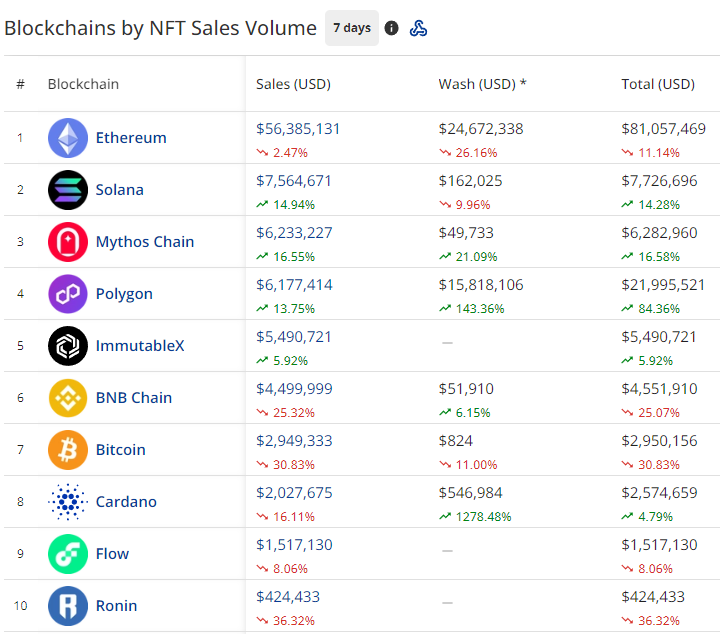 Noteworthy Happenings