Israel's National Bureau for Counter Terror Financing has issued a seizure order against 84 cryptocurrency addresses associated with Palestinian resistance group Hamas as it looks to confiscate holdings of Bitcoin, Tether, Dogecoin and other cryptos.
Fast facts
"This action comes after a sizable uptick in cryptocurrency donations to Hamas in May following increased fighting between the group and Israeli forces," wrote Chainalysis, a blockchain data analysis provider. "Notably, this is the first terrorism financing-related cryptocurrency seizure to include such a wide variety of cryptocurrencies, as NBCTF seized not just Bitcoin, but also Ether, XRP, Tether, and others, following an investigation focused largely on analysis of [open-source intelligence], including social media pots, as well as blockchain data."
Elliptic, another blockchain data analytics provider, wrote in a blog post that the addresses had collectively received more than US$7.7 million in cryptocurrencies, and that many of the addresses were associated with Hamas's military wing, the Al-Qassam Brigades. The addresses were used in a fundraising campaign that raised more than US$100,000 in Bitcoin between January 2019 and May 2021, according to Elliptic.
"The seizure order indicates that Hamas is now using a range of crypto assets — including Dogecoin, Tether and Ether," Elliptic said. A chart created by Elliptic and reproduced below shows the cryptocurrencies received by the addresses listed in the seizure order.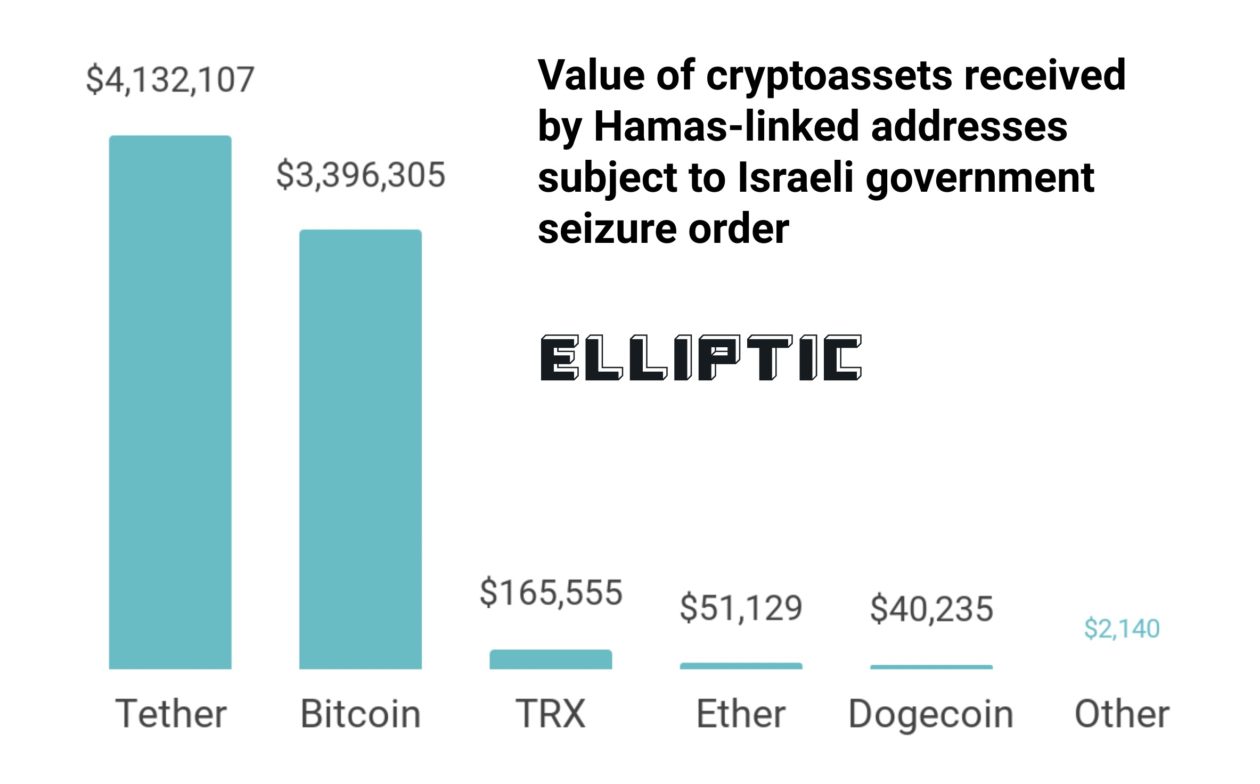 The order names seven individuals — Ali Ismail Shafiq Abualkas, Mahmoud Madhat Ahmed Baroud, Tareq Alla Mohammedali Baraaasi, Mahmoud Mohammed Mahmoud Ayesh​, Karem Munir Mohammed Abed and Mohammed Nasser Ibrahim Abulaila — and provides their Palestinian Authority ID and passport numbers, and their dates of birth.
The order stipulates that anyone receiving the funds, or who has been requested to perform an action with the funds, should contact Israeli police in accordance with Israel's anti-terorrism laws.