Mid-Autumn Festival, sometimes referred to as Mooncake Festival, takes place today — the fifteenth day of the eighth month of the Chinese lunar calendar — when the moon is expected to be at its fullest and brightest.
The festival, celebrated by many in China, Korea, Japan, Vietnam, as well as in other parts of East and Southeast Asia, is a time for families and friends to gather together. Mooncakes, which symbolize family reunion and happiness, are typically eaten and given to family and friends during the festival.
Although crypto prices aren't exactly going to the moon at the moment, enthusiasts this year are embracing their love for crypto from crypto-embossed mooncakes to mooncake non-fungible tokens (NFTs) to Mid-Autumn Festival gatherings in the metaverse.
Crypto mooncakes — for the stomach and the eyes
One such enthusiast is Hong Kong-based Wesley Wan, a trained chef and pastry lover, who was inspired to combine his passion for crypto and mooncakes. Wan, founder of vegetarian food retailer Esca, this year launched crypto-embossed mooncakes for sale at a pop-up store at Pacific Place, an upscale shopping mall in the city.
Esca's mooncake crypto box, available for HK$350, or around US$45, consists of four mooncakes embossed with the Bitcoin, Ethereum, Solana and Dogecoin logos. Unlike traditional mooncakes made with lard, Esca's handmade buttery interpretations are vegetarian, contain no additives or preservatives and come in an assortment of flavors.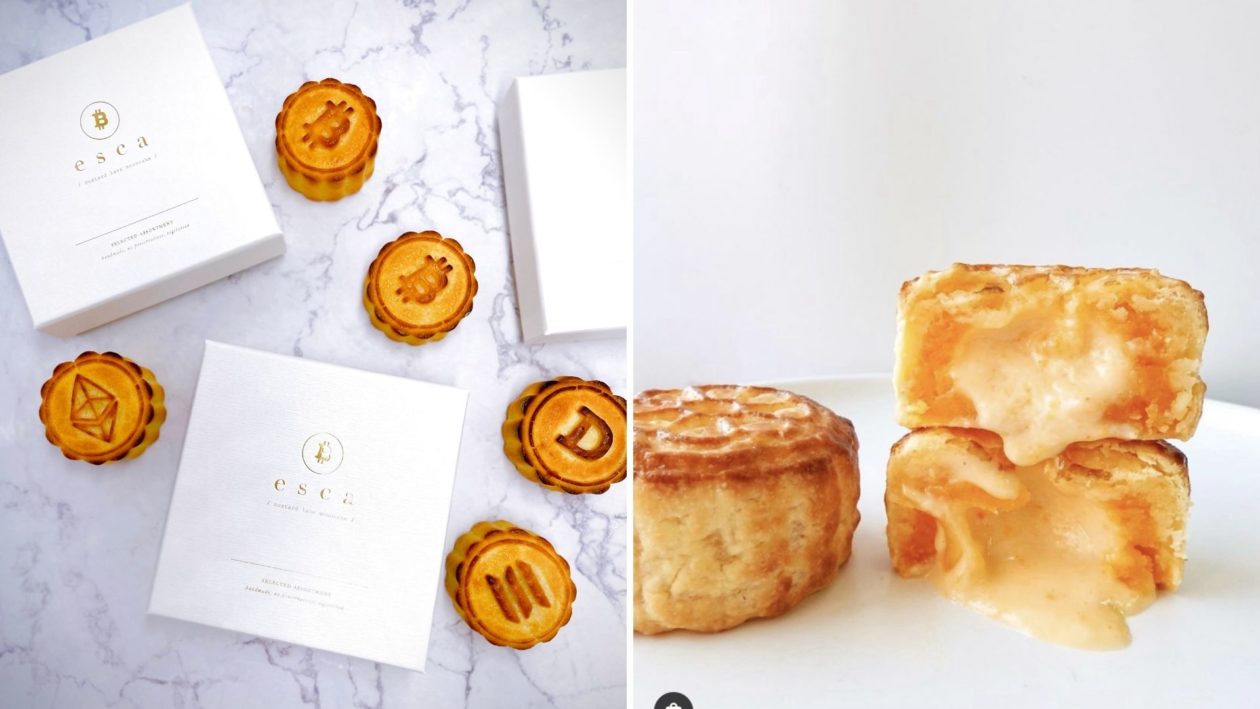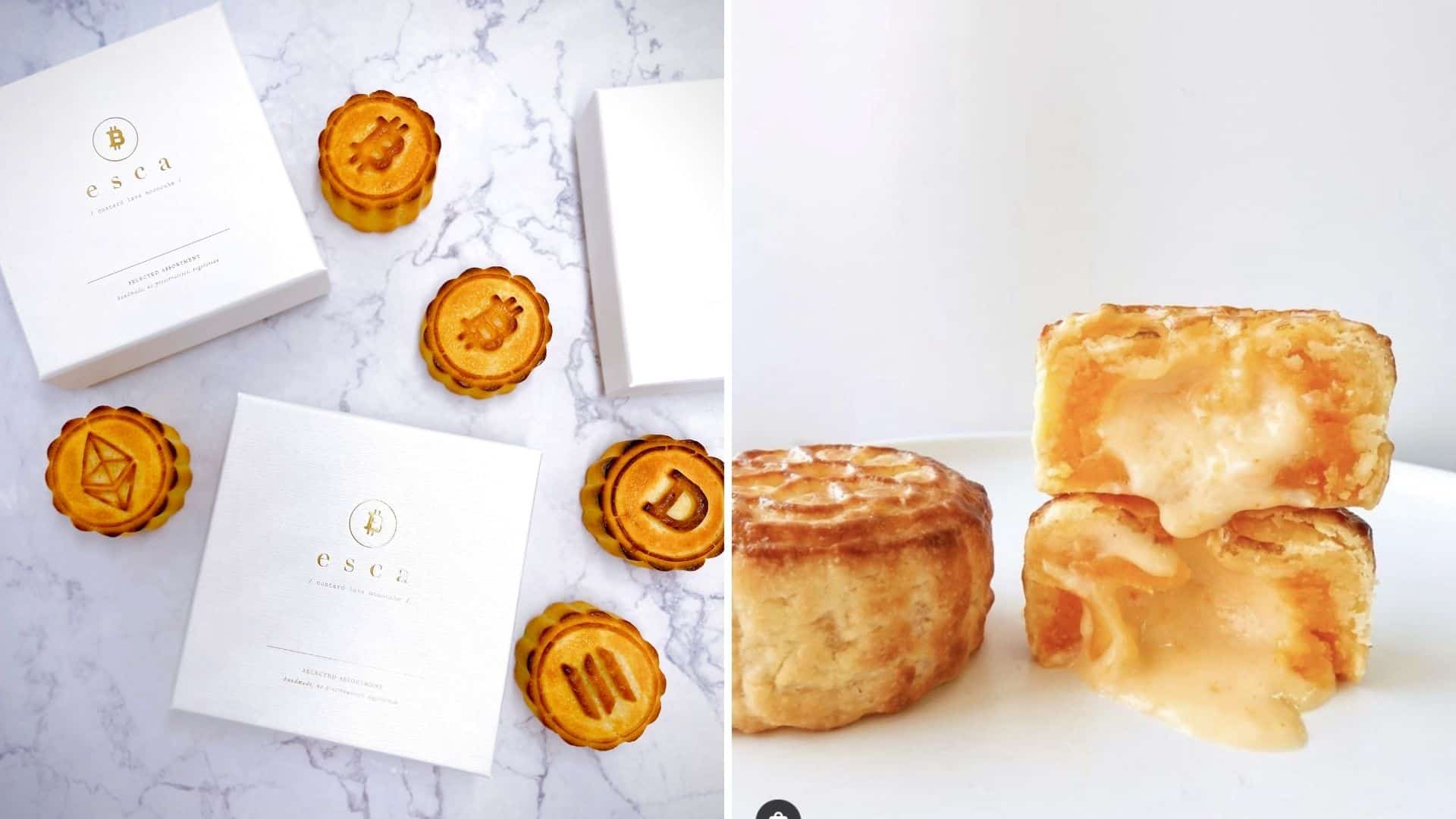 The Bitcoin-embossed mooncake — which features a molten salted egg yolk center with creamy Parmesan custard encased by a buttery, vanilla-tinged pastry crust, has been a top-seller, Wan told Forkast.News in an interview. The flavors of the other crypto mooncakes are equally unique — from Yuan Yang (mix of coffee and milk tea) for Ethereum, to coffee and hazelnut praline for Solana, and Tie Guan Yin tea and chocolate for Dogecoin.
It is Wan's third year of making mooncakes for sale and his first time selling the crypto-embossed ones. The demand for the crypto mooncakes, initially meant as a test, far exceeded his expectations, Wan said.
With gifting a big part of the Mid-Autumn Festival, the crypto mooncakes, in particular, were especially well-received by people who planned to gift them to family and friends, said Wan, adding that a few crypto companies also purchased some.
Apart from crypto-embossed physical mooncakes, NFTs have also emerged as another form of mooncake gifting — and marketing tool. Cryptocurrency exchange Crypto.com, for example, is giving away a mooncake NFT to its new app users in Singapore.
Mid-Autumn festivities in the metaverse
No Mid-Autumn Festival is complete without some sort of gathering with family and friends to admire the fullness of the moon together. But with the ongoing Covid-19 pandemic and its variants scuttling reunion plans for some in the physical world, the virtual metaverse has emerged as a way for people around the world to connect.
The Decentraland Chinese community, as part of the festivities, designed a Mid-Autumn Festival-themed space for the community to gather in the metaverse and organized a 521 party — held at 9 p.m on Friday, Sept. 17. Two-hundred limited-edition mooncake NFTs and 3,000 POAP (Proof of Attendance Protocol) badges, which have all been snapped up, were also prepared for visitors to its zone.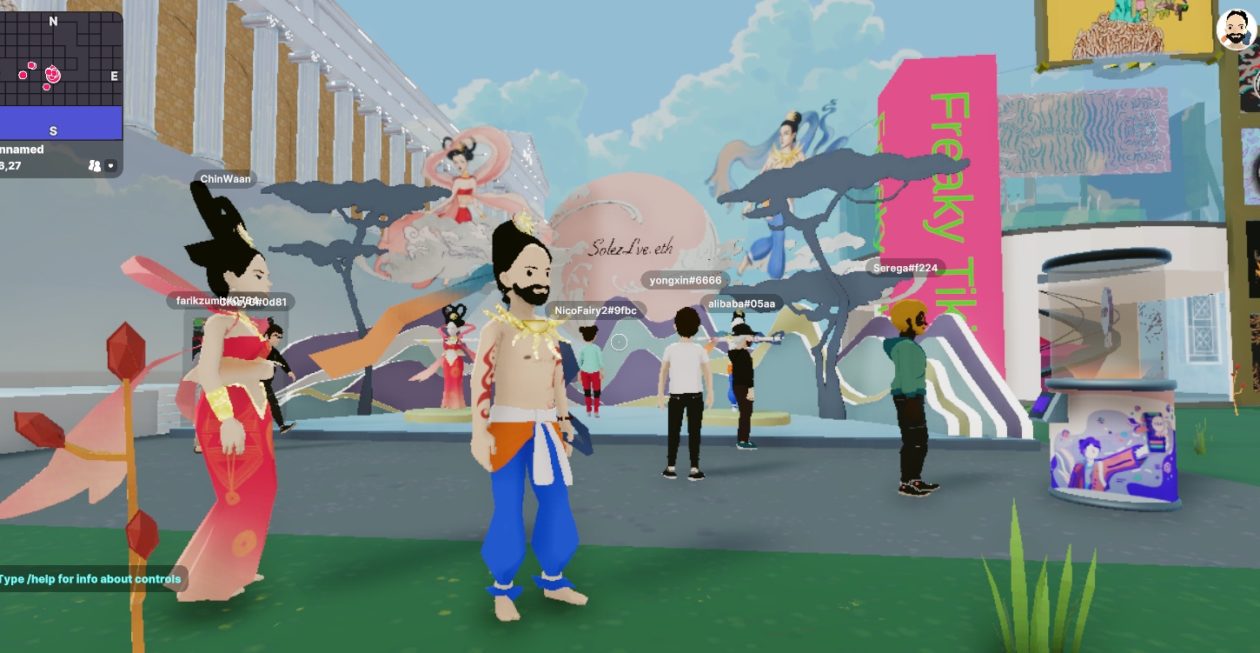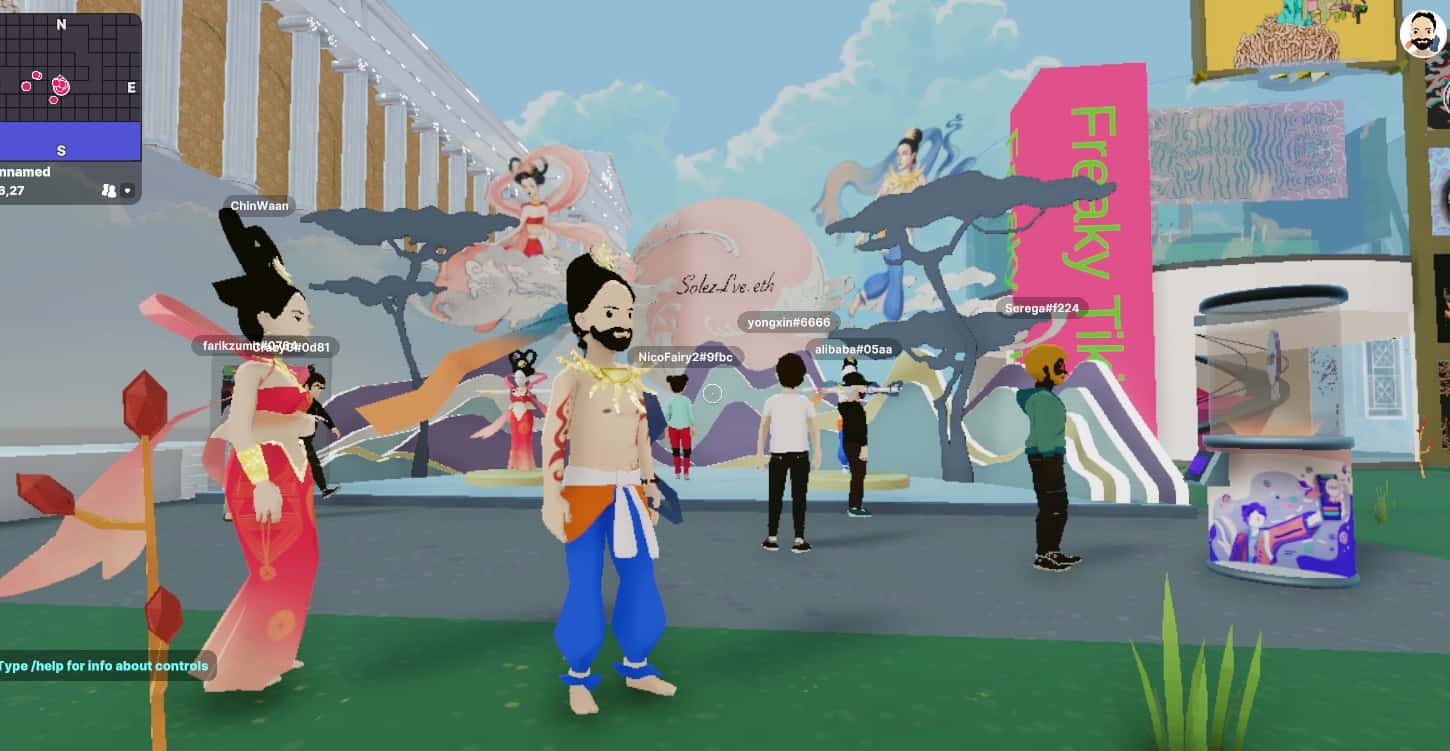 This year's Mid-Autumn Festival event follows the success of last year's inaugural event that featured a beautifully designed moon scene, boat lights, dragon dances, and used 100 pieces of land worth about US$500,000.
Navigator, a Decentraland Chinese community navigator, told Forkast.News he had organized the event to introduce Chinese culture to the global community as well as provide an opportunity, in the festival's spirit of togetherness, for people from different countries to come together in the virtual world to meet and enjoy the festivities.
More than 5,000 users participated in this year's event, more than 10 times that of last year, Navigator said. He expects more people — or avatars — to participate in future events as the crypto metaverse grows.
The event, now in its second year, has attracted many people from China as well as Hong Kong, Malaysia and Taiwan, Chin Waan, another community member who worked with Navigator on the event, told Forkast.News. Chin, who designed this year's mooncake NFTs, said that reactions to the event have been positive, with many "having a great time getting to know each other and sharing gaming experiences."