Global investment in blockchain and cryptocurrencies leapt in the first half of 2021, with US$8.7 billion raised and 548 deals sealed, according to consulting firm KMPG's latest Pulse of Fintech H1'21 report.
Fast facts
Global fintech investment in H1 2021 reached US$98 billion in 2,456 deals, compared to US$121.5 billion for the whole of 2020, according to KMPG.
KMPG said the investor base for the crypto industry had broadened, with substantial sums of institutional money flowing into the sector. VC investment was particularly strong, with several companies raising more than US$100 million in funding rounds. The companies include BlockFi (US$350 million), Paxos (US$300 million), Blockchain.com (US$300 million) and Bitso (US$250 million).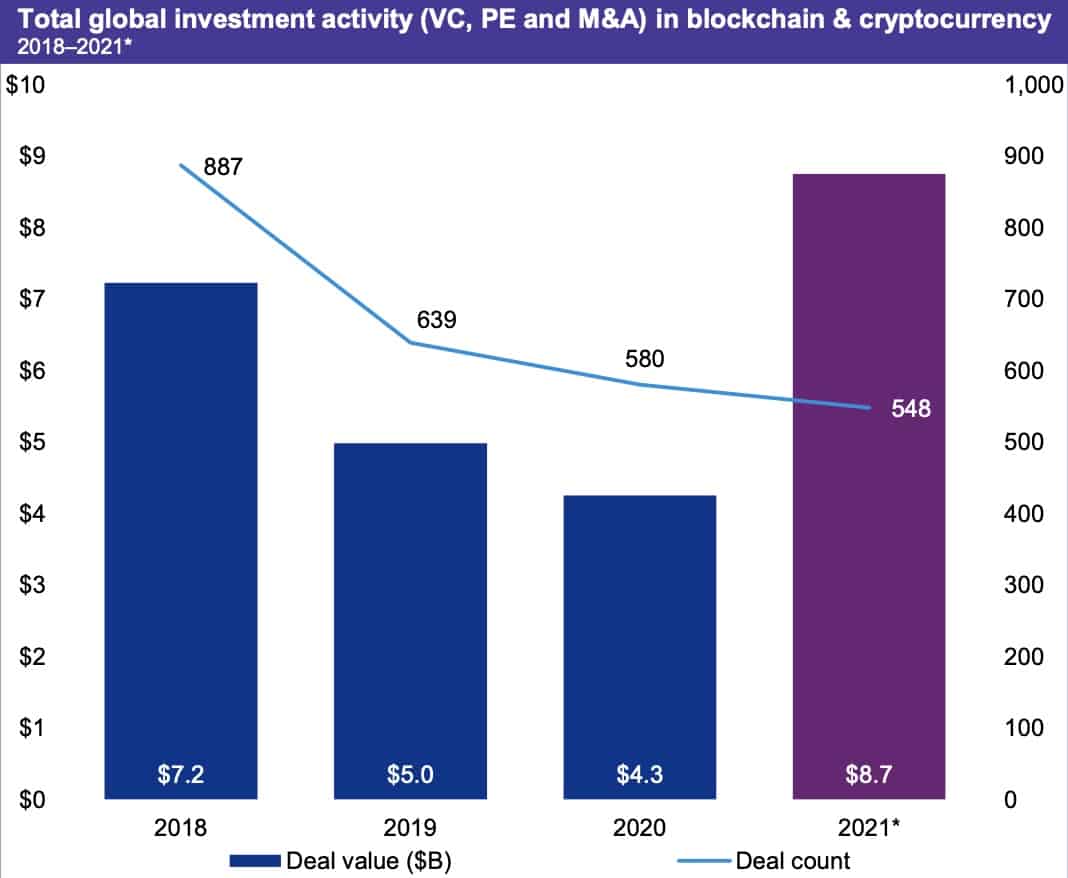 In Asia, several crypto unicorns were born this year. Hong Kong-based cryptocurrency exchange FTX raised US$900 million in a series-B funding round to reach a valuation of US$18 billion. Other Hong Kong unicorns included blockchain gaming company Animoca Brands and crypto finance firm Amber Group, which raised US$138.88 million and US$100 million respectively.
For the rest of 2021, KPMG predicts that the crypto industry will continue to mature, that the distinction between cryptocurrencies and the use of blockchain technologies will become stronger, that regulatory scrutiny will increase, and that cryptocurrency exchanges will evolve to focus on areas such as non-fungible tokens.
China, which has clamped down on cryptocurrencies this year, is leading the central bank digital currency race. "Between its digital currency and Belt and Road Initiative, China could create a real alternative to the supremacy of the U.S. dollar over time. While the digital currency initiative is relatively small scale now — still in the testing phase — it has a lot of potential," said Laszlo Peter, head of blockchain services, Asia-Pacific at KPMG Australia in the report. "With countries from areas such as Africa and Southeast Asia signing trade agreements with China and potentially accepting the digital yuan as a mode of clearing trade, it could gain traction quickly. It's going to be a critical area to watch over the next few years."
See related article: KPMG: Virtual asset service providers ready to professionalize and grow