Ethereum (ETHUSD) slid this past week back below the psychologically key 200 whole figure level, but remains well positioned for a more sustainable bounce as hinted by the bottomish weekly and daily RSI, Stochastics, and MACD.  Nevertheless, before bulls get excited, most will want to first see ETHUSD reclaim the September high.  Any successful break above the September high will be quickly followed by a test of the August high, and will likely coincide with Bitcoin (BTCUSD) continuing its bull market since last December.  Note that the two spikes lower (on the daily chart) in April are specific to the Liquid ETHUSD market, due to insufficient liquidity, market maker and circuit breaker support (specifically on this exchange market) and not a spike move down on ETHUSD (across other exchanges markets).
Ethereum Fundamentals
Ethereum founder Vitalik Buterin spoke a month back about Ethereum's transaction costs remaining high, and of the blockchain network getting overly congested.  Nevertheless, LedgerX and ErisX are preparing to launch physically delivered Ethereum futures, with the CME appearing to be laying the groundwork to follow suit, as it finetunes its Ethereum reference rate and index.  ETHUSD bulls are looking forward to scalability improvements in the form of Proof of Stake, Sharding and possibly Layer 2 solutions like Plasma and Raiden scheduled for 2020.  Meanwhile, Ethereum developers have their work cut out for them as debate rages among developers and miners on mining incentives, while newer blockchain competitors built for greater scalability attract more developers and funding.  While Ethereum is often portrayed as being highly decentralized, it should be remembered that Ethereum's network is increasingly vulnerable as more than 60% of its nodes are now hosted within cloud networks like Amazon's AWS, Google Cloud, and Alibaba Cloud.  Any decision by these Big Techs to push a competing cryptocurrency/blockchain could sideline these Ethereum nodes.
Industry Fundamentals
With the People's Bank of China (PBOC) having announced in the past month its near readiness to launch what is essentially a digital Renminbi, but centrally controlled by the PBOC, existing cryptocurrencies are about to see further competition in China as the Renminbi stablecoin will likely see rapid adoption given the major Chinese fintech players (like Alibaba, Tencent) and banks (ICBC, Bank of China, Agricultural bank of China) supporting the rollout. The PBOC has been working on the project for 5 years, but appears to be expediting its launch in response to the Facebook Libra announcement. The digital Renminbi is meant to replace the paper and coin circulation, and to further internationalize the Renminbi.
BoE Governor Mark Carney is further validating the idea of central banks incorporating aspects of cryptocurrencies and blockchain, by having suggested in August that the world may need to move away from the current world reserve currency – the US Dollar. He's used Libra as an example of the type of digital currency collateralized by a basket of fiat currencies that could lessen the world's dependency on and impact from just one fiat currency.
While Facebook continues to get bogged down by robust pushback from regulators, central banks and politicians, a bit more than a month back, Walmart hopped on the stablecoin idea by applying for a patent for its own stablecoin, which will operate within its ecosystem (including that of partners) as a way to incentivize shoppers to pay for purchases through the stablecoins, earning discounts and collecting loyalty rewards. Like Libra, the Walmart stablecoin will also facilitate low or no fee remittances (helping bring banking to the unbanked), but will allow holders to earn interest (unlike Facebook's where the interest goes to the Libra Association members). Slightly different from Libra, the Walmart coin will likely only be backed by the USD. It will also produce competition to credit cards as shopper credit will be determined through their shopping patterns (as captured by the use of the Walmart coin), and will restrict purchases of certain items normally restricted by age (e.g. cigarettes). Walmart's stablecoin could gain greater traction than Libra in its first few years particularly with it getting less regulatory pushback so far and its massive network of 11500 stores across 27 countries, visited each week by 265M customers.
Facebook's Zuckerburg warned this past week Libra may not launch in 2020 as initially targeted, given all of the mostly political/regulator/central bank-related resistance it's encountered so far.  Crypto purists are critical of Libra's centralized nature, which paves the way for censorship and potential abuse of user information.  Also problematic for Facebook is that much of the unbanked resides in countries where either Facebook or crypto is currently banned.  Key investors like Visa, Mastercard, Paypal and Uber have injected USD 10M each to become members of the Libra Association and to manage their own node.  The objective is to have 100 investors (from a variety of industries, including telecom, media and e-commerce) with 27 names already on the list. 
Banks have passed on Libra so far as some (e.g. JP Morgan, Mizuho, Bank of Tokyo-Mitsubishi UFJ) are increasingly looking at rolling out their own coins. Banks will be able to launch stablecoins on IBM's World Wire for instance, and can use Stellar Lumens directly as a bridge currency between different fiat currencies. Ongoing anticipation is building for the coins being developed by other leading messenger apps (i.e. Line, Kakao) as well.
The competition within the Bitcoin futures industry should be about to heat up as BAKKT (operated by the world's 2nd largest exchange group by market value – IntercontinentalExchange) is now live as of Sep 23 with the US' first regulated physically deliverable bitcoin futures exchange. TP ICAP – the world's largest interdealer broker – announced in mid June their intent to launch a digital assets desk, with the service limited to Bitcoin futures initially. Fidelity's institutional crypto trading offering meanwhile is available (or in testing) for select clients, with retail brokerage giants Etrade and TD Ameritrade also preparing to launch trading in a few top coins.
The market is increasingly shrugging off the fears around Bitfinex covering up losses with funds earmarked for backing Tether (USDT), especially as it has apparently already received commitments for USD 1B in its current raise to offset funds frozen by US, Polish and Portuguese authorities. With liquidity on USDT significantly higher than newer, competing USD-backed, audited stable coins due not in small part to USDT enjoying first mover advantage and the network effects from having the longest established history, the market appears to be largely sticking with using USDT which is listed on more crypto exchanges and offers superior liquidity.
A race continues to launch STO exchanges and consultancies ahead of increasing regulatory clarity on STOs.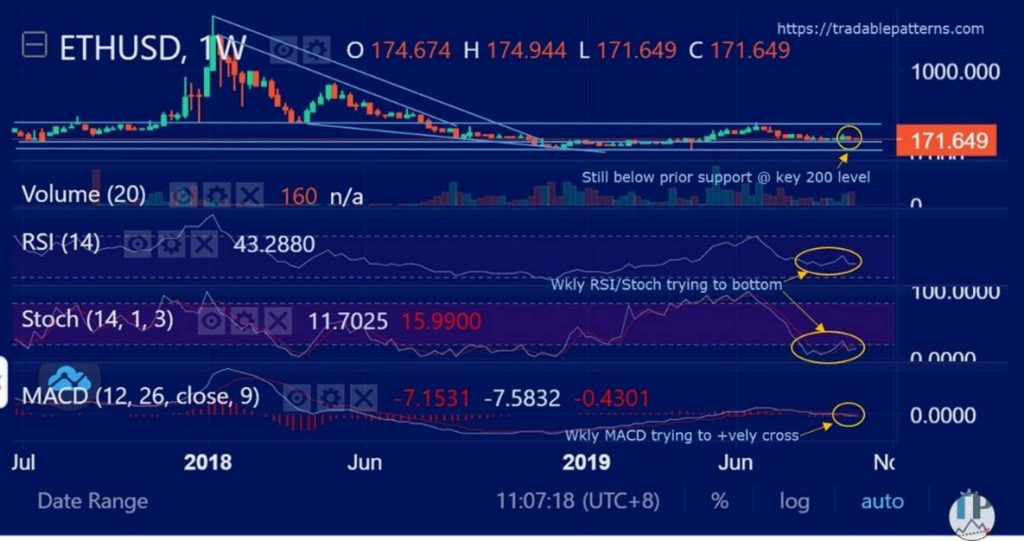 Click here to read today's technical and fundamental analysis of Bitcoin, Ripple