East Asia's share of global cryptocurrency transactions plunged to 14% in June 2021 from 31% in April 2019 when it was by far the world's largest crypto economy, according to blockchain data provider Chainalysis' 2021 Eastern Asia Report published today.
Fast facts
China's crypto crackdown in May saw East Asia — with China the biggest market and top country for crypto adoption in the region — fall from first place to fourth in terms of global cryptocurrency transaction volume in June 2021.
Of the US$256 billion in cryptocurrency received in China between July 2020 and June 2021, 49% went to decentralized finance (DeFi) protocols, Chainalysis said. Hong Kong had a higher proportion of DeFi transactions, with 55% of cryptocurrency going to DeFi protocols.
In contrast, just 15% of cryptocurrency received went to DeFi protocols in South Korea, the second-largest crypto market in East Asia. Japan, the third-largest crypto market, had 32% of cryptocurrency received going to DeFi protocols. Ethereum and wETH accounted for 21% and 28% of cryptocurrency transaction volume in South Korea and Japan respectively, versus 38% for both China and Hong Kong.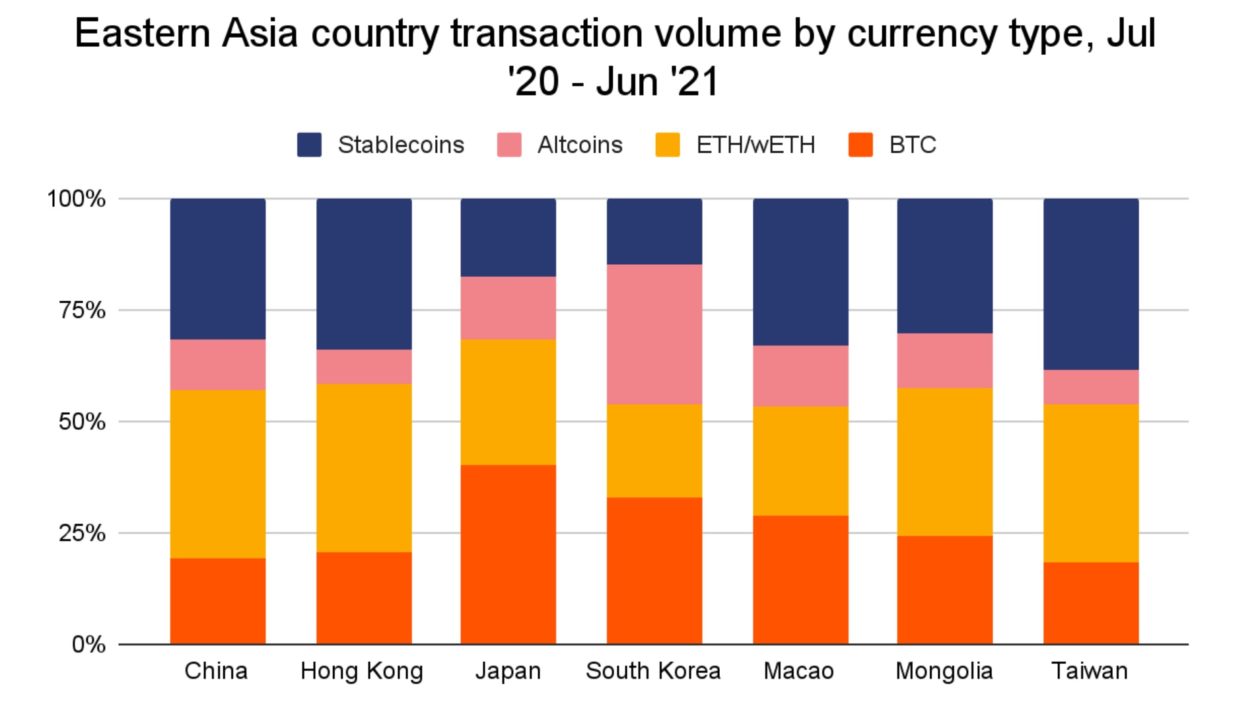 Chinese centralized exchange Huobi was the biggest Eastern Asia service by transaction volume, with DeFi protocols Uniswap and dYdX taking the second and third places, Chainalysis found. Following China's latest crackdown on crypto trading and mining, Huobi has said it will stop serving mainland Chinese users by Dec. 31.
China's clampdown on crypto mining has also resulted in reduced liquidity for East Asia-based cryptocurrency exchanges, as China-based mining pools have historically been an important source of liquidity, Chainalysis said. "Binance suffered the most, with a net decline of over $200 million worth of Bitcoin received from miners, followed by Huobi, FTX, and Genesis. All of those services, in particular Huobi, are extremely popular in Eastern Asia," Chainalysis said. "The loss of liquidity could account for some of the region's decline in activity."
See related article: Why China's latest stomp on crypto is turbo-charging DeFi growth