More than a billion people in Asia are preparing to herald in the Year of the Ox starting tomorrow, according to the lunar calendar and the Chinese zodiac. But this is no ordinary year.
With Covid-19 social distancing restrictions still very much in place, virtual gatherings and digital red packets — also known as e-hongbaos (in Mandarin) or e-laisee (in Cantonese) — are gaining popularity as people find ways to adapt age-old customs to a new digital reality.
The first day of the Lunar New Year — also known as Chinese New Year in Singapore, Spring Festival in China, Tet in Vietnam and Seollal in South Korea — falls on Feb. 12 this year. Hongbaos are gifts of money packed in red envelopes that are traditionally given during the festival's 15-day celebration as a token of good wishes.
Digital red packets are not new to Asia as China's Tencent launched its WeChat Pay e-hongbao in 2014. Since then, sending and receiving e-hongbao using mobile phones via payment platforms such as WeChat Pay and AliPay has become increasingly popular in China. According to Sina Technology, 823 million people used WeChat's e-hongbao to send and receive digital money during the first six days of the Chinese New Year in 2019.
Many in Asia are already accustomed to using e-wallets for online shopping. This year, the trend of contactless payments and giving e-hongbaos is accelerating and expanding beyond China as governments, banks and consumers try to reduce in-person contact and discourage crowds during the pandemic. Just before the lunar new year holidays, masses of people typically form long lines at the banks to obtain new bank notes for stuffing into the red paper packets they later give out. With e-hongbaos, there is no need to visit the bank teller anymore.
See related article: Digital payments — not cash — is now king in Asia's payment ecosystem
Crypto hongbaos
Given growing interest in cryptocurrencies, especially following Elon Musk and Tesla's recent US$1.5 billion show of faith in bitcoin, some people may be more inclined to give or receive bitcoin, ethereum or other cryptocurrency this lunar new year. A social media poll conducted by cryptocurrency exchange Gemini across Instagram, Telegram and Twitter in January showed that two-thirds of respondents would rather receive bitcoin or ethereum in lieu of fiat cash in their red packets.
Less than 1 month to go before the Lunar New Year!🏮🐂

Which #crypto would you rather accept in your red packets? 🧧 #GeminiAPAC

— Gemini (@Gemini) January 20, 2021
Some crypto wallet apps provide the functionality for users to easily send and receive crypto from their family and friends using their mobile phones. Binance, one of the world's largest cryptocurrency exchanges, recently launched a beta version of its Binance Pay wallet in its mobile app that allows users to send or receive six different currencies, including bitcoin and ether.
"Crypto is a new and exciting way to gift hongbaos this year. It is the safer way of blessing loved ones, with all these Covid issues going on. It's easy and unique for sure," Yusho Liu, CEO of Coinhako, a Singapore-based cryptocurrency exchange, told Forkast.News in an email. "And it's exciting, since the hongbao may increase in value from one day to the next."
Coinhako is among the crypto companies that now allow users the option of sending crypto hongbaos this lunar new year. So is Ontology, whose users can send crypto red packets through their ONTO Wallet.
China's digital CNY hongbaos
China too, has been giving away e-hongbaos. The country has been conducting mass retail tests of its DCEP (Digital Currency, Electronic Payment) digital yuan project since last year through successively larger e-hongbao giveaways in Shenzhen and Suzhou.
Residents of Beijing now also have the chance to win 200 digital yuan (US$30) through Feb. 17 in the latest DCEP digital yuan trial, according to China Daily. Beijing will hand out about US$1.5 million in the limited trial of the central bank's digital currency and recipients can spend the money at designated offline locations or on parts of e-commerce site JD.com during the lunar new year holiday.
This year, many Chinese local governments are offering a slew of incentives to discourage people from making "unnecessary" trips back to their hometowns for the lunar new year holiday so as to prevent the spread of Covid-19. Shenzhen, in southern China's Guangdong province, will issue 20 million digital yuan in hongbaos via lottery to individual businesses and employees of enterprises who stay in Shenzhen's Longhua district during Spring Festival.
This is the third time the city is issuing digital currency hongbaos. In earlier trials, 10 million yuan and 20 million yuan were issued in October 2020 and early January 2021, respectively.
The eastern Chinese city of Suzhou is also distributed digital hongbaos to lucky lottery winners containing a total of 30 million digital yuan, or about US$4.4 million, paid for by JD.com, a Chinese e-commerce giant.
E-hongbaos gaining traction across Asia
Across Asia, the pandemic has accelerated the use of e-hongbaos given Covid-related restrictions on social gatherings and general shift away from cash.
The Hong Kong Monetary Authority (HKMA) has asked the public to use electronic channels such as the HKMA's Faster Payment System available via online or mobile banking, or other e-wallet services, instead of giving red packets of cash.
The #HKMA encourages the use of electronic channels for giving out #laisee during #CNY. Note-issuing banks will continue to provide notes exchange service with a series of social distancing measures in place.

Find out more: https://t.co/sMjMWIMz4D pic.twitter.com/FPIvbGgMcC

— HKMA 香港金融管理局 (@hkmagovhk) January 19, 2021
Bernard Wee, the Monetary Authority of Singapore's assistant managing director, finance, risk and currency, said in a media release: "The adoption of e-payments grew significantly this past year as it is more convenient than cash. The coming Lunar New Year offers an opportunity for us to build on this momentum, to spread the benefits of e-gifting, and to forge new traditions with our families and friends."
Aside from helping "reduce queues" at banks, the Monetary Authority of Singapore (MAS) also notes that e-hongbaos "helps to reduce the carbon emissions generated by the production of new notes for each Lunar New Year, estimated to be about 330 tonnes currently. This is equivalent to emissions from charging 5.7 million smart phones or one smart phone for every Singaporean resident for five days."
This was reiterated by Singapore's prime minister Lee Hsien Loong who expressed his support of e-hongbaos, saying "I tried it, and it was simple and fast. It will help to reduce queues for physical notes and is also more environmentally friendly."
This #ChineseNewYear, why not go digital and give out e-hongbaos? 🧧I tried it, and it was simple and fast. It will help to reduce queues for physical notes and is also more environmentally friendly. – LHL https://t.co/tFuFCE28Pn pic.twitter.com/pPLmzqVqJe

— leehsienloong (@leehsienloong) February 2, 2021
MAS has urged fintech firms to develop e-gifting solutions for different purposes, including gifting during festive periods such as Chinese New Year. The most innovative FinTech e-gifting solution will receive special recognition at the Singapore FinTech Festival in November 2021.
Banks in Singapore such as DBS Bank have launched e-hongbaos services that enable customers to send and receive funds instantly using their mobile phone number, national identification number or QR codes facilitated by the country's retail payments PayNow/FAST funds transfer service.
DBS Bank's QR hongbao allows customers to choose personalised greetings and festive animations when loading the QR gift via its PayLah! wallet app.
Similarly, China's Tencent has introduced this year customizable e-hongbao covers for enterprises or certified individuals with at least 10 likes on WeChat's short video feature channels.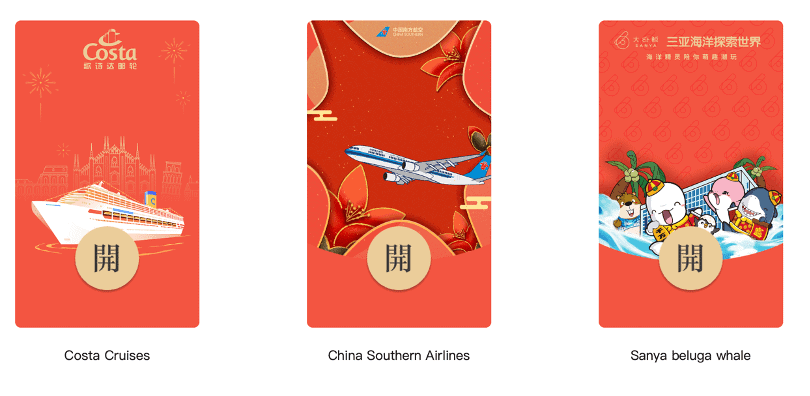 On the WeChat Red Envelope Cover Open Platform, users can design their own WeChat e-hongbao covers — which look just like the traditional paper red envelopes. The new feature has been especially popular among some companies, with brands including Gucci, Burberry, Bilibili and KFC, distributing customized hongbaos in limited quantities to customers.
Nanjing resident Wang Xin told Forkast.News that she had received a customised e-hongbao from a friend living in Wenzhou. The cover, designed by The Palace Museum in Beijing, featured a bronze bull from the museum's collection and an auspicious greeting "前途光明" ("a bright future").
"E-hongbao is no doubt a wonderful way for us to continue Chinese tradition and pass on good luck, happiness and blessings to others in this special lunar new year," Wang said.