The Bitget cryptocurrency exchange, which started up in 2018 and says it now has more than 8 million users in 100 countries, last month set up a US$100 million fund to support development of blockchain, cryptocurrency, and non-fungible token (NFT) projects, prioritizing partners in Asia.
In an interview with Forkast's Pradipta Mukherjee, Bitget's managing director Gracy Chen talks about its crypto exchange license application in Hong Kong, hiring more people, launching exchange traded funds, and building its brand this year. 
The following Q&A had been edited for clarity and length.
Pradipta Mukherjee: Was the Bitget US$100 million fund to invest in blockchain, NFT and cryptocurrency projects, or Web3 ventures, raised internally or are there other stakeholders?
Gracy Chen: This is a totally self-funded fund and it's basically leveraging Bitget's very healthy financial status. We don't have any other stakeholder in this fund. We're debt-free and we have pretty good cash flow and that's why we want to contribute to this fast-growing business so that we can grow together.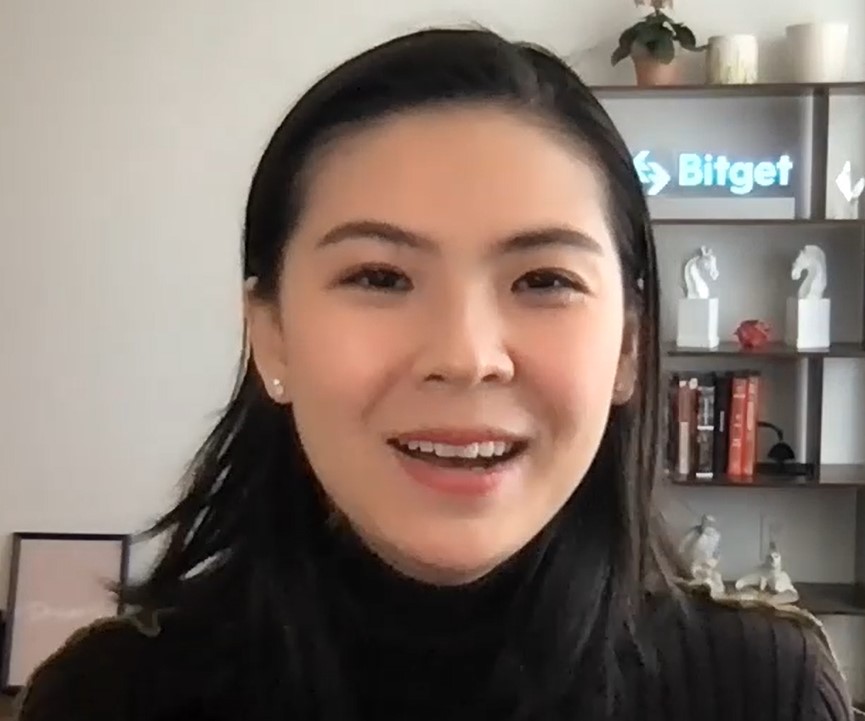 Mukherjee: What is your criteria for project selection when you invest in Web3 projects? Any examples of who you are looking at at present?
Chen: There are three main criteria. Number one, we want to make sure that a project has proper business model and proper tokenomics. That's the core business itself. Number two, we want to work with a top notch team. So we will look at the team and their investors' background. And number three, we want to make sure that this is a good project, that they have real customers and real users. So the third criteria would be a good user community. So these are the main three things that we look into when we do investments and also when we list projects on our exchange.
But I want to highlight that this Web3 Fund is not only to invest in projects but also in other crypto VCs [venture capitalist funds]. We want to invest in VCs which have particular focus on partners in Asia who provide innovative solutions to solve some real world issues and possess a good background in terms of track record and also have a clear roadmap ahead.
Mukherjee: Have you identified or are you in talks with any of these Web3 startups that you want to support financially?
Chen: We have been talking to lots of projects on a daily basis. We are mainly interested in two or three things. Number one, the infrastructure, in terms of layer one, layer two, even layer zero main nets. Infrastructure is what lots of VCs will look into, that is quite worthy to invest in in this bear market because [if] the bandwidth or the so-called infrastructure is not there, then it's very hard for the projects to prosper. That's the rationale behind it and we see lots of opportunities in that.
Number two, I would say social fi, maybe game fi can be combined as well. So these are applications, part of the crypto ecosystem, which is very important, especially if it can go mainstream. For instance, I can't let my mom do DeFi [decentralized finance]. It's very hard for them to figure out what to do, but can let them experience social fi or an app to play with it. That's much easier. So that's what I mean by investing in gaming fi, social fi kind of projects in order to reach a bigger audience and mainstream users.
Mukherjee: What are your sources of income?
Chen: Transaction fees, trading fees. That's the main source of income, just like any other exchange.
Mukherjee: Do you have an adequate cash surplus with only trading fees?
Chen: Yes, we do. And actually quite a lot. So if you look at Bitget's website, there's another fund as well which is a protection fund, which is also self-funded. They are all in open wallets only and consist of BTC, USDT and USDC. That's to protect our users and everyone can check online through our open wallet.
All these funds are set up for different purposes. Number one, to assure our customers we have adequate cash flow. Number two, to invest in the whole ecosystem.
We increased it from US$200 million [in August last year] to US$300 million after the FTX collapse, because that's also when we realized that lots of users want more confidence in exchanges, especially the centralized platforms. And when they see that there is further protection and adequate cash flow, they have more confidence, which we think is very important.
[Editor's note: Bitget declined to disclose the total size of its cash surplus.]
Mukherjee: Bitget recently invested US$30 million in the BitKeep wallet to become its controlling shareholder. What are your plans for BitKeep?
Chen: BitKeep will be rebranded to Bitget wallet. This is still in the process. BitKeep's Swap is one of their key products that we integrated at Bitget.
Bitget's security and technology team is working closely with BitKeep to help them with their security infrastructure to build a robust crypto trading platform.
[Editor's note: BitKeep suffered a cryptocurrency theft in October last year when over US$1 million in BNB tokens was stolen by an unidentified hacker.]
Mukherjee: What kind of expansion plans do you have for this year and do you think they are sustainable in the face of a potential recession in the U.S. and elsewhere?
Chen: Honestly, we don't really think we can expand tremendously from a userbase point of view during this current market. Bitcoin and all cryptocurrency prices can go up and down, but it's still not a bull market yet, in our opinion. So the key thing here is not to look at the result, but to look at the input in terms of what we do day to day.
For example, from a product point of view, we want to continue to strengthen our feature of copy trading. We want to attract more traders to share on our platform on Bitget Insights, an information sharing platform built in our product rather than just on our website.
We are launching some ETFs (exchange traded funds) as well. From a branding point of view, we have lots of education and corporate social responsibility (CSR) initiatives especially in crypto. This summer we will launch two CSR events, one to educate youth about blockchain, Web3 and crypto, and another is towards female and gender equality.
Mukherjee: Do you have any acquisition plans for this year?
Chen: We are interested in building – layer zero, layer one kind of chains. This is one sector that we are interested in for acquisitions.
Acquisition funding will be mainly from the Web3 Fund. But if it's a very good investment or acquisition and exceeds the fund's limit of US$100 million, we can talk about additional financing. Bitget has a good financial situation and we know we have enough money to do what we want to do.
Mukherjee: Are you looking at hiring more people this year?
Chen: We are. In June last year, we announced our plan to double our workforce. At that time we had 500 people. And we did achieve that. Right now we have about 1,300 staff globally. We still have about 100 open positions.
We think a bear market or a crypto winter is a golden opportunity to grow. So we want to accumulate enough talent and we also want to make sure that our product is developing well.
Mukherjee: What do you think is the future of the digital assets industry this year and how would you compare it with last year? Is the worst over?
Chen: I personally think the worst is over. I would still call it a bear market, but it's more of a volatile bear market. The best thing to do at this point of time is to build. I think the bull market should or will come next year rather than this year. So the worst is over, but we're still in more of a bearish or volatile market.
Mukherjee: Hong Kong has set up a new licensing regime to take effect in June. What benefits can the digital assets industry expect from Hong Kong?
Chen: We had lots of conversations with the Hong Kong government. We know it's opening up. I personally think Hong Kong might have an opportunity to become Asia's Web3 hub. Right now, maybe the hub is Singapore and there are a few other hubs as well. But Hong Kong has an opportunity to play in this game, too, and I see a lot of their ambition is in achieving that.
I think in June this year Hong Kong will provide a clearer picture in terms of issuing some licenses to crypto exchanges. Bitget is applying for a crypto exchange operation license in Hong Kong. We are in the process already. We have hired a compliance team.
My personal experience with Hong Kong is that there are so many people moving to Hong Kong from Singapore, from mainland China, from Southeast Asia. Many of us have thought about obtaining a Hong Kong green card.
Hong Kong has this gradually clearer legislative framework for the industry.
Hong Kong has always been a financial center in Asia. It has a strategic location in Asia and it's a critical hub connecting the east and west. Hong Kong is very near to Shenzhen [and] Guangzhou. There they have lots of technology talents. So I think all these factors can bode well for the future growth of Hong Kong in terms of the Web3 industry and attracting talent like us to go there.
Mukherjee: Does Bitget allow trading for U.S. users?
Chen: Bitget does not provide crypto trading services to U.S. users and the exchange's services are currently unavailable in the U.S. To avoid any violation, users from the U.S. are restricted from registering on Bitget. Our system monitors IP addresses and instantly blocks any registration attempts made from restricted areas. Additionally, our KYC (know-your-customer) program verifies that the applicant is a non-U.S. user.
Mukherjee: What is Bitget's strategy for the U.S. market?
Chen: The U.S. regulatory framework for crypto exchanges is complex and evolving, with different rules and requirements at the federal and state levels. Different states have taken wildly different approaches to cryptocurrency regulation. That is why you will find that certain cryptocurrency exchanges do not operate in every U.S. state. Some states, like Wyoming, Colorado, and Ohio, have introduced crypto-friendly laws, as they want to attract the industry. Others, like New York and Washington, have strict crypto requirements.
However, Bitget is currently exploring the possibility of working in the U.S. by selecting the most favorable state for registration, cooperation, and receiving a relevant license. We are also in constant contact with local partners, authorities and compliance experts to further explore the market and find the best solution for a fully legal and user-friendly operation.