Following a strong 2020, crypto is predicted to continue to surge in 2021. Notwithstanding the current dip, Bitcoin and Ethereum had both been hitting all-time highs in what seemed like every other week. As the market undergoes a correction, what will the rest of 2021 hold for Bitcoin, Ethereum and other cryptocurrencies?
Finder surveyed 35 financial experts to answer this question. Their virtual consensus: It looks like it's going to be another solid year on the whole, especially for Bitcoin, with the panellists believing that Bitcoin will end the year at an average price of US$94,967, according to the latest edition of Finder's Cryptocurrency Predictions Report.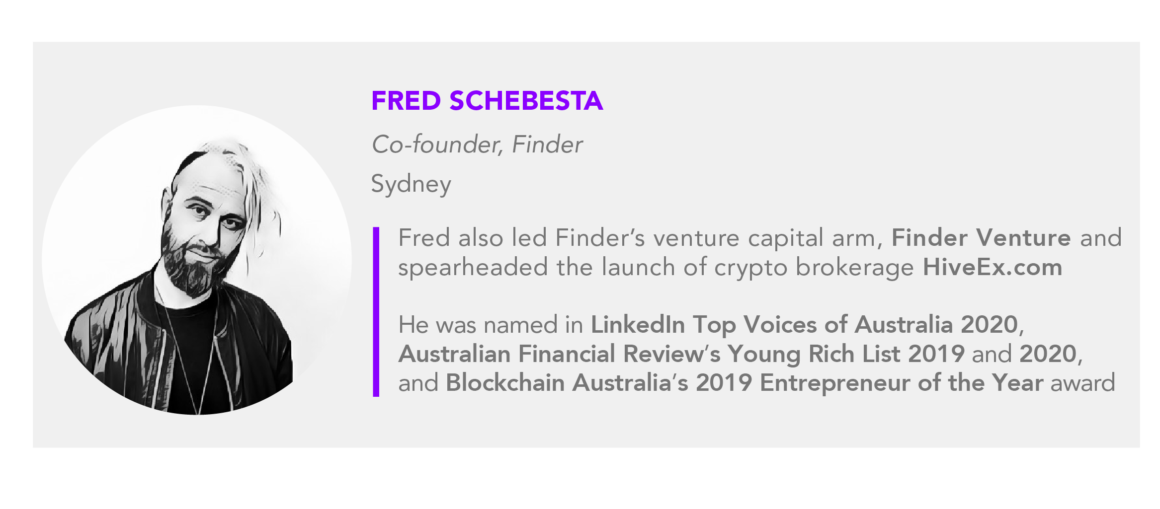 That figure is a far cry from the average of US$51,951, which the panel forecasted for Bitcoin at the end of 2021 back in December 2020.
Not only that, but the panel thinks that BTC could crack US$100,000 before the end of the year. On average, the panel thinks the digital currency will peak at a whopping US$107,484 at some point during 2021.
Samantha Yap, the founder and CEO of YAP Global, is one panellist predicting that Bitcoin will end the year at around US$100,000, saying that institutional adoption will continue pushing this bull run forward.
"The momentum of institutional adoption of Bitcoin and cryptocurrencies that we've seen in Q1 of 2021 indicates that it's not out of the ordinary to see the BTC price hit $100,000," Yap said. "It is very possible considering the rate of growth the cryptocurrency industry has experienced over the past few months."
Interestingly, only a handful of panellists see Bitcoin's price ending the year lower than US$60,000. Lee Smales, associate professor of finance at the University of Western Australia, came in with the lowest prediction, with a year-end price of just US$25,000. The rest of the panelists on the lower end of the predictions pegged Bitcoin's end-of-year price to be somewhere between US$40,000 and US$56,000.
However, at the other end of the spectrum, Morpher CEO Martin Fröhler — who believes that the value of Bitcoin come the end of 2021 will hit US$250,000 — says BTC is the future.
"Bitcoin is the ultimate long term store of value and will gradually replace gold and bonds in that role," Fröhler said.
Looking further down the road, our panel believes that Bitcoin will end 2025 with an average price of US$360,179. Just over a third (35.71%) of respondents say that BTC will end 2025 with a valuation of $500,000 or more, and about 1 in 7 (14.29%) say that the price will reach US$1 million.
But does this mean you should buy?
With such rosy predictions, does the panel think that it's time to buy, sell or hodl? Unsurprisingly, about half (48.48%) of panellists think that you should consider buying Bitcoin, with 2 in 5 (39.39%) saying that holding is the prudent move and just over 1 in 10 (12.12%) advising that you should consider selling Bitcoin.
The panel is similarly bullish on Ethereum, with almost three-fifths (59%) recommending that you consider buying ETH, a little over a quarter (28%) saying hold and just 13% saying that you should consider selling. While the year-end highs for ETH aren't predicted to be as lofty as BTC, with the panel predicting that ETH will finish the year at $4,512, almost three-quarters (72%) think that ETH will hit 5 figures by 2025.
Sarah Bergstrand, the chief operating officer for BitBull Capital, is the highest on ETH, saying that it'll end 2025 at the US$100,000 mark, thanks in part to upgrades to the network.
"We are likely to see major upgrades to the Ethereum network this year, and those can be expected to push the price higher," Bergstrand said. "In the long term, only coins with strong communities and proven use cases are likely to retain value and remain relevant. Others are only good to keep in the short term, during a bull run."
The rise of NFTs
It's almost impossible to read the news or scroll through your timeline without a story about non-fungible tokens (NFTs) popping up. And it's this self-sustaining attention that our panel believes is driving interest in NFTs. Almost three-quarters (74%) of panellists say that new crypto millionaires drove NFTs into the limelight and generated headlines by for certain NFTs, sparking a gold rush of people wanting to cash in.
Around half (53%) also believe that the emergence of NFTs such as NBA Top Shot has made them more accessible to a wider audience, and about a third (35%) think that Covid-19 played a role, with more people engaging with the arts digitally as cultural events move online due to the pandemic.
While about three-quarters think that NFTs are here to stay (73%) and that NFTs will become mainstream (76%), 4 out of 5 (80%) don't think it's a good time for retail investors to be dipping their toes in the water.
Investor Veronica Mihai is one of the panelists preaching caution, saying: "Those looking to invest in NFTs, have to understand art, value it accordingly and not invest due to hype and short term speculation, as it will just end up creating an illiquid market."
Even though the founder of The SMEChain Sorcha Mulligan thinks that NFTs are here to stay, she can see why some might see them as a fad.
"Not a fad, but almost so," she says. "People have time on their hands and many have excess cash from lockdown and are exploring NFTs for FOMO (fear of missing out). As more use cases arise outside of the art world, the boom will plateau. For the sake of the artist and creative world though, NFTs are here to stay."
If you'd like to see more from Finder's Cryptocurrency Predictions Report, including how long our panel thinks the BTC bull run will last, what price it'll max out at this year, the threats to the value of Bitcoin in 2021, altcoins, government intervention and more, head on over to Finder where you can find the full report: https://www.finder.com/hk/cryptocurrency-predictions