Bitcoin rose in Tuesday morning trading in Asia, but failed to break through the US$26,000 ceiling. Ether slipped, while other top 10 non-stablecoin cryptocurrencies by market capitalization were mixed. Solana and BNB led the losers. SEC chairman Gary Gensler doubled down on why he is suing crypto exchanges as two U.S. congressmen proposed a bill to restructure the SEC and remove Gensler. Meantime, Ripple awaits the release of critical evidence that may shape its separate legal battle with the SEC.
Crypto mixed
Bitcoin rose 0.12% over the last 24 hours to US$25,928 at 7:00 a.m. in Hong Kong, gaining 0.8% in the past seven days. Ether slipped 0.66% to US$1,742, posting a 3.6% loss for the week.
Out of other top 10 cryptocurrencies, Solana and Binance's BNB token were the biggest losers.
The two are among those that the U.S. Securities and Exchange Commission (SEC) classified as illegally issued financial securities in lawsuits filed early last week against U.S. crypto exchanges Coinbase and Binance.US. The SEC has also filed to freeze the assets of Binance.US.
Solana lost 2.18% to US$15.20 for a weekly slump of 23.98%. The BNB token fell 2.19% to US$230.60, a drop of 16.08% over the past week.
Polygon and Cardano – two other crypto tokens named by the SEC as securities – gained on Tuesday morning but both are still down more than 20% since the SEC action.
Polygon rose 1.40% to US$0.6434 for a weekly fall of 22.72%. Cardano gained 1.01% to US$0.2755 while losing 21.52% in value in the past week.
SEC chairman Gary Gensler reemphasized the agency's determination to strictly regulate the crypto sector in a repost on Twitter of his statement made last week. "There's nothing about the crypto securities markets that suggests that investors & issuers are less deserving of the protections of our securities laws," Gensler tweeted.
The backlash against Gensler's move to sue crypto exchanges is also growing: #FireGaryGensler was trending on Twitter Tuesday morning in Asia as U.S. Republican Congressman Warren Davidson said Monday he filed a bill to restructure the SEC and in the process remove Gensler. The bill was backed by Republican Congressman Tom Emmer, but would need support from Democrats to go anywhere.
Charlie Morris, managing partner of blockchain-focused venture capital CMCC Global, told Forkast in an email: "Rather than offering transparent regulation, the US is regulating by enforcement. This is resulting in uncertainty for project teams and investors, and markets do not like uncertainty."
Morris compared the U.S. approach to other regions: "It is interesting that this very negative approach to the digital asset sector appears to be localized in the U.S. This morning [UK Prime Minister] Rishi Sunak struck a very positive tone in welcoming Web3, and Hong Kong has seen some very positive developments over the last couple of months."
On Monday, Sunak welcomed crypto and blockchain-focused venture capital investor Andreessen Horowitz (a14z), which is setting up its first office outside of the U.S. in London.
The XRP token rose 1.07% to US$0.5243 Tuesday morning in Asia, bringing its weekly gain to 3.87%. Ripple Labs Inc., the cryptocurrency's supervising entity, was sued by the SEC in December 2020, alleging XRP was offered and sold as an unregistered security.
Ripple Labs Chief Executive Officer Brad Garlinghouse on Monday made reference to the so-called "Hinman documents" named after former SEC director William Hinman, who said in an earlier speech that sales of the Ether token were not securities transactions. The comments are a major point of argument between the SEC and Ripple as Ripple seeks to bolster its fair notice defense.
In a Monday tweet, Garlinghouse said the documents, expected to be unsealed on Tuesday, were "worth the wait."
Rulings in the Ripple and SEC case are expected to have ramifications across the entire crypto industry in setting how U.S. authorities classify cryptocurrencies.
The total cryptocurrency market cap lost 0.58% to US$1.05 trillion in the last 24 hours, while daily trading volume increased by 26.85% to US$30.58 billion, according to CoinMarketCap data.
NFTs lose ground
In the non-fungible token (NFT) market, the Forkast 500 NFT index lost 1.64% to 2,974.36 in the 24 hours to 8:30 a.m. in Hong Kong. The index is down 9.69% for the week.
Total NFT sales fell 10.56% to US$19.3 million. Sales on Ethereum, the leading blockchain by volume, fell 18.31% over the last 24 hours to US$11.49 million, according to CryptoSlam data.
"The market is struggling due to low ETH volume, lowering prices, etc. The SEC filings is really beginning to impact the market," said Yehudah Petscher, NFT Strategist at Forkast Labs, the parent company of Forkast.News.
The Bitcoin network was the second largest NFT network in terms of sales transactions, despite losing 28.04% to US$2.1 million in the last 24 hours.
Inscriptions – the metadata added and stored into the smallest unit of Bitcoin, or Satoshis – may get an upgrade to allow them to be larger than 4 megabytes. "Now an inscription can reference another inscription, allowing more data to be stored and referenced. Generative art, games, etc, can now probably be stored on-chain," said Petscher.
Bitcoin Ordinals and inscriptions are two new features to Bitcoin that were introduced in 2023 — Ordinals are unique identifiers for individual satoshis, while inscriptions are a way to attach metadata to satoshis.
Mythos chain-based DMarket recorded the highest sales as an NFT collection on Cryptoslam, with US$1.08 million in daily sales. DMarket is a global marketplace for trading in-game NFT items and goods that are powered by the Mythos blockchain.
Ethereum-based Bored Ape Yacht Club recorded the second highest sales in the past 24 hours of US$908,147, but that was a steep decline of 45.51% in the 24 hours.
U.S. stock futures hold steady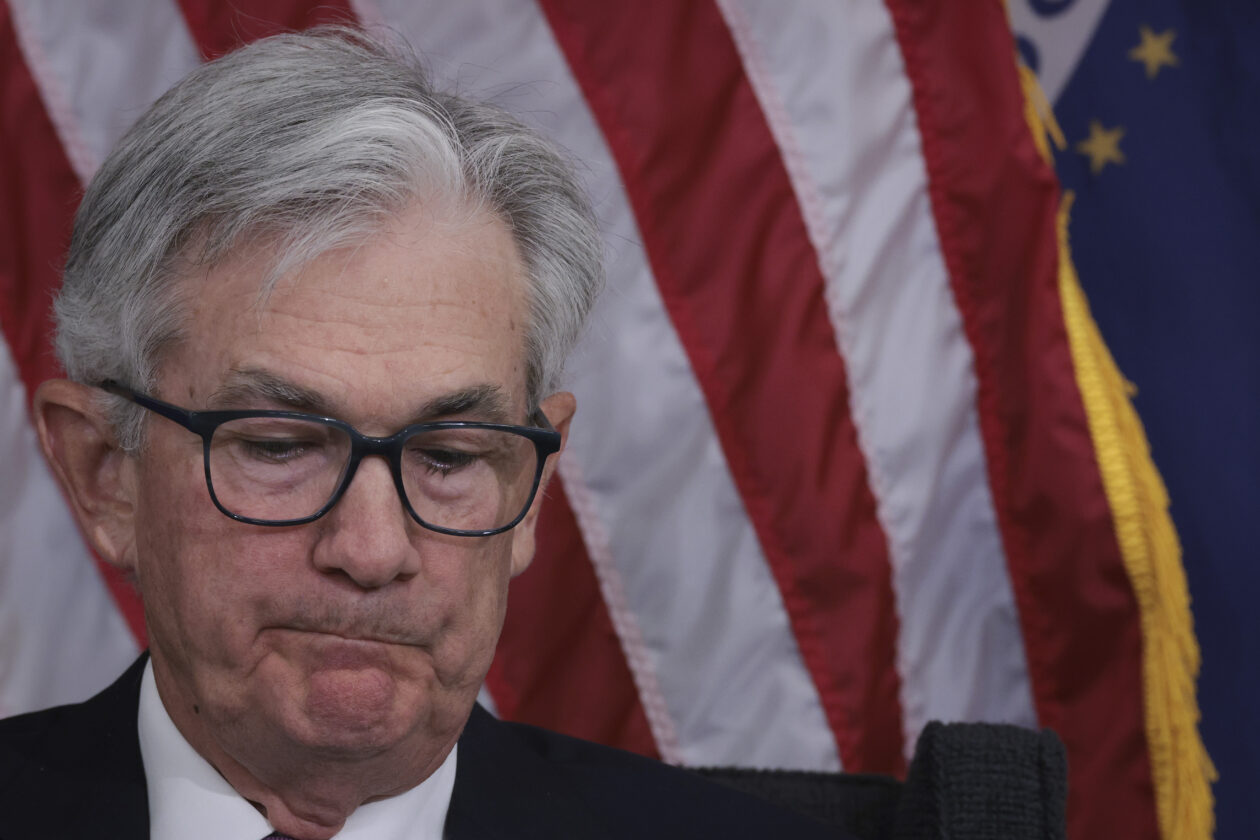 U.S. stock futures were little changed as of 9:50 a.m. in Hong Kong after gains in regular trading the previous day. Dow Jones Industrial Average futures fell 0.035%, while Nasdaq Futures gained 0.17%. S&P 500 futures edged 0.058% higher.
During Monday's regular trading, the Dow climbed 0.56%. The S&P 500 added 0.93%, and the Nasdaq jumped 1.53%.
The gains came on expectations the Federal Reserve will leave interest rates unchanged when it meets on Wednesday, according to TradingEconomics. U.S. rates are at 5% to 5.25%, the highest since 2006 after ten consecutive hikes that started in March 2022 to slow the pace of inflation that surged to 40-year highs at one stage.
"Despite a stubbornly robust labour market and still too-sticky inflation, the markets now expect the world's most influential central bank to pause its interest hike agenda this month," said Nigel Green, founder and chief executive officer of financial management group deVere, in an email statement.
"This will firmly signal that progress is being made in the battle to cool inflation and this will buoy investors across the board, finally providing a boost to sectors which have been unloved so far this year," Green added.
The CME FedWatch Tool predicts a 80.4% chance the Fed will leave rates as is at this week's meeting, and a 19.6% chance for another 25-basis-point rate hike.
However, former Fed vice chair Roger Ferguson told CNBC last Friday that the central bank may raise rates later in the year even if it skips this time.
The monthly U.S. Consumer Price Index (CPI), a key inflation indicator, is released Tuesday for May and expectations are for a reading of 4.1% from 4.9% the prior month to indicate inflation is slowing, according to Reuters.
(updates with equity section)