Bitcoin rose on Wednesday morning in Asia to trade above US$29,700. Ether also logged gains along with all other top 10 non-stablecoin cryptocurrencies. Solana led the winners with an almost 5% jump. The crypto rally followed PayPal's launch of a U.S. dollar-pegged stablecoin on Monday. That coincided with a sharp drop in global government bond yields Tuesday after the release of China's weaker-than-expected economic data. Meanwhile, the Forkast 500 NFT index edged higher on increased trading volumes, while U.S. stock futures traded lower as ratings agency Moody's downgraded several mid-size U.S. banks.
Cryptos rally
Bitcoin rose 2.02% in the last 24 hours to US$29,764.75 as of 07:50 a.m. in Hong Kong and moved up 0.41% for the week, according to CoinMarketCap data. The world's leading cryptocurrency briefly breached the US$30,000 resistance level on early Wednesday morning.
Ether gained 1.61% to US$1,855.88 but was still down 0.82% over the past seven days. All other top 10 non-stablecoin cryptocurrencies traded higher, with Solana's SOL leading the winners. The token rose 4.93% to US$24.19 and logged a weekly gain of 1.07%.
The crypto market received a boost from global payment giant PayPal's stablecoin launch on Monday. Known as PayPal USD (PYUSD), the stablecoin will allow users in the U.S. to make transfers to compatible external wallets, pay other customers and purchase foreign currencies using the token.
"PayPal's stablecoin launch is an important development for crypto within the U.S. Although the initial launch is limited, with PayPal's size and global reach, it is likely to impact global stablecoin usage and adoption going forward," said William Cai, co-founder and managing partner at U.S.-based asset management firm Wilshire Phoenix.
"It is another clear signal of institutional confidence that crypto isn't going away and will emerge from this 'crypto winter' stronger," added Cai. "Stablecoin is the grease of the crypto markets. Overall increase in stablecoin market cap will coincide with a major upward trend in crypto prices."
Greta Yuan, head of research at Hong Kong-headquartered digital asset exchange VDX, said that while it is not the first time major institutions have entered the stablecoin space, previous attempts met with substantial regulatory obstacles.
"The recent progress of a bill aimed at establishing a federal regulatory framework for stablecoins, coupled with PayPal's deep expertise in the payment industry, has the potential to set up PayPal for a more promising growth path," Yuan added
Meanwhile, Ark Invest Chief Executive Officer Cathie Wood said in a Tuesday interview with Bloomberg that she expected the U.S. Securities and Exchange Commission (SEC) to approve multiple spot-Bitcoin exchange-traded funds (ETF) at the same time.
There is now a growing sense of optimism that successful ETF applications from major U.S. asset managers including BlackRock, Fidelity Investments and Wisdom Tree could be the start of large-scale institutional investment in the digital asset space.
Later on Tuesday, Mike Novogratz, CEO of investment management firm Galaxy Capital, reportedly said via conference call that the SEC's approval of a Bitcoin ETF was likely a matter of "when, not if." Issuers of Bitcoin ETF would, he said, "fight like cats and dogs to win market share" once they received approvals.
"This could have caused the 3-4% rally in Bitcoin prices overnight," said Markus Thielen, Head of Research & Strategy at digital asset service platform Matrixport.
"A common pattern is emerging where Bitcoin prices tend to rally during US trading hours but retrace during Asian trading hours," Thielen added. "Nevertheless, Bitcoin is still in a trading range but a potential SEC approval could push prices higher."
The total crypto market capitalization gained 1.71% in the past 24 hours to US$1.18 trillion, while trading volume moved up 9.37% to US$36 billion.
Some pep in the step for NFTs
The main Forkast 500 NFT index inched up 0.14% in the past 24 hours to 2,483.18 as of 09:50 a.m. in Hong Kong, but was still down 0.90% for the week. Forkast's Ethereum NFT index also logged gains, while the Solana, Polygon and Cardano indexes dropped.
Total NFT trading volume surged 64.03% in the past 24 hours to over US$20.4 million, according to data from CryptoSlam. Volume on the Ethereum, Solana, Polygon, and Cardano blockchains all also logged increases, while the Bitcoin blockchain saw a drop.
"Again we're in the green and suddenly there's a little pep in traders' step," said Yehudah Petscher, NFT strategist for Forkast Labs.
"We're really beginning to see the type of NFTs that do well in this market, which is cheaper NFTs with high volume. DMarket, Gods Unchained, Sorare and DraftKings all represent a form of gaming, all are pretty darn affordable, and all have thousands of traders. This is what the future of NFTs will really look like," Petscher added.
Among NFT collections, Polygon-based DraftKings saw the largest 24-hour sales volume. It rose 26.23% to over US$4.12 million for 85% of total NFT trading volume on the Polygon network. The collection is based on sports and betting company DraftKings' NFT games.
Forkast Labs' Petscher said that Paypal's stablecoin launch is providing a timely boost for the NFT industry. The global payment giant could prove successful in onboarding those unfamiliar with cryptocurrencies into the NFT space, he said Tuesday in a video uploaded to Youtube.
"Give them some PayPal stablecoin and then watch OpenSea integrated, and then let them buy Starbucks NFTs on secondary with their PayPal stablecoins," Petscher said. "This is huge for the world of crypto and it's huge for NFTs. This is what building looks like."
Meanwhile, NFTs are seeing growing interest in the art space.
U.K.-based NFT platform ElmonX announced Wednesday that it will partner with international image licensing company Bridgeman Images to mint "Salvator Mundi" — a painting attributed to Leonardo da Vinci — as NFT collectibles. The painting was sold for US$$450.3 million at the Christie's auction house in 2017, making it the most expensive artwork ever sold.
Elsewhere, Chinese artist Yue Minjun on Tuesday launched Kingdom of the Laughing Man — a collection of unique NFTs based on his artworks — on NFT platform LiveArt. The collection has logged a 24-hour sales volume of over US$978,000 and sits third in Crypto Slam's sales volume rankings, right behind Bored Ape Yacht Club.
U.S. equities drop on bank downgrades, China records annual decline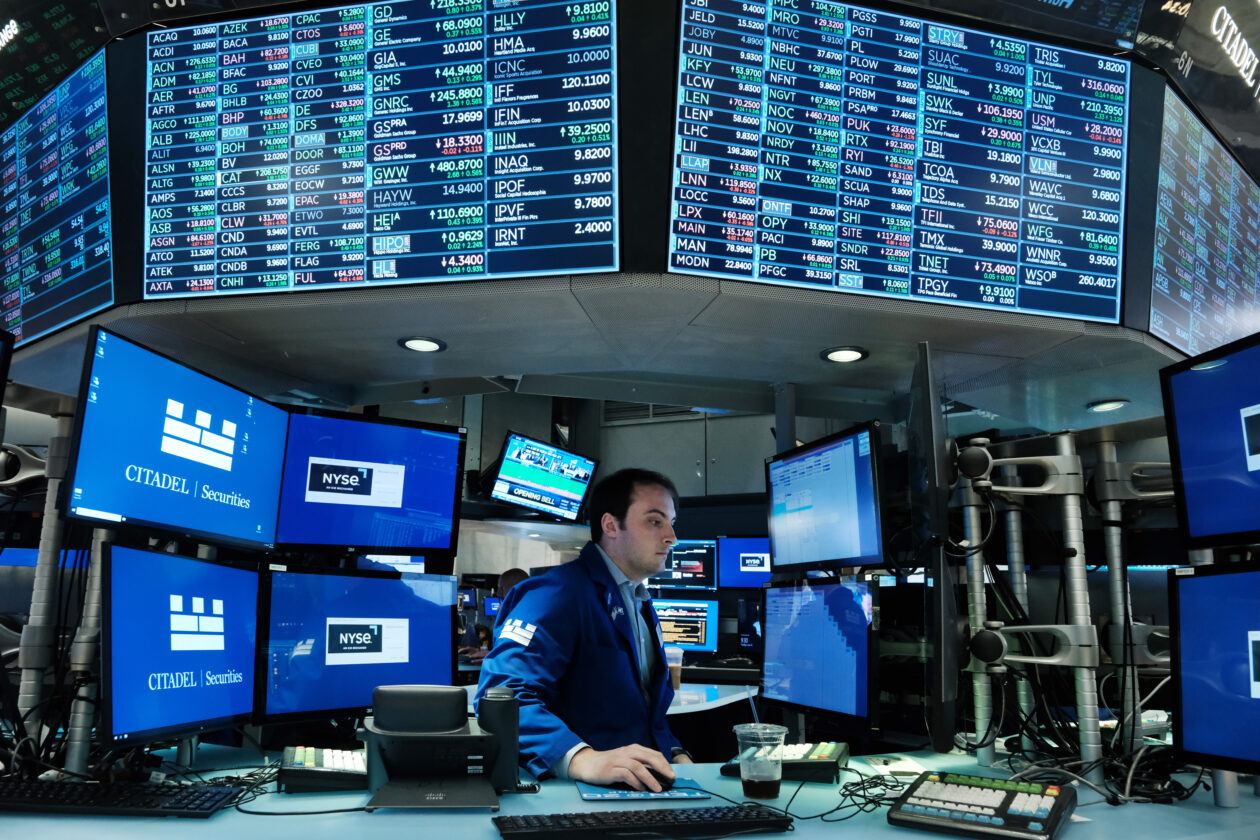 U.S. stock futures traded mixed as of 11:50 a.m. in Hong Kong. Dow Jones Industrial Average futures dipped, while the S&P 500 and Nasdaq futures moved higher. The U.S. stock market closed lower on Tuesday.
In Asia, the main stock indexes were also mixed on Wednesday morning. China's Shanghai Composite, Hong Kong's Hang Seng and Japan's Nikkei logged losses, while South Korea's Kospi rose.
On Tuesday, Moody's Investor Service lowered the credit rating of 10 small and midsize U.S. banks citing funding risks and weaker profitability. The ratings agency warned that it could downgrade several other major U.S. lenders including U.S. Bancorp, Bank of New York Mellon Corp. and State Street Corp.
"I think it's a big deal in the bigger picture of how the economy operates, because regional banks' lending is one of the main lubricants of the economy," said Jason Pride, chief of investment strategy and research at asset manager Glenmede, in a Reuters report published Wednesday.
"If it slows down, the engine just doesn't work as well," Pride added.
All eyes are now on the release of U.S. consumer price index (CPI) data on Thursday. Bloomberg analysts expect the core CPI to rise 0.2% in July, which would be the smallest monthly increase in the past two and a half years.
On the U.S. inflation front, the Federal Reserve meets on Sep. 19 to make its next move on interest rates.
The rate now stands at between 5.25% to 5.50%, the highest level in the past 22 years. Analysts at the CME FedWatch Tool predict a 86.5% chance there will be no interest rate hike in September, and a 13.5% chance the Fed will raise rates by a further 25-basis-points.
Meanwhile in China, the country's July CPI posted an annual decrease of 0.3%. The Producer Price Index (PPI) also dropped 4.4% year-on-year, Chinese state media Xinhua News Agency reported Wednesday.
The dip in July CPI data represents China's first annual decline since February 2021. However, the drop was smaller than the analysts' expectation of 0.4%.
"China is in deflation, for sure, the question is for how long." Robin Xing, chief China economist for Morgan Stanley, told Bloomberg. "It's up to the policy makers how they react."
(Updates with equities section.)