Bitcoin rose on Wednesday morning in Asia to trade above US$27,200, after reaching over US$27,400 earlier in the day. Ether remained flat at around US$1,640. All other top 10 non-stablecoin cryptocurrencies logged gains in the past 24 hours, with Toncoin spearheading the rally with an over 7% increase. The crypto market received a boost from Japan's leading investment bank Nomura, which announced a Bitcoin-based fund for institutional investors on Tuesday. U.S. stock futures traded flat, after Wall Street closed lower on Tuesday ahead of the U.S. Federal Reserve's interest rate decision.
Bitcoin rose above US$27,400; Nomura unveiled Bitcoin fund
Bitcoin rose 1.75% in the last 24 hours to US$27,214.15 as of 07:30 a.m. in Hong Kong and moved up 5.11% for the week, according to CoinMarketCap data. The world's largest cryptocurrency rallied early Wednesday morning to reach US$27,488.76 — the highest price since Aug. 31, but soon retreated.
Laser Digital, a digital asset subsidiary of Japan's Nomura Holdings, announced on Tuesday the launch of its Bitcoin Adoption Fund, which aims to provide "a seamless way for institutional investors to access the digital asset class."
Nomura, which held around US$500 billion in assets under management, is Japan's largest investment bank. The recently launched Bitcoin-related fund is the first in a range of digital adoption investment solutions that Laser Digital Asset Management will bring to the market.
"Technology is a key driver of global economic growth and is transforming a large part of the economy from analog to digital. Bitcoin is one of the enablers of this long-lasting transformational change and long-term exposure to Bitcoin offers a solution to investors to capture this macro trend," Sebastien Guglietta, head of Laser Digital Asset Management, said in the announcement.
Meanwhile, as the equity market awaits the U.S. Fed's interest rate decision on Wednesday, some expect the event to have a limited impact on the crypto market.
"While markets may become volatile during and after the meeting, any sustained directional effect is doubtful. In the current environment, making trading decisions based on macroeconomic data is less helpful due to Bitcoin's reduced correlation with traditional assets," wrote blockchain research firm K33 Research on Tuesday.
K33 also highlighted a slide in Bitcoin trading activities on the world's leading crypto exchange Binance. Binance's seven-day average Bitcoin spot volume had plunged 57% since the start of September, along with the crypto exchange's intensifying regulatory challenges in the U.S.
Ether edged up 0.42% to US$1,643.57 and added 2.96% for the week. The second top cryptocurrency reached a 20-day high of US$1,659.53 on early Wednesday morning.
All other top 10 non-stablecoin cryptocurrencies logged gains in the past 24 hours. Toncoin continued leading the winners, which jumped 7.24% to US$2.58. The native token of the TON Network has surged 41.07% for the week.
The total crypto market capitalization gained 1.32% in the past 24 hours to US$1.08 trillion, while trading volume dropped 12.12% to US$27.29 billion.
Equities tread water ahead of Fed interest rate decision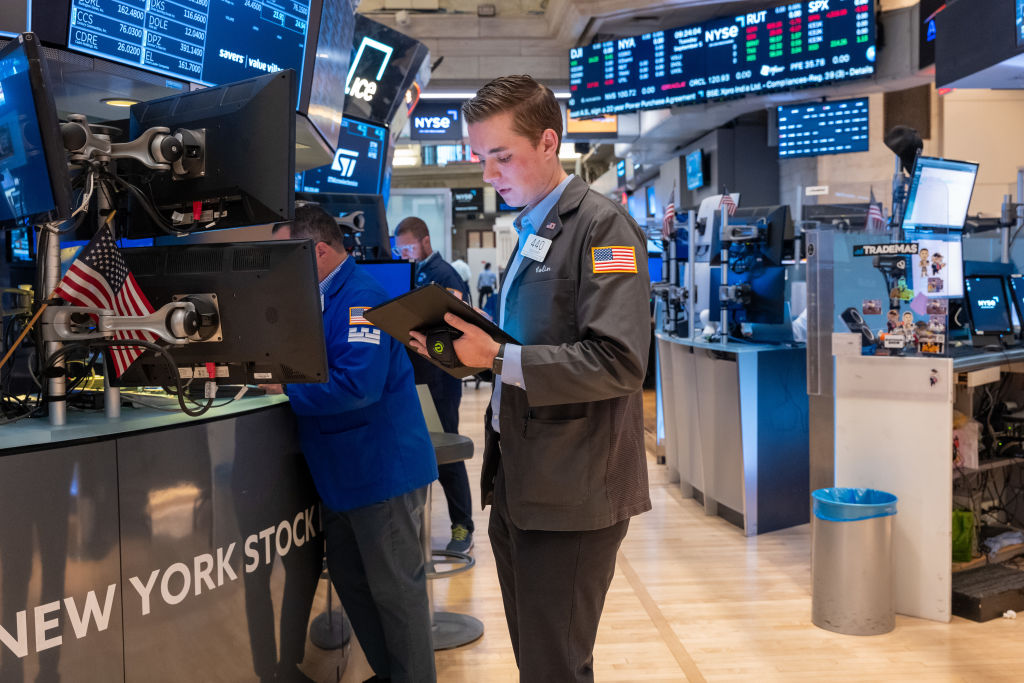 U.S. stock futures traded flat on Wednesday morning in Asia, with all three major U.S. index futures edging lower as of 09:30 a.m. in Hong Kong. Wall Street closed lower on Tuesday, with the Dow Jones Industrial Average leading the losers with a 0.31% drop.
Main stock indexes in Asia were mixed on Wednesday morning. China's Shanghai Composite, Hong Kong's Hang Seng and Japan's Nikkei 225 logged losses, while South Korea's Kospi went higher.
All eyes are now on the Federal Reserve's Wednesday decision on interest rates, which are now between 5.25% and 5.50% — the highest level since early 2001.
It is all but certain that the Fed will keep interest rates unchanged in September, as the CME FedWatch Tool predicts a 99% chance of no interest rate hike on Wednesday.
However, factors like the rising oil price could make the U.S. central bank take a more hawkish stance in its future monetary policies, as the benchmark Brent crude futures touched a 10-month high of US95.96 per barrel on Tuesday.
"The risks for headline inflation to heat up over the next couple of months are rising and that should complicate what the Fed does," Ed Moya, senior market analyst at the U.S.-based forex broker OANDA, told Bloomberg on Tuesday.
"If core inflation shows it is struggling to continue to drop, the higher-for-longer rate regime will last a lot longer than the market is pricing in," said Moya.
The Fed will also release its Summary Economic Projections on Wednesday, including a dot plot that will provide further insights into the central bank's projections for future economic growth, inflation and interest rates.
"What's being priced into the market is a pause (of interest rate hike) but increased risk that rates will stay higher for longer," Michael Green, chief strategist at the U.S.-based investment advisor Simplify Asset Management, told Reuters on Wednesday. "If (the Fed) announced that they are removing rate cuts in 2024 by raising the dot plot, it would generally be seen as a very hawkish pause."
The CME FedWatch Tool also predicts a 70.4% chance for no interest rate hike in November 2023, down from 71.0% on Tuesday.
Meanwhile in China, the country's central bank kept its one-year and five-year loan prime rates unchanged on Wednesday, as policymakers digest the recent signs of economic stabilization and a weakening Chinese yuan.
"Cuts would be welcome but unfortunately won't be sufficient to stabilize market sentiment," Wee Khoon Chong, senior APAC market strategist at BNY Mellon, told Bloomberg on Wednesday, who said monetary relaxations are possible in months ahead, but for now policymakers seem to be waiting for their recent measures to take effect.
(Updates with equity section.)