If I had to pick one word to sum up the past week in non-fungible tokens (NFTs), it would be "YIKES."
The market has bounced back in the past 24 hours following a brutal week of declines, but this new phase of NFTs feels different from any time we have seen before. Traders are openly discussing having no liquidity and no plans to take advantage of historically low prices across blockchains.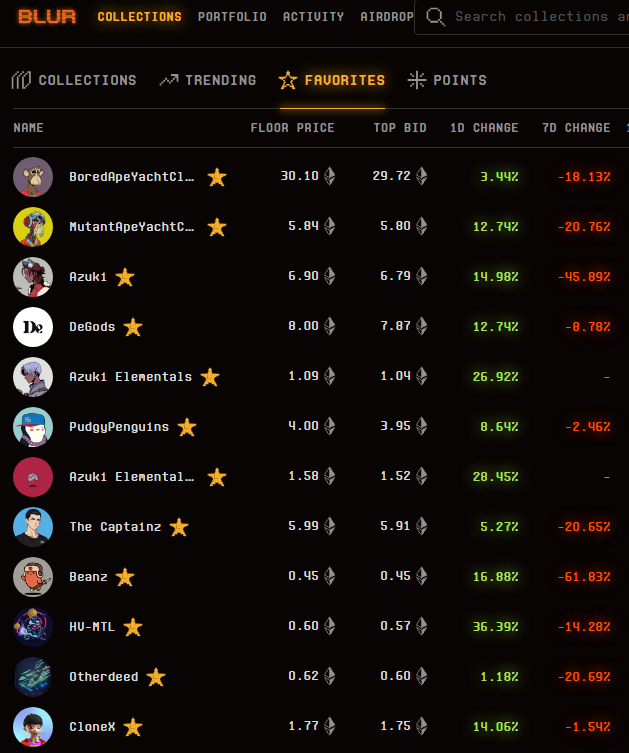 Azuki's new Elementals mint was supposed to be a boom for NFTs and instead was a bust, becoming a catalyst that drove NFT collections down to all-time lows. Maybe it's good that Elon Musk rate-limited Twitter last weekend. 
In just 15 minutes last Tuesday, the Azuki team raked in over US$37 million with the sale of 10k Elementals NFTs (10,000 tokens were airdropped to holders). Just as quickly, their existing collections' prices tumbled when the public and many Beanz holders could not mint, and the collection's art was revealed to be low effort.
Exactly the same art by @Azuki. Floor it & GTFO! pic.twitter.com/MlABr6kNe4

— 0xtc 🧙🏽‍♂️ (@_0xtc) July 3, 2023
Collectors who bought an Azuki or Beanz NFT to secure a free Elementals airdrop, and others who lost faith in the project's future sold their assets while they still held high value. Azuki's floor price fell to as low as 5.8 ETH, down 57% in seven days. The Azuki Beanz fell 68% to 0.33 ETH, and Elementals tumbled to .87 ETH, down 78% from its mint price of 2 ETH.
I'm a "glass half full" guy and still see bright spots in NFTs, and even something majorly positive to point out in Azuki's Elementals. 
The June 27 Elementals mint led to the single highest day of NFT sales on the Ethereum blockchain this year, and actually, the day's US$55 million in sales was the highest since last May 2022.
Sales volume on Ethereum has also been trending up since June 17th, reflecting the sellers hunting for liquidity and buyers being there to buy discounted NFTs.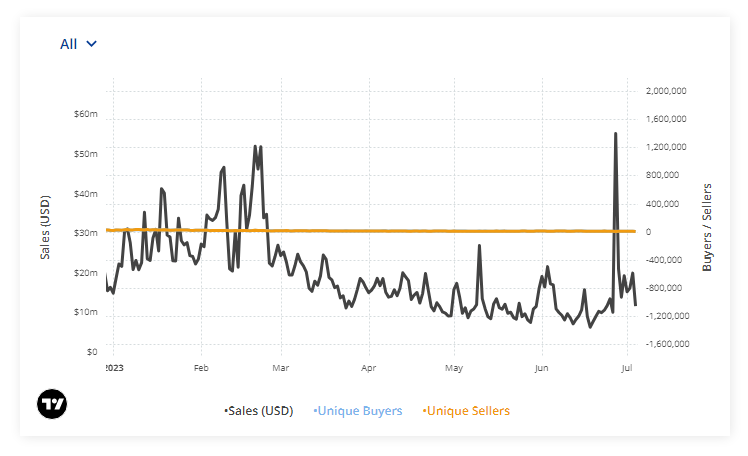 Solana's SMB Barrel Raffle did over US$29 million in sales last week, and while a majority of that $SOL is being refunded, it helped push June 30 to the highest day of primary sales since May 2022, with US$26 million in 24 hours.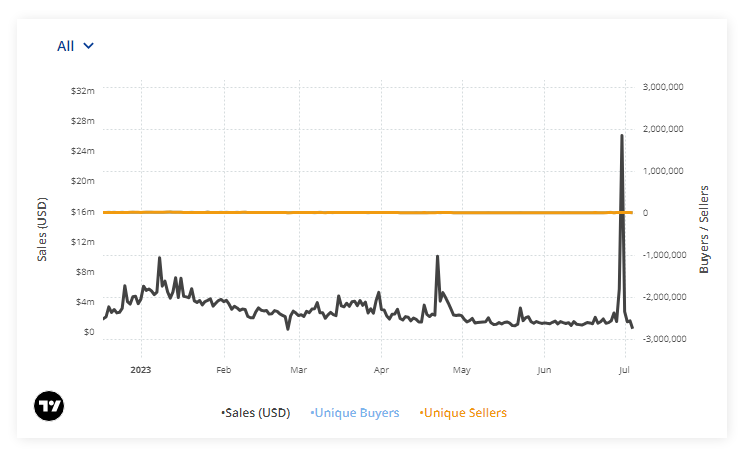 Traders are hoping today's rally isn't just a dead cat bounce and instead indicates that the NFT market has found its floor.
Personally, I think traders are mostly tapped out of funds, and that we have much lower to fall.
Peep the charts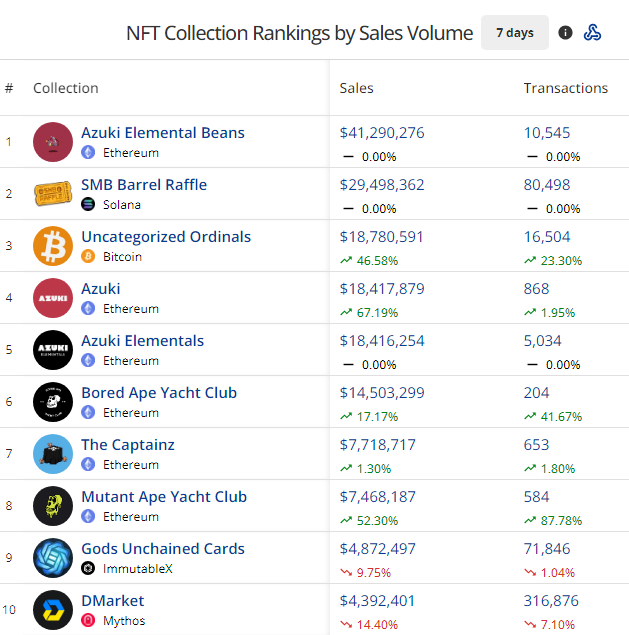 Three newcomers arrive on the Top Ten Collections Rankings with Azuki Elemental Beans, SMB Barrel Raffle, and Azuki Elementals doing sales volume on their respective chains that haven't been seen in over one year.
Azuki Elemental Beans, the unrevealed Elemental avatars, dominated the top 10 this week thanks to their new mint last Tuesday. Its primary sale recorded US$37 million of the US$41 million total, reflecting about US$4 million in secondary action for the collection.
Solana's SMB Barrel Raffle NFTs, which are raffle tickets to mint a Solana Monkey Business Gen3 NFT, brought in over US$29 million in sales. Like Azuki's Elemental mint, this was a high point for Solana since May 2022. Key point — a majority of these funds are being returned to buyers who did not win the raffle.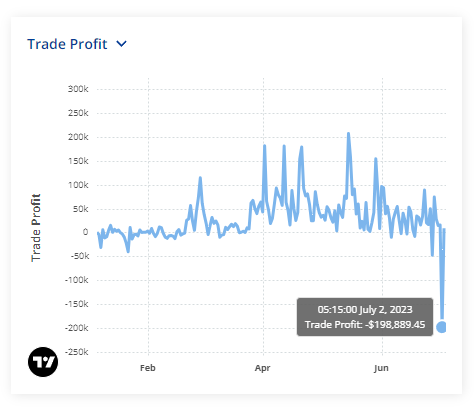 The Captainz from Memeland had their art revealed after months of anticipation. Like Azuki, it also wasn't initially well received, and in a collection where traders normally find profits trading, many were selling at a loss while the collection still commands a 5 ETH floor price.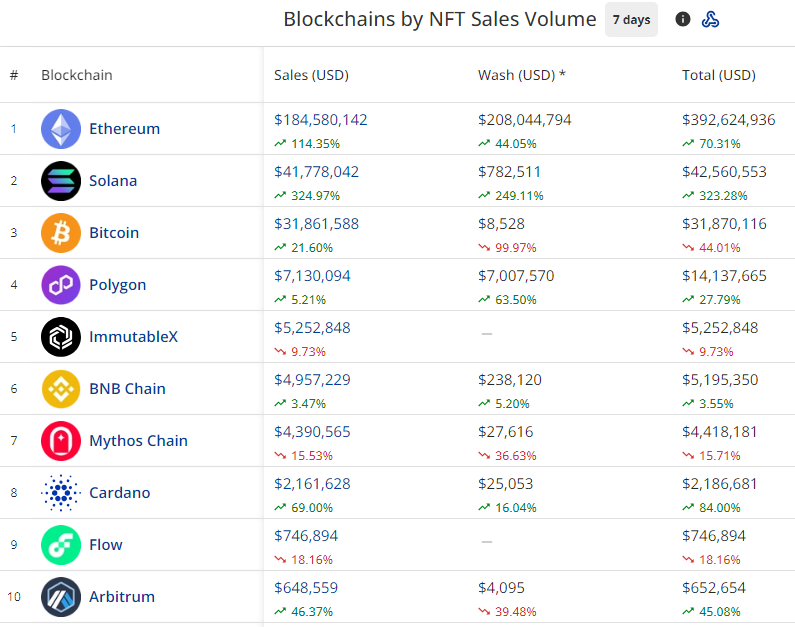 Noteworthy Happenings
NFT Forkast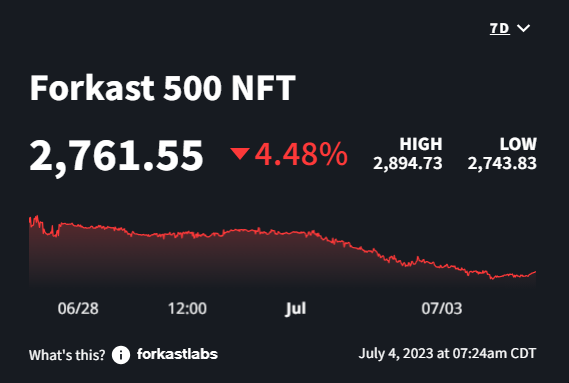 The green we saw last week was short-lived, and the NFT market is down again, continuing the summer's trend of new all-time lows. The Forkast 500 NFT Index reflects declining sales prices across collections on all chains, but it's Ethereum that's really dragging the market down with it. Azuki's struggles exasperated the already struggling market, as the Ethereum NFT Composite shows the chain down nearly 5% compared to Solana, Polygon, and Cardano down 2% – 3%
There's plenty to be optimistic about with NFTs and their future in the digital economy. So whether up or down, as long as traders are trading and the builders are building, we'll keep bringing you the latest happenings from across the blockchain.