Try as it may, the non-fungible tokens (NFT) market just can't seem to find solid footing, even with cryptocurrencies looking stronger than it has in over one year. NFTs' tumble in early June found the market at an all-time low, and while its fall has been broken, we may not have found a new foundation yet.
Prices across many of NFTs' top established projects like Moonbirds, Doodles, and CloneX have reached prices many thought would never be touched, with each trading for under 2 Ether. Cool Cats and Gutter Cat Gang both are hovering around 0.6 ETH, and Bored Ape Yacht Club (BAYC) is having maybe its biggest test to date, with floor prices reaching as low as 33 ETH last week. BAYC's average sales price remains close to its 2-year low, still hanging around the mid-US$ 70,000 range. To cap it off, June is on track to have the lowest monthly global NFT sales volume since last November.
The strange thing is, the NFT community is as optimistic as I've seen them in a while, with many still hopeful that once crypto gains are realized, those funds will flow into the NFT markets. History tells us that when the market recovers, it's usually new projects that see the benefit of those funds, while most existing projects are left behind. It's for this reason that the big-name projects likely still haven't found their floor during this bear market. But make no mistake, some of these collections will rebound in a big way, and some traders are making moves today that they hope to be life-changing down the road.
Azuki has a major mint dropping this morning with a new collection called Elementals. This is easily the biggest NFT drop of the year so far, and it will provide major insight into the strength of the current NFT ecosystem. The new 20,000 collection will have 10,000 NFTs sold via a Dutch auction, with a price that starts at a whopping 2 ETH. I'm watching for the price it sells out at, if there will be a gas war, and if traders liquidate their other NFT assets to play the secondary market.
If the collection struggles to sell out at the top, expect plenty of FUD (fear, uncertainty, and doubt) across the NFT community. On the flip side, an instant sell-out and hot secondary market could electricity traders, and be the spark needed to put liquidity back in traders' hands to carry us through the summer.

It's a big day for NFT, and you can be sure all eyes are on this mint today.
Noteworthy Happenings
Peep the Charts
Mostly green week is a welcomed sight for NFT traders
Bored Ape Yacht Club and Mutant Ape Yacht Club sales both are up this week thanks to some of the lowest prices the collections have seen in years.
Azuki and Beanz both benefited from the hype leading up to their Las Vegas "Follow the Rabbit" event, and they remain hot as collectors try to scoop one to secure a spot in today's Elementals mint.
Gods Unchained transactions are up 27% thanks to their new audience from the Epic Games store.
The Captainz continue to show that they're a force to be reckoned with, and its sales are up 47%. Collectors are accumulating the major project from 9GAG, leading up to their $MEME token drop, and The Captainz PFP reveal.
$FRAM and $BTOC show that BRC-20s are still alive and thriving on Bitcoin, even doing well when $BTC itself is pumping.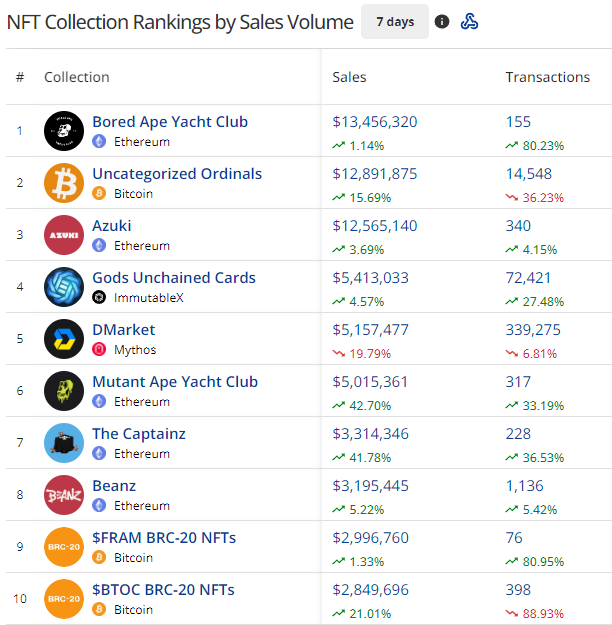 The top 5 blockchains by sales volume are all green this week, riding the wave of positive crypto news.
Ethereum is being carried by PFPs as one might expect, but it's the strength of Azukis and Beanz that was unexpected.
Bitcoin Ordinals are closing in on 14 million inscriptions, and as $BTC itself gets more widely adopted, many believe its ecosystem of blockchain collectibles will benefit in a big way.
Solana is back in business this week with tons of action. June 25th and 26th saw the month's high point in unique buyers and sellers, and total transactions of 98,000 and 83,000 are the most single-day transactions since September 2022.
Polygon is also having a big week following more news about the blockchain's upgrade, along with strong sales in RingRunnerz, DraftKings, and Y00ts collections.
Immutable X secured the #5 spot thanks to Gods Unchained's continued massive sales.