Articles by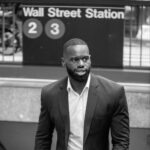 Solo Ceesay
Solo Ceesay is the New York-based CEO and co-founder of Calaxy, a Web3 social platform for creators and fans. Before co-founding Calaxy with his business partner, Brooklyn Nets player Spencer Dinwiddie, Solo worked as an investment banker at Citi after graduating from the University of Pennsylvania's Wharton School of Business. Solo was named one of Hollywood's New Leaders of 2022 by Variety magazine, and has brought his financial expertise to many audiences including Nasdaq and CNBC as well as on his own podcast series with Dinwiddie, New Money. You can follow Solo on Instagram and X (Twitter).
November 2023
Reddit's shortsightedness and fixation on profits ultimately led it to pull the plug on Community Points. But here's why Reddit should still be commended.
November 2021
Pay-for-play on Web 3.0 will instigate seismic shifts from centralized social media to community-driven platforms, writes Solo Ceesay of Calaxy. How would it work?