Articles by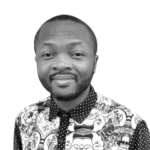 Daniel Segun
Daniel is a professional SaaS and cryptocurrency content creator, with a background in computer science. He has a passion for cryptocurrency and is always learning and adopting new techniques and tools for trading success. When he is not writing, he is probably busy designing graphics.
Daniel Segun
December 2021
Curious to use Bitcoin but don't know where to start? Forkast.News explains how.
November 2021
Algorand 're-imagines' blockchain by trying to solve key weaknesses of Bitcoin. Learn about this wannabe Ethereum killer in this Forkast.News explainer.