Finally a week of green in the non-fungible tokens market and If you've been paying attention you've felt that energy building over the weeks. Whether it was hype leading up to profile pictures like DeGods Season III, or the massive expectations surrounding Wreck League's upcoming mint, NFT traders are very active.
In the past week we saw the highest global NFT sales in a month, with over US$101 million in sales. Rewind back to the week of July 10th to find the last time we crossed the US$100 million sales threshold, when over US$123 million worth of NFTs were sold.
However, just like market cap and floor price are poor indicators of the value of NFTs (see the Forkast 500 NFT Index for a better way), total sales isn't my favorite way to measure the health of the NFT market. Instead, I like to look at the number of buyers, sellers and total transactions, and last week's numbers are pretty revealing.
Total global NFT transactions topped 2.8 million last week which is the highest we've witnessed in the previous 18 months. January and February 2022 are the last times we had higher trading volume when NFTs had reached their fever pitch with the masses. Considering that NFTs are in their most substantial bear market currently, just how parabolic will the next NFT bull run be? Just something to consider.

The four projects I mentioned last week, DMarket, DraftKings, Gods Unchained, and Sorare (I'm going to start referring to them as The Four) combined for over 876,000 transactions across their tens of millions of NFTs. DMarket alone has over 15 million NFTs just for some perspective. These projects together accounted for nearly a third of the total NFT transactions for the past week, and it's a taste of what the NFT ecosystem will likely look like.
The new Animoca-backed Wreck League looks to be following the same game plan as 'The Four', with their new mint this week that will create over 250,000 NFTs. They have two more mints coming this year and I suspect before long we will see their collection cross the one million mark.
Zynga, who at one time boasted that 10% of the world's population was playing their games, now appears to be entering into Web3 a new game called Sugartown. Any guesses what their supply will probably look like?
With NFT supply climbing, and transacting picking up steam, sales prices are falling drastically. Yesterday's average sales price for NFTs fell to US$26.81, a price not seen since the fall of 2020, around the origin of NBA Top Shot and Art Blocks.
Last week I said that we're finding a sweet spot for NFTs, and as the days go by this looks even more and more accurate. Build with the masses in mind with realistic prices, and you'll be building for a sustainable future.
Now we're balancing the edge of a market that on one side wants to fall into the historic trend of late year NFT declines, and on the other, wants to spring to new heights. One way or another Wreck League will live up to its name, destroying trends or wrecking traders wallets. You better believe traders are tuning in to find out which it is.
Peep the charts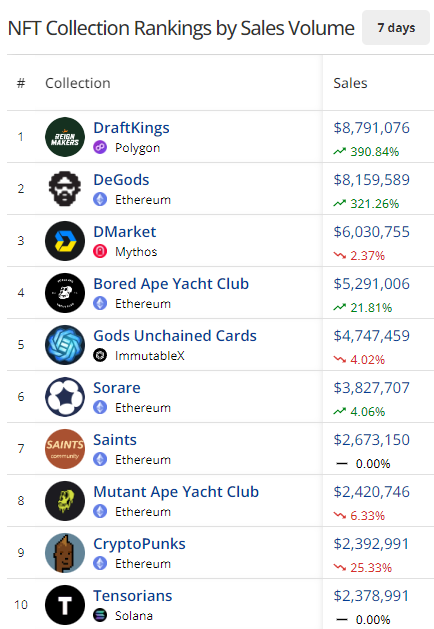 DraftKings had over US$8.7 million in NFT sales behind Fantasy Football NFT packs that sell for up to US$9,999 per pack. Together with DMarket, Gods Unchained, and Sorare, the four collections make up a third of the week's total cross-chain transactions.
DeGods went from fun to FUD, following the poor execution of their Season III art release. While sales volume is up tremendously, their average sale price is tumbling, down to US$9,699. Last month average prices were as high as US$20,000.
Saints go "brrrr" with multiple 26 ETH sales transacting all day long. Only problem is no social network websites can be found, no conversations about the NFTs, and all signs are pointing to these supposed gold backed NFTs maybe not being kosher.
Over 12% of Ethereum's US$67 million in sales came from the DeGods collection, showing how impactful the top PFP collections are to the overall market.
Polygon had another huge week thanks to DraftKings, which represents over 60% of the blockchain's total sales.
Solana saw US$9.5 million in sales, largely driven Tensorians and Tensorian shards combined US$3.69 million in sales.
Noteworthy happenings
Opepen's collaboration with Pudgy Penguins marked the first project collaboration for the hot project. DeGods founder now says it would "be a dream" to collab with Opepen.
Coinbase's Base blockchain launched last week and captured plenty of attention and sales behind DeeKay and Cozomo's art drop. Now Coca-Cola is launching an NFT, bringing back 2021 vibes with brands dropping NFTs.
Wreck League announced supply and rarity details for their upcoming NFT mint on Aug. 17. The Yuga tier Majestic Box will be the most rare NFTs from the 25,000 box drop.
Mobile game juggernaut Zynga announced plans to launch an NFT called Sugartown. It will launch on Ethereum and be capped at 10k NFTs.