From just two companies — PayPal and Walt Disney — engaging in blockchain in 2014, blockchain technology adoption has grown exponentially. Now, 81 of the world's top 100 public companies by market capitalization use blockchain technology, with 27 of them having a fully functioning live product, according to blockchain research firm Blockdata.
Blockdata's latest research examines how many of the top 100 public companies in the world are using blockchain technology, the blockchain companies that they have invested in, and their public stance on cryptocurrency.
Blockchain technology maturing
Of the 81 companies, 65 are actively developing blockchain solutions, while 16 remain in a research phase. Microsoft, Amazon, Tencent, Nvidia, J.P. Morgan, Walmart, Alibaba, PayPal, Samsung and the Bank of China are among the 27 companies with live blockchain operations. "It really shows the technology is maturing among big institutions," said Blockdata's co-founder Lucas Schweiger in an interview with Forkast.News.
"It's clear that blockchain adoption is happening amongst enterprises, with a growing interest by those who have been sitting on the sidelines," Schweiger wrote in a report. "The technology has been praised and condemned in the public eye for many years, but it's becoming more evident that the technology is what has been consistent and stable throughout these volatile price market cycles."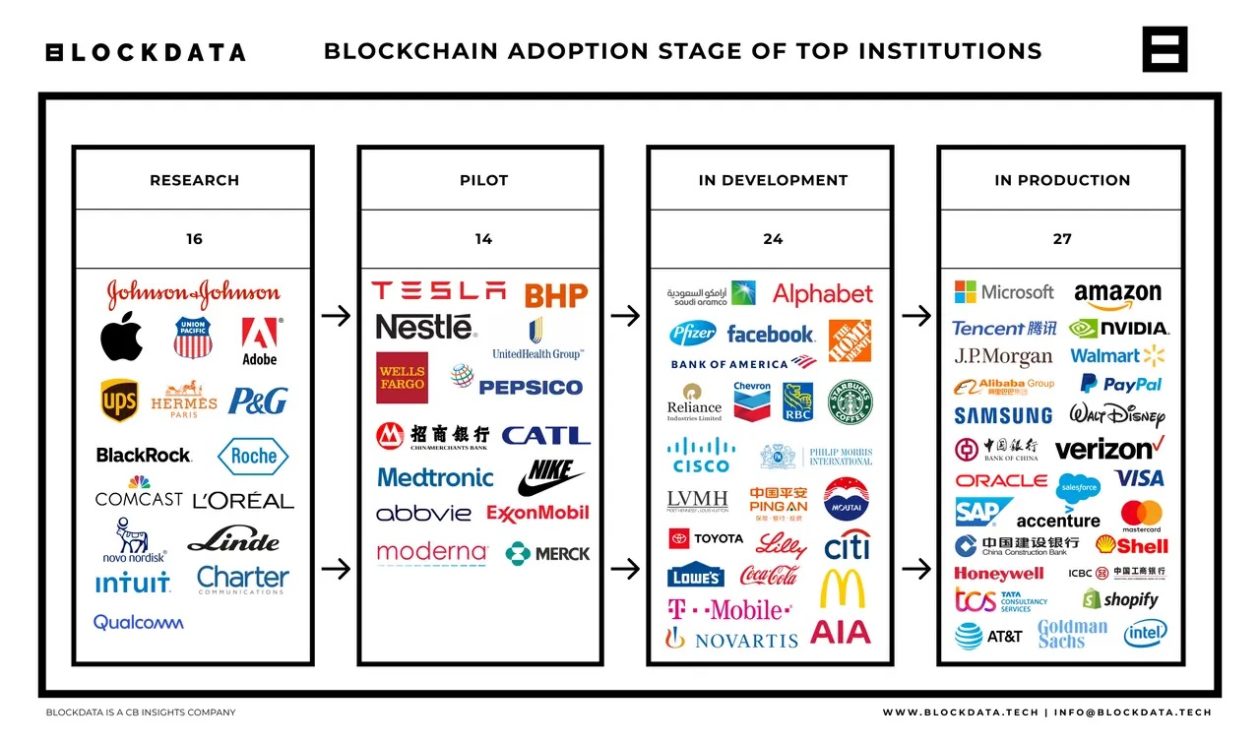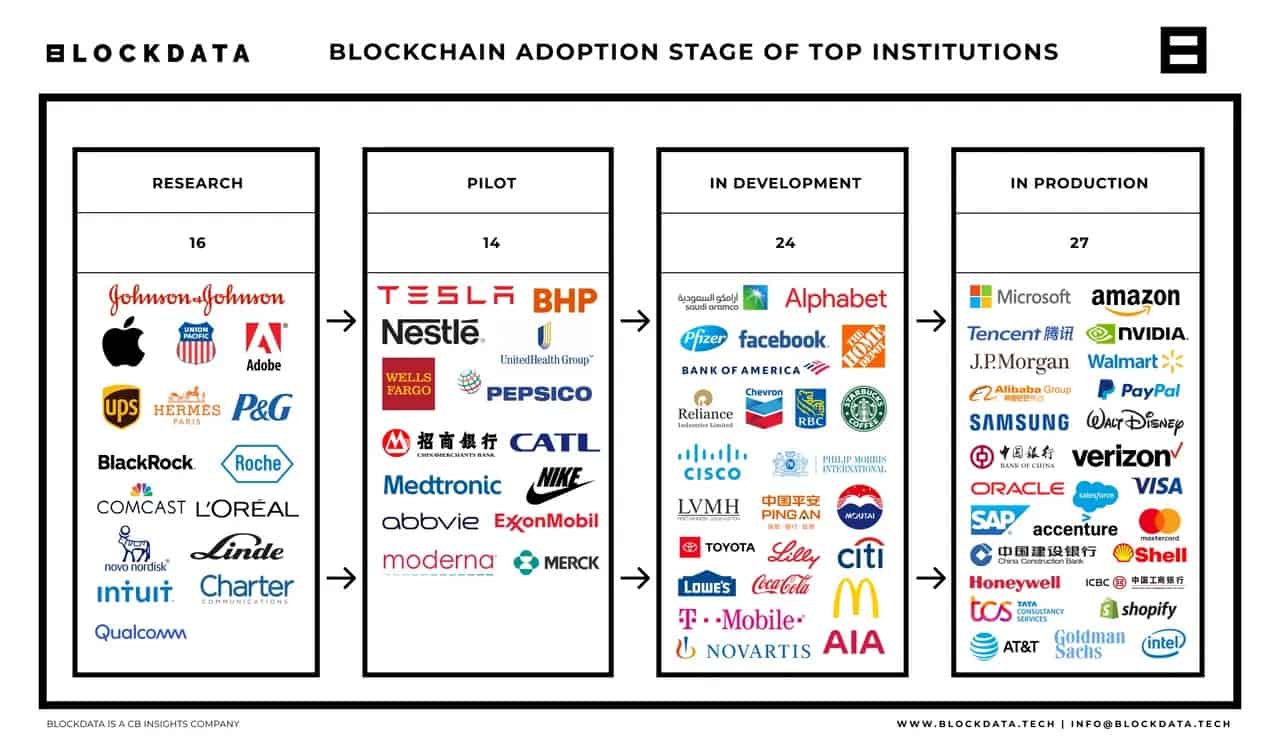 Blockchain infrastructure building
Blockdata's research found that blockchain technology is being used in such areas as payments, identity and reputation, trade finance, banking, supply chain, and logistics, with use cases that include blockchain as a service (BaaS), interbank transactions and traceability.
Building blockchain infrastructure for multiple use cases that include finance or supply chain management has been a key trend. U.S. e-commerce giant Amazon as well as Chinese tech companies Alibaba and Tencent have developed blockchain as a service products that are intended to help other companies build their own blockchain applications. South Korean conglomerate Samsung's tech and security subsidiary Samsung SDS provides an array of blockchain-based products such as an enterprise blockchain platform called Nexledger, a supply chain traceability platform called Cello Trust, and the Samsung blockchain wallet, a non-custodial wallet for Galaxy phone users.
Many large private companies — not included in the report — are also leveraging blockchain. Chinese telecommunications provider Huawei said this week that its Huawei Cloud blockchain has been applied in more than 70 projects in seven major industries, helping companies to build enterprise-level blockchain industry applications quickly, efficiently and at low cost. For example, the blockchain digital copyright service DCI facilitates digital copyright protection. Blockchain technology also makes it possible to trace the authenticity of tea and reduce counterfeiting.
"Enterprises have that key understanding that they need to develop the tooling to further reduce the amount of time it takes to deploy the technology," said Jonathan Knegtel, Blockdata's co-founder and general manager, in an interview with Forkast.News. "This is the groundwork that needs to be done before we can have large-scale adoption in the future."
Blockdata found there are 30 different distributed ledger technologies (DLTs) that are currently being used by the top 100 public companies. Hyperledger Fabric was the most preferred DLT, with 26% of companies using it, followed by Ethereum at 18%, ConsenSys' Quorum at 11% and R3's Corda at 8%.
Tech and financial companies lead blockchain investments
Blockdata also found that 36 of the top 100 public companies have invested a collective US$3.5 billion in 101 blockchain companies through 140 investment rounds. The companies that received their investment funding are mainly focused on blockchain infrastructure, payments, enterprise services and other blockchain services. Technology and financial companies have led the blockchain investments, with Alphabet — the parent company of Google — the most active investor by far, participating in 23 rounds and investing over US$600 million, according to Blockdata.
But while many of the top 100 companies may be buying into blockchain technology, their stance toward one of the most high-profile use cases of the technology — cryptocurrencies — is more neutral. Only 32 of the companies could be considered to have a positive stance on cryptocurrency.
"Most notably, a number of these 32 positive companies are financial institutions who were historically negative about cryptocurrency, but are gradually changing their mind based on client demand," according to Blockdata's report.
"Blockchain technology is maturing at an increasing rate. Lots of people are working on making sure that the core infrastructure, the underlying data utility, is going to be upgraded. What we're now seeing is the next upgrade in terms of the data networks," Knegtel said. "Blockchain is here to stay."
Timmy Shen contributed to reporting.