SpaceChain's Zee Zheng on bitcoin going mainstream and blockchain in space
In this edition of Forkast Forecasts, SpaceChain's CEO offers his predictions for 2021 on bitcoin's growing importance and blockchain in space.
Welcome to Forkast Forecasts 2021. In this series, leaders, innovators and other visionaries in crypto and blockchain-related fields tell Forkast.News what they see as the most noteworthy industry developments over the past 12 months and their predictions for the new year.
Zee Zheng
Zee Zheng is co-founder and CEO at SpaceChain, a Singapore-based startup that focuses on the integration of blockchain with space technology.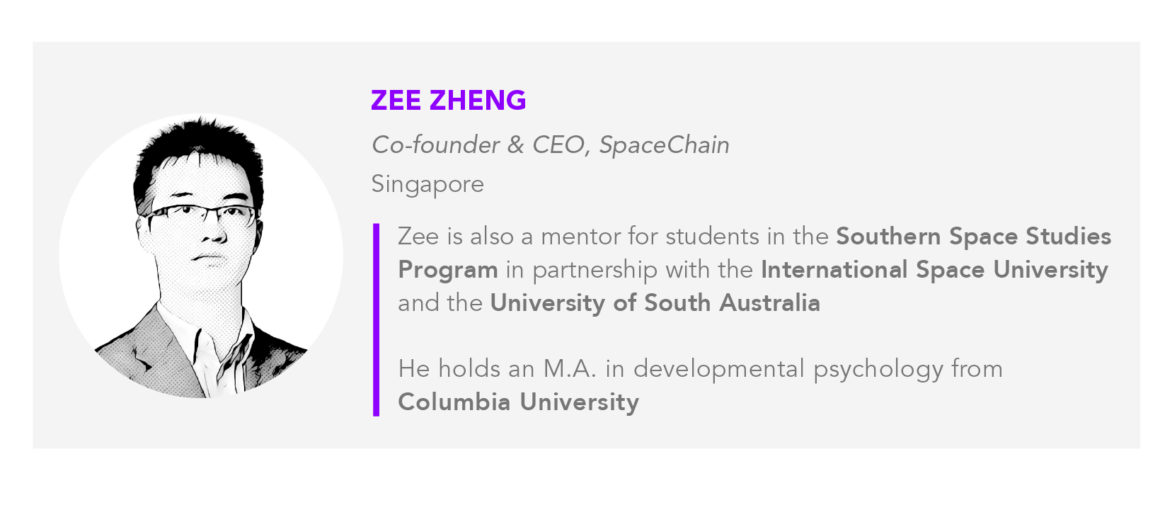 SpaceChain aims to build an open-source blockchain-based satellite network that will allow users to develop and run decentralized applications in space.
See related article: How blockchain can launch more space industry startups into orbit
The company has partnered with SpaceX to launch blockchain payloads into space, and its blockchain hardware wallet was installed on the International Space Station (ISS) in 2019. Last year, SpaceChain completed the first "multi-signature" blockchain transaction in space, sending around 0.0099 BTC (around US$92 at the time) to bitcoin addresses via the blockchain hardware on the ISS.
See related article: Blockchain is shooting for the stars in the new Space Age
Prior to establishing SpaceChain, Zheng co-founded an education start-up. He has spoken on space and blockchain technology at events such as the Milken Institute's Asia Summit and the Space Tech Summit.
Biggest developments in 2020
Bitcoin halving: "It's a very important milestone for the industry because it happens only once every four years. Basically, the difficulty of mining bitcoins is increasing, which means the supply of the bitcoin is getting lower and lower. I find it really exciting because this was programmed when Satoshi created bitcoin, and it is exactly as he planned. And that's the amazing thing about how blockchain works."
First multi-signature blockchain transaction in space: "It's a significant milestone for SpaceChain. I believe it will make a huge impact on the industry because it shows that we are able to store and make transactions of bitcoin in space."
See related article: Blockchain and Space Law 3.0: How smart contracts can help govern the moon and outer space
SpaceChain's grant from EUREKA to develop a decentralized satellite infrastructure (DSI): "The DSI innovation we have is a future constellation [of satellites] that [work] with different companies and different countries' satellites. So instead of one company building up all the satellite constellations, we are thinking of using blockchain protocol to connect with different satellites. We have gained quite a bit of traction from industry partners and also some of the top institutions."
Predictions for 2021
Bitcoin going mainstream: "We have seen big funds, including Grayscale, Ark, MicroStrategy and many others, purchasing a significant amount of bitcoin. And there are also many public companies, such as PayPal, Square and others also purchasing bitcoin. I find it really interesting because only last year we were talking about when bitcoin [was] going to go mainstream. But as we can see, bitcoin is already mainstream."
See related article: Institutional investors blast bitcoin prices to new stratosphere
Retail investors moving into bitcoin: "With the quantitative easing measures, we see a significant increase in money supply. I believe a lot of money supply will [go] into bitcoin transactions, especially in the retail market. How exactly that dynamic is going to go, I don't know, but I think everybody should take a deep look at it."
See related article: Top 3 predictions about bitcoin and other cryptos in 2021
More space launches and satellite connectivity services: "Space is [in] much higher demand because a lot of people are locked up in their houses, remote working with social distancing still happening. The connectivity is much more needed than ever. [For] any kind of space mission, we need to plan two, three, four years ahead. And I think this year, every major satellite player is planning to increase their capacity. The next couple of years [will] see the realization of those plans."
Building SpaceChain's Decentralised Satellite Infrastructure (DSI): "We are also going to continue our DSI innovation as it's now being funded and we have found a very solid partner to work with. We're going to conduct research on how exactly the blockchain protocol [is] going to be written, and how to solve the trust issue between different satellite companies by using the power of blockchain."
See related article: Astronaut Chris Hadfield on blockchain's next frontier: nodes in orbit, and settling the moon