Blockchain Research Institute's Alex Tapscott on stablecoins, DeFi and more
In this edition of Forkast Forecasts, the bestselling author offers his views on crypto regulations, DeFi's rise and digital assets becoming mainstream.
Welcome to Forkast Forecasts 2021. In this series, leaders, innovators and visionaries in blockchain-related fields tell Forkast.News what they see as the most noteworthy developments for this industry in 2020 and their predictions for the year ahead.
Alex Tapscott
Alex Tapscott is co-founder of the think tank Blockchain Research Institute and co-author of the best-selling book, "Blockchain Revolution: How the Technology Behind Bitcoin is Changing Money Business and the World."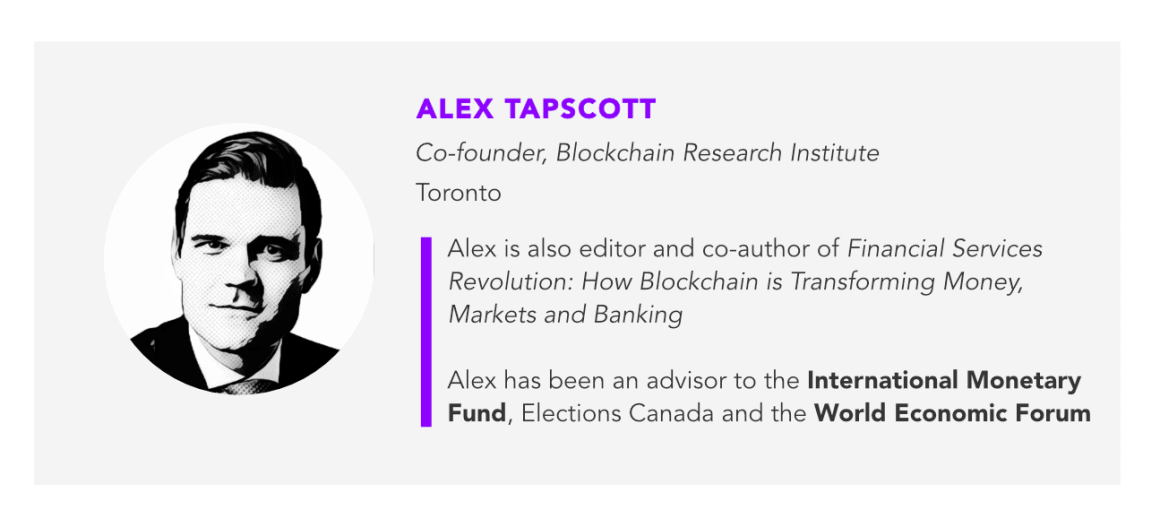 The Toronto-based Blockchain Research Institute, which was co-founded by Alex's father Don Tapscott, has a research program focusing on the strategic implications of blockchain technology in business, government and society. In September, the institute announced its expansion into Europe through a partnership with Blockwall, a leading blockchain investment firm. Commenting on European governments' experiments with central bank digital currencies and other blockchain-related efforts, Tapscott recently told Forkast.News that "regulations are a necessary evil to innovation in business."
See related article: Why blockchain and crypto regulations are 'necessary evil' for US and Europe
Biggest developments in 2020
Massive explosion in the growth of stablecoins: "The value of digital assets that track traditional kinds of currencies like the U.S. dollar grew from a couple of billion dollars to now, I believe, over [US$26 billion] in value [in market capitalization]. Nowadays, you're starting to see the use cases that expand to other areas such as remittances and payments. And interestingly, recently we saw that the U.S. government partnered with Circle to use the USDC stablecoin as a payment rail for the Venezuelan government in exile, which I thought that was an interesting kind of synthesis of technology and politics."
See related article: Proposed US law would require stablecoins to be 1:1 dollar-backed
A year of experimentation around decentralized finance (DeFi) : "DeFi has actually been around for a year and a half or two years before this year, but it was so small that nobody paid attention. It's going to be interesting to see how that matures. So, 2020 I would define as: lots of interesting experiments and ideas, but a few too many get-rich-quick schemes and too many people getting sucked into the potential for outsized returns without understanding the underlying thing that they were investing in."
See related article: Is DeFi a $10 billion Ponzi scheme?
Crypto assets' shift to mainstream: "Towards the end of the year especially, we start to see major financial services firms changing their tune about crypto assets, and ones that have already embraced it, really doubling down or tripling down on that… Square, for example, actually moved some of its treasury assets into cryptocurrencies, into bitcoin."
See related article: S&P Dow Jones is adding cryptocurrency indices in 2021
Predictions for 2021
Convergence of traditional finance and digital assets: "Increasingly you're seeing the rise of synthetic vehicles that are going to be holding digital assets. So, in the U.S. there's a thing called the 'Grayscale Bitcoin Trust,' and we're starting to see others emerge elsewhere. That will be interesting because it's bridging the gap between the native crypto asset world and the traditional role of the financial services."
See related article: Are US regulators finally warming to crypto and digital assets?
Greater regulatory scrutiny:

"In the U.S., some lawmakers put forth a new bill — the STABLE Act — which would basically regulate stablecoins the way federally regulated banks are regulated. And I think policymakers sometimes don't have access to all the facts. They don't really understand what they're talking about when it comes to deep technology."
One of the unintended consequences of that regulation would be that basically, if you were a node operator, if you were just a part of a network, like Ethereum, and you accidentally validated a block, that included a transaction which involved the stablecoin, you could go to jail, which is ridiculous. This is a ridiculous law and it's the kind of thing that regulators and policymakers need to be very careful about creating new rules, but understanding the consequences."
"So, I think that there's an important role for the government to play in regulating the financial services industry and playing a role in the economy. But I think that they should try and keep an open mind about innovation; that technology is not something to be crushed, it's something to be supported. So this whole issue of regulation, I think as things get bigger and more systemically important, it becomes a much bigger issue."
See related article: Joe Lubin and other prominent crypto leaders decry the STABLE Act
See related article: Why blockchain and crypto regulations are 'necessary evil' for US and Europe
DeFi and reimagining finance:

"What DeFi as a subgroup of the whole blockchain world represents is the ability to reimagine how the world's most important industry — financial services — operates. And this is an industry that is unlike any other industry, it is the plumbing of the global economy and the lifeblood of the global economy. And it affects every single person and every single business in deeply profound ways."
"What we're talking about is the biggest prize in business, basically, the potential to reimagine and hopefully improve the way financial services work and in so doing, create new products and services, reduce barriers for capital, improve access to the nuts and bolts and maybe more of what the industry does. And these are all really important goals and we should be working towards them."