Zooming from East to West: 10 tips for teaching and public speaking online
Online teaching and presenting are not just for these Covid times, but part of a revolution in how we work and learn. Master these skills for career success.
The Covid-19 pandemic keeps spreading with no end in sight. Close to 4 million cases and more than 260,000 deaths worldwide. And much of the planet in some form of lockdown. 
People around the world have been forced to work from home, struggling to adapt and survive. To do our jobs, go to school and stay in touch, many of us are now using an online video meeting app called Zoom. The company's stock has become so hot that Google and Facebook recently announced they are launching their own rival platforms.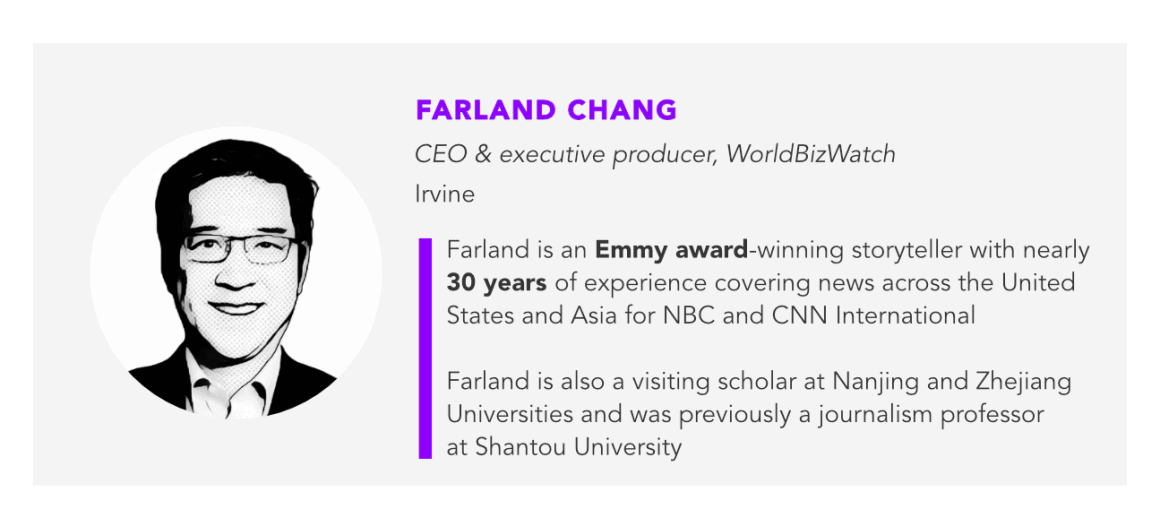 Learning how to Zoom effectively has become a top priority, especially for those in the business of communicating to live audiences, from teachers and professors to corporate trainers and other public speakers.
As a professor, I know that online classes offer an emergency solution. Anything in these lockdown times is better than nothing. But as a former news anchor at CNN in Asia and national correspondent at NBC News, I also know the power of video storytelling. After immersing myself in Zoom tutorials, I realized there were some missing pieces, and I found myself bringing my experiences in TV reporting and multimedia production into my Zoom storytelling for an audience.
See related article: Forkast Extra: A TV anchor's guide to videoconferencing in style in these turbulent times
Here is what I've learned after 12 weeks of teaching on Zoom, which I am now sharing in hopes of helping others in professional roles that require presenting and public speaking.
Lights, camera, action!
"We cannot change the direction of the wind, but we can adjust our sails," as country music legend Dolly Parton likes to say.
Since I teach communications, I thought I would use Zoom to put on a "live show." So I converted my home office into a mini green-screen studio.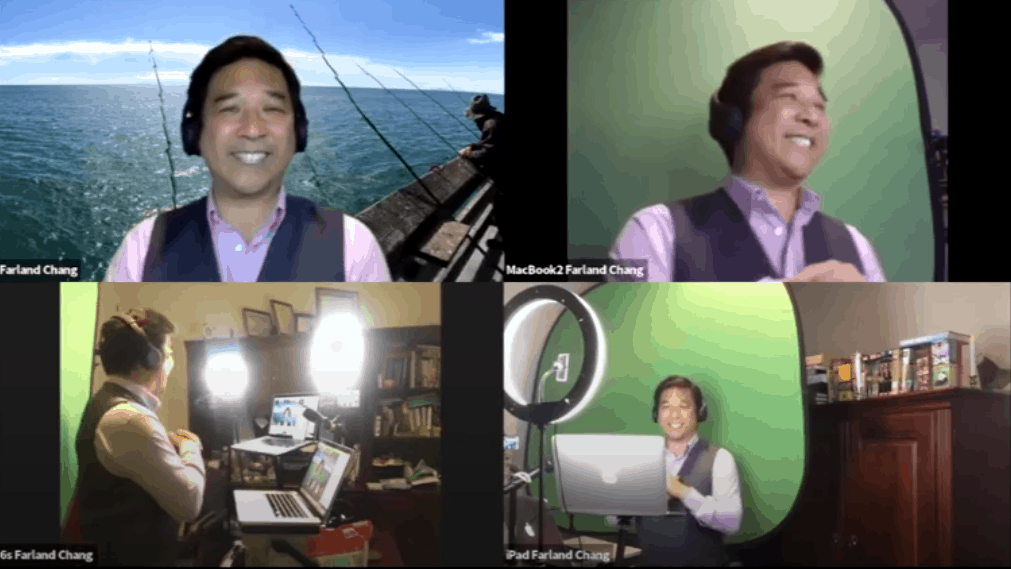 Back in February when I first started Zooming from my home-rigged studio, my kids thought this setup was crazy. But suddenly, time has caught up to them. They're back home from college now, using Zoom and appreciating good teaching via Zoom as well.
Most of my online classes have fewer than 80 people. But in one special lecture, I spoke to a lot of students all across China. In fact, more than 1 million.
My talk was organized by Nanjing University, one of China's finest. And given the lockdown, it was a good time to experiment with "distance learning." It was also a collaboration with Yangzi, one of Jiangsu province's top media companies. So Yangzi connected two of its popular online platforms with my lecture on Zoom — and boom! That's how we reached an audience of nearly 1.4 million.
So what's my review of Zoom after 12 weeks? Mostly pleased. There were some hiccups early on, but overall, I see its great potential for online teaching and presenting in the future. I especially enjoy Zoom for allowing me to share my screen with audience members, to play videos for them and to interact with them via live Q and A sessions. In small classes, I can even ask students to share their screen and show their own homework videos, which they shoot and edit on their smartphones. For educators and other presenters, Zoom can be interactive, entertaining and fun as well.
The essentials
What are the keys to successful teaching or presenting on the small screen?
First, think of yourself as a "one man band" in charge of producing and hosting a multimedia "show." You will need to multitask, but practice makes perfect.
Before you get started, invest in good equipment. Virtual backgrounds offer a creative way to teach. Each background picture can say 1,000 words. It also looks best if you have a green-screen popup on a stand behind you plus a ring light on a tripod in front of you. (For a real-world example of the importance of equipment, please see the video accompanying this story.)
Also, try to get a good quality microphone for your computer.
All this extra gear should cost less than $300 USD — a small investment for a great return, especially if you might be teaching and public-speaking from home for longer than just the short term.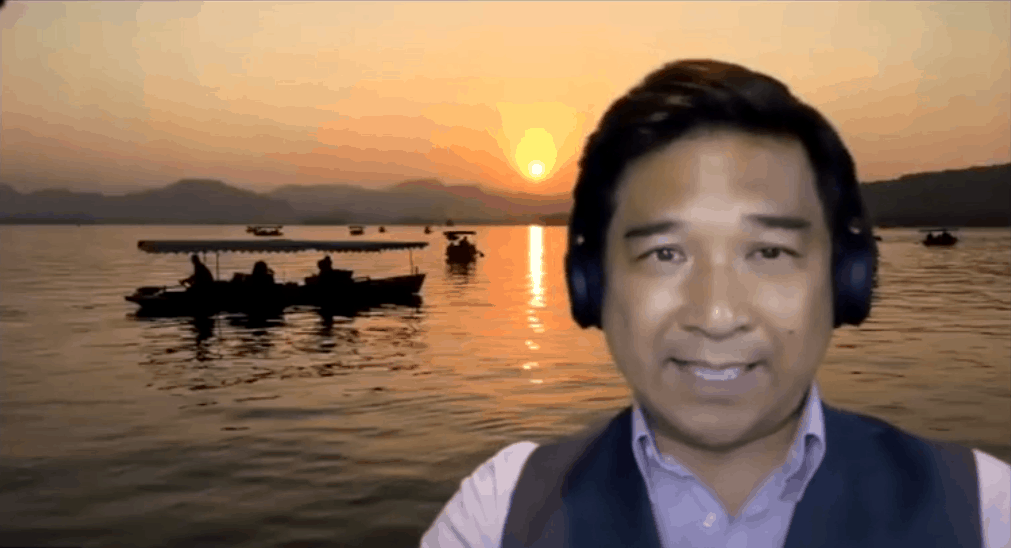 Checklist for Zoom success
So what are my top 10 tips to make you a master teacher and presenter on Zoom? Here they are:
Perform. As teacher or host, you're not acting, but you are performing. So bring your energy and be your best. Communicating on the small screen means you're definitely not larger than life. And you won't enjoy the same electricity as in an auditorium or live lecture hall. But you can make up for all that if you prepare well. Know what to say and how to say it, and give a good show.
Be conversational. Talk into your camera as if you're talking to a friend. This is easier if you have two monitors — one to see your audience, the second to show what's on your screen.
Be Interactive. Two way communication, even if it's just asking your audience to raise hands to say yes or no to a question. Keep your audience engaged.
Use Q and A. The smaller your audience, the easier for people to participate. Q and A gives your talk a chance to "breathe." But if the audience is too large, this can be tough to accommodate, especially on the technical side, if you unmute all microphones and end up with lots of noise. Is Q and A possible for a large audience? Yes, perhaps if an assistant gathers questions during your talk through the Zoom chat feature.
Face to face. My audience enjoys a better experience if they see what I say and how I say it. Likewise, I want to gauge if they're excited — or falling asleep. So, invite everyone in your audience to turn on their own cameras. Hopefully this will encourage them to lean in more and not tune out.
Use at least two monitors. The first one is for you to see your audience and speak into that camera. The second one is for you to see what you share on your screen.

As a media and communication professional, I have used up to five devices serving as my cameras and monitors: two laptops, two iPhones and one iPad. This allows me to present more creative angles, take my audience "behind the scenes" and do more "show and tell." Just don't forget to mute all your devices' speakers and microphones except for the primary device you're using!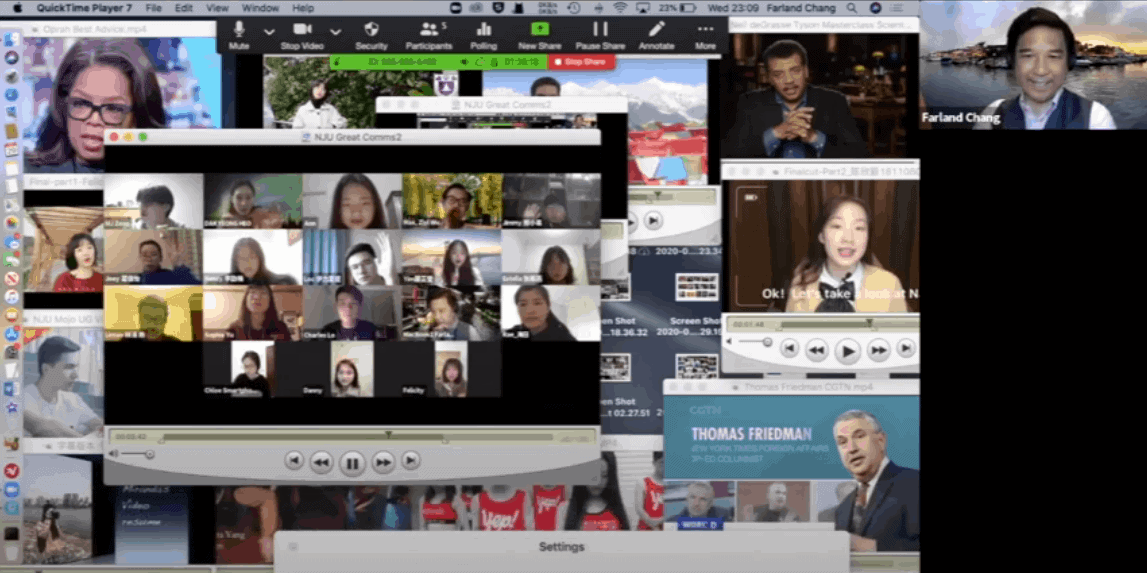 Go mobile, and surprise your audience. With five cameras, I can take one of the iPhones with me, cut loose from my "studio" setup, and give the audience a walking tour wherever I am. Just make sure in advance that your internet connection will remain strong as you move around.
Share videos on your desktop. This can also be great for homework. Students can use their smartphones to shoot and edit their videos, then share on their desktops. The whole class can now see every student in their own world, in action, literally "outside the box."
Stand when you are speaking, with props in the foreground, green screen in the background. The best teachers and presenters are standing up when speaking to their audience. Don't speak while sitting down.

Just like speaking in a lecture hall, I feel and project myself best when I am standing, not sitting. I would normally walk around students seated in a U-shape classroom, but that's impossible online. So instead, I try to use props in front of the camera while speaking at eye level. I also make use of the green screen background to share photos, each of which, again, can say a thousand words.

A great ending. Plan out how your talk will end before it begins. Make it unforgettable. Don't bore. Remember, always leave the audience wanting more.
There is one downside with Zoom: security. And this has led to bad headlines lately, such as intruders called "Zoom bombers." Here's a link to how hosts can take extra precautions. If you prefer technology other than Zoom, most of my tips above apply to other videoconferencing apps as well.
As good as these online classes and presentations can be, they are not as good as meeting in person. But given that won't happen again anytime soon, it might be best to make the most of videoconferencing technology and opportunities available to you now.
And after this global crisis is over, I predict those who master online teaching and presenting will find more professional doors open to them. What you are doing now might not be a temporary solution, but part of a revolution in how we work, meet, teach and learn.
Whatever your message, wherever you are, whoever you're reaching, I hope this helps. And if you have your own good tips, please share with others.
As Albert Einstein once said: "In the middle of difficulty lies opportunity."