World Economic Forum's Sheila Warren expects 'tremendous activity' on China's digital currency in 2021
In this edition of Forkast Forecasts, the head of Blockchain, Data and Digital Assets and member of the Executive Committee of the World Economic Forum shares her views on sovereign digital currencies, and the global regulatory landscape.
Welcome to Forkast Forecasts 2021. In this series, leaders, innovators and visionaries in blockchain-related fields tell Forkast.News what they see as the most noteworthy developments for this industry in 2020 and their predictions for the year ahead.
Sheila Warren
Sheila Warren is the World Economic Forum's head of blockchain and data policy and member of the executive committee. At its annual meeting in Davos in January 2020, the World Economic Forum launched a global consortium for digital currency governance to help create a governance framework for cryptocurrencies as well as stablecoins. In a previous interview, Warren told Forkast.News that greater adoption of digital currencies could increase financial inclusion among the unbanked and help lift impoverished communities, especially those affected by the coronavirus pandemic.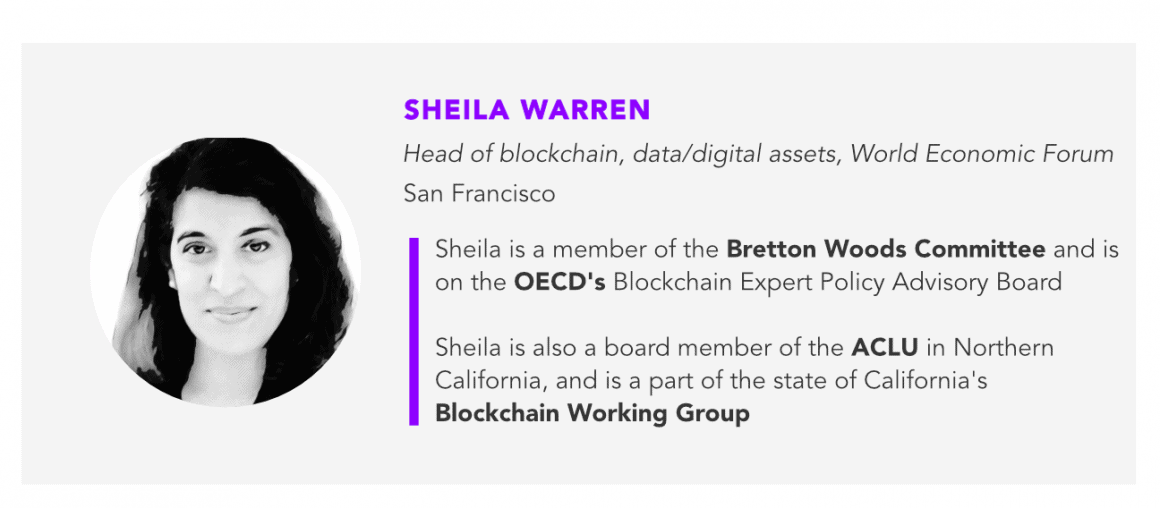 See related article: 5 ways blockchain can help the world better survive Covid-19 and the next crisis
Warren was a Wall Street attorney before turning to philanthropy and nonprofit tech. She is a member of the Organization for Economic Cooperation and Development's Blockchain Expert Policy Advisory Board, the World Bank's World Development Report 2021 advisory board and the Bretton Woods Committee.
Biggest developments in 2020
Big institutions entering the crypto space: "PayPal and Visa's moves [into crypto], MicroStrategy investing in Bitcoin — a lot of this was really interesting. The fact that they're willing to really go big with these announcements was a big deal for the industry."
See related article: Institutional investors blast bitcoin prices to new stratosphere
Increased interest in central bank digital currencies (CBDCs): "We began the year launching our CBDC Policy-Makers Toolkit in Davos in January, which feels like an eternity ago. And at that time, that was pretty novel for a lot of people, the fact that we had put a lot of energy and time into developing something as a toolkit for policymakers not questioning the premise. But really saying 'CBDCs are something everyone should be looking at if you're a central bank,' and 'here's how you evaluate whether it makes sense for you or not, here's a framework to help with that.' And we moved from [those] still early days conversation into what's going on with China and DCEP, and then Cambodia's [Project Bakong], and the Sand Dollar in the Bahamas. So this is now real. These experiments are really taking shape, and that's really exciting."
See related article: Hong Kong and now Australia heating up global digital currency race
Predictions for 2021
2021 World Economic Forum to be held in Singapore instead of Davos: "We saw the importance of continuing to have this gathering of world leaders, and Singapore was a really logical place for a variety of reasons to have it there. Certainly, we'll be back in Davos the following year, so having this one year where we really kind of acknowledge the reality of what's happening in the world. It's not an ordinary year."
Clarity emerging in the regulatory landscape: "We're going to concretize some of those [regulations] and that's going to be really dramatic for the industry in terms of having a final answer to some of the questions that we all have. There's been a tremendous amount of education behind the scenes in the United States. We're turning over a new administration in early 2021 with new people and some key positions. There's certainly more awareness by regulators around this technology and what it can do."
See related article: What are the SEC and OCC's thoughts on digital asset regulations?
Decentralized finance is still in a realm of "fantasy": "Decentralized finance is one of the most promising things that we can think about in this space. I'm really excited about it, but I do think that right now it's still very, very early. And so a lot of what's happening now is kind of more in the realm of fantasy than reality. There's real money to be made, but it's not quite where it's going to get."
Big moves out of China – how will the world respond?: "We're going to see tremendous activity, not just with DCEP, digital yuan, but there's a lot of supply chain kind of work. China is making some really big moves and that's starting to become a little more public. Is the world really going to push back on their conception of what comes along with using a Chinese technology like certain niches or privacy or things like that? Or is the world going to say, 'we've built these processes and systems that really integrate and need Chinese suppliers and Chinese markets in order to function, we're just going to work with the systems that we get,' which I don't think is a bad thing necessarily. So it's a really interesting question how the world's going to react when we really start paying attention to that."