Facebook's Libra will push regulators to take a stance, says R3 chief David E. Rutter
And that's a good thing for legitimizing blockchain and paving the way to tokenize real assets across industries, the enterprise blockchain creator said at Hong Kong FinTech Week 2019.
Facebook's announcement of bringing its cryptocurrency Libra to billions of users worldwide will pressure central bankers and regulators to take a stance — and that's a good thing for bringing legitimacy to the sector, according to R3 CEO David E. Rutter.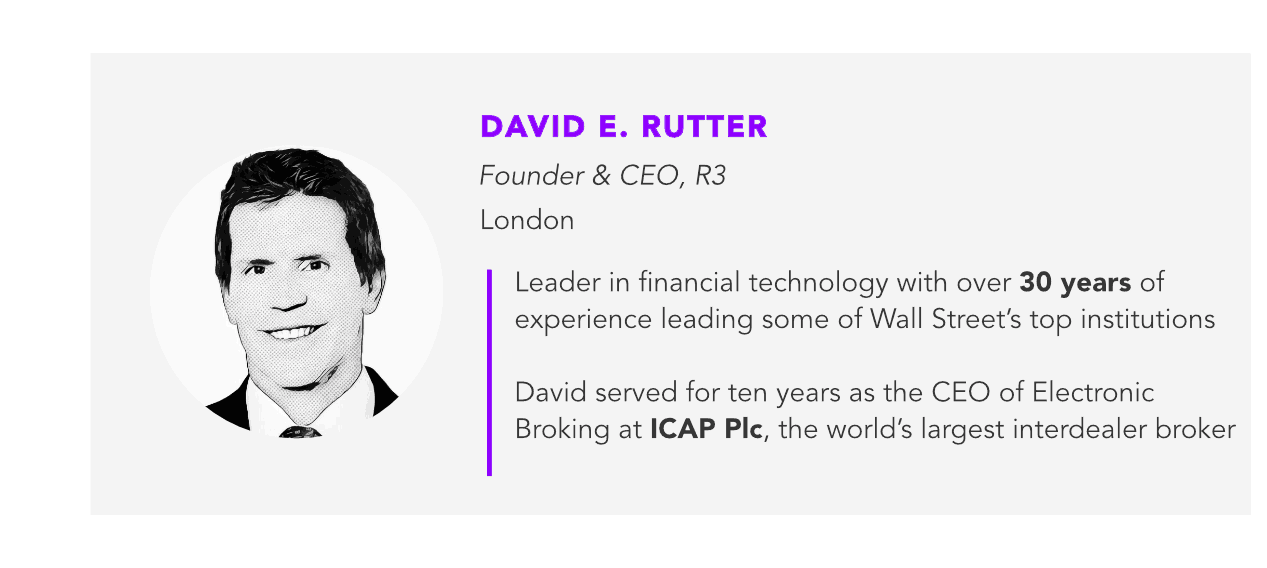 "If we're going to legitimize this world which has been fraught with fraudulent ICOs that are bringing no value, and we really want to tokenize real assets, securities, natural gas contracts, gold, oil, diamonds, art, there needs to be a legitimate secondary market where you as an individual or as a corporation can go and transact and know that it's appropriately regulated," he said.
R3 offers Corda, a DLT, for companies to maintain a shared, immutable ledger of transactions. This enables the financial, health care, trade and digital assets industries to share information in a consistent and private manner, and Corda users can accept or reject new transactions before committing the changes.
Microsoft recently announced greater integration with a commercial version of Corda on its Azure Blockchain Service. "As customers were building end to end solutions, one of the big requests was to make integrating Corda with enterprise data, systems, and Software as a Service easier," said Marc Mercuri, Principal Program Manager, Blockchain Engineering in a blog post.
Rutter also talked about Thailand's Siam Cement Group which is using a blockchain solution built on Corda. Named Procure-to-Pay, the application is designed to facilitate procurement and payment for 2,400 suppliers by 2020.
See related article: SFC Aims to Regulate Digital Asset Trading Platforms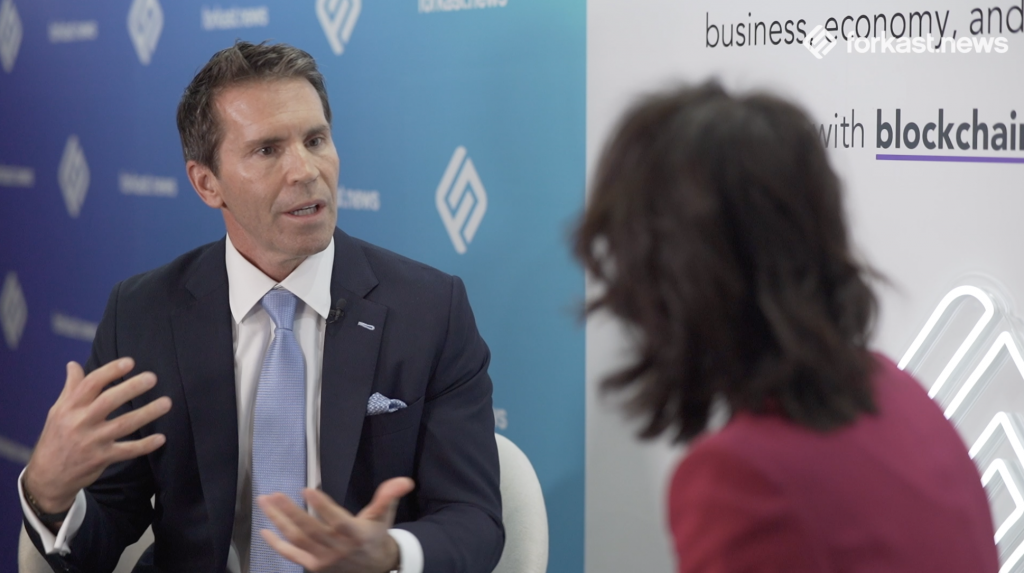 Full Transcript
Angie Lau: Welcome to In Conversation with our very exclusive series that continues right here in Hong Kong, FinTech Week 2019, and we are sitting across from David Rutter, he is CEO, founder of R3. And this is a, would you say a blockchain based, technology based company that thinks about how emerging technology will be implemented in finance. Now, here's an interesting thing about your biography.
David E. Rutter: Can I just stop you right there? "Enterprise software company that uses the power of distributed computing to solve business problems." Maybe that's the best elevator pitch.
Angie Lau: And that's why he is the founder and CEO of R3. And I just sit across from you. You've been in the finance space for a very long time. I started my career in business journalism in 2008. On the floor of the Chicago Board of Exchange.
David E. Rutter: You weren't responsible for that big mess in 2008.
Angie Lau: I was simply a bystander. Many of us were roadkill, unfortunately. But we've kind of emerged, dusted ourselves off. A lot of people are saying, what have we learned? What are the lessons we've learned? Has anything actually improved? You've been in this space. You're seeing the technology. You're applying it in software solutions for enterprise, for finance. Are we getting closer to a solution?
David E. Rutter: Yeah, I think that, as I just mentioned in our panel, there's there's real solutions out there. The technology is live in production, which hasn't been an easy journey for us. As with because it's a brand new technology and the financial institutions, corporates, insurance companies, big banks have pretty hardened I.T. infrastructures. So it's been difficult, but we have a solution. I don't have anyone asking me anymore, "is this for real? Is it going to make a difference?" You know, I think that's a given. And we can move beyond that. We can just focus on what problems is it gonna solve. And I like to tell people like, look, it's not going to fix your cavity, but, you know, it can do a lot because some people think the blockchain technologies used broadly can do just about anything, but they can do a lot.
See related article:The future of money isn't Libra or Chinacoin — it's federated
Angie Lau: Why did you start R3? What was it that you saw that you needed to fulfill in the market?
David E. Rutter: So I appreciate you not saying exactly how long I've been in the finance world, but I have been at it for a long time and ran some electronic exchanges. So on the trading side, I was introducing electronic trading concepts for years and knew how difficult that was. I had left as CEO of ICAP's e-business, had a one year garden leave, which I recommend everyone have at some point their career. It was the same time that bitcoin, and then later, like Ethereum we're starting to take off and the power of cryptology, which allows us to solve problems at a business level without giving up crucial information, in other words, that privacy, which is at the core of everything we do at R3, was interesting to me, but the rest of it made no sense. And you know, like in the early days, I took so much heat about being negative on bitcoin and the like. But if we look at where it is today, it's not used in more retail. You know, shops aren't buying your coffee with it. And I just don't pay attention at all. We're very focused on our mission here at R3.
Angie Lau: And that mission is really kind of creating ripple effects in financial services and financial transaction in the business enterprise space. This is a topic of huge interest here at Hong Kong FinTech Week, obviously with some of the biggest banks in the world. They're all converging here. So what are these conversations like when they talk to you about, hey, how should I think about blockchain? How should I think about Crypto? How should I think about exchanges?
David E. Rutter: That's a great question. And I like to answer by reflecting on who we are talking to now. So two years ago or three years ago, we were in the innovation labs, you know, we're in the experimental parts of the banks. Now I meet with the head of global trade that wants to talk about how can I use your platform to improve my trade finance? How can I use your platform to protect against fraud? How can I use your platform to to help me with KYC issues and the like? So that's the big difference. And now the applications are live and, you know, I mentioned we have over 200 applications that we know of because we have open source. So sometimes applications are being built on that we don't know of that are in the process of going live, and a couple dozen that are live now. And so it's so much easier for me. I just have to find, and I've seen the levels at the bank, find a guy that runs trade, talk to him, find a guy who runs capital markets, let them know what the Swiss exchange is doing. You know, find the folks on the compliance side, let them know how they can use this technology to just completely change the way they do business and it's easier.
Angie Lau: We just heard from Ashley Alder today, one year later when he announced sandbox for a cryptocurrency exchanges and KYC and the like, and really thinking about it from a consumer point of view and how to protect the individual. Fast forward to today. One year later, and he is establishing some very clear rules as to how to regulate Crypto exchanges, digital assets, etc. Do you think that is a move in the right direction? What more does not only Hong Kong need to do, but other jurisdictions in Asia?
David E. Rutter: Of course, I think it's the right move. Look, I don't love regulation. I don't love taxes. There's a lot of things I don't love that are absolutely necessary. And whether Hong Kong gets it right or not, if we're going to legitimize this world which has been fraught with fraudulent ICOs that are bringing no value, and we really want to tokenize real assets, securities, natural gas contracts, gold, oil, diamonds, art, you know, all the things that you can you can think about, there needs to be a legitimate secondary market for that where you as an individual or as a corporation can go and transact and know that it's appropriately regulated. So I applaud this step. I think that the regulators have been slow. There's regulators in other parts of the world that have to move a little quicker, have to be more specific, and over time, we'll have a global regime and we'll really see the kind of token economy take off, in my opinion.
Angie Lau: Well, there's a lot of discussion and controversy about the politicization of technology season in October 24th said blockchain is going to be one of the pillars of how economic growth is going to be experienced in China. That makes a lot of people nervous. Is that the right way to think about it? Where does technology lie in the space between nations, between economies, cross-border?
David E. Rutter: Yeah. So from my perspective in this space, those kinds of statements are music to my ears, of course and I'm excited about that. And also, you know, the whole Libra announcement and the fact that Facebook has a whatever billion, 250 million users, and what that means is really going to kind of accelerate thinking at central banks and regulators all around. I see that as a positive thing. I guess that as far as the geopolitical consequences of it, you know, China has their own approach to this now and their own view on where data needs to be stored. So that's going to be a bumpy road for global firms like ourselves. And China's massive, but they can't do things in isolation. So, you know, I think the two big enterprise blockchain solutions are Fabric and Corda. And if China has some big thing, we've got to figure out how to make these work together if we're going to have global finance.
Angie Lau: What are the opportunities you see in Asia?
David E. Rutter: Well, I love Asia. I mean, there's a gentleman here, Duncan Wong from CryptoBLK, who has built so many cool applications. You know, if you insure your car in Hong Kong, he's built an application on top of Corda that you don't even know that you're using. He's built a trade finance application. He's at the center of Voltron. And that's just here in Hong Kong. We're doing really cool things that HKMA announced today the project that we're doing with them and the Bank of Thailand. Thailand's been super aggressive and super progressive, I should say. And the Siam Cement Company is a big conglomerate that's embracing blockchain.
Angie Lau: Tell us a little bit about that and how that came about.
David E. Rutter: So they're a subsidiary of the Siam Commercial Bank. It's hard for me to follow all these, you know, that builds software for their customer, the Siam Cement Company, to help them completely automate their procurement process on Corda. And the executives have presented that they're achieving a 50 percent savings. There's less reconciliations, less errors. And things are getting paid much more quickly. So I think that we've had an evolution where I've mentioned that Corda we designed in a very specific way, and it wasn't mainstream for a while. But as we're getting into production, people realized, hey this works. The privacy works, the scalability. The fact that if you and I are the only two that need to see data, why do we've got to broadcast it to the 10,000 people here. Makes no sense. So those attributes are paying dividends for us and it's spreading like wild. We have business in over 30 countries right now, and that's really cool. I can't believe I started. I got a little lucky, I guess.
Angie Lau: I think we're both lucky. I think this is a kind of a space and time where technology meets really winds of change. And where we go is anybody's guess. But I think there are those and you're hearing it on Forkast.News, and these conversations are pure examples of innovators like yourselves, the creators and the builders of the future. That is to come. So, David, thank you for sitting down across from me and we'll see you again.
David E. Rutter: It's a pleasure. Thank you very much.
Angie Lau: And if you like this video, all you have to do is, what you do David, you hit subscribe?
David E. Rutter: Yes, let's do it.
Angie Lau: OK. Forkast.News, David, you're going to subscribe.
David E. Rutter: All right. How do you know I haven't already?
Angie Lau: We'll see you there.