Hong Kong Exchange chief says city is a springboard for tech, blockchain opportunities
Despite prolonged social and political turmoil a slowing economy and record cash outflows, Hong Kong continues to serve as an important technology and financial hub, says Hong Kong Stock Exchange CEO Charles Li.
To celebrate the end of 2020, here is a Forkast.News editors' pick from our archives, content that still rings fresh, true and — in a world now measured in nanoseconds — timeless.
Despite prolonged social and political turmoil, a slowing economy, and record cash outflows, Hong Kong continues to serve as an important technology and financial hub, says Hong Kong Stock Exchange Chief Executive Charles Li.
According to figures from the Hong Kong Monetary Authority, $15.6 billion USD was removed from the city's foreign exchange reserves from July to August, the largest decrease since 1997.
Recently, U.S. President Donald Trump signed the Hong Kong Human Rights and Democracy Act into effect, which could have an impact on Hong Kong's economy. Diplomatic and economic sanctions could be levied against the special administrative region as pro-democracy demonstrations enter their 27th week.
However, Li said Hong Kong's function as a bridge to China's financial and technological development was still an important factor amid an ongoing trade war between China and the United States.
"America and China, the two economic powers of the new era, are increasingly going separate ways," Li said at Hong Kong FinTech Week in November. "Our role in Hong Kong, in particular in financial services, is to try and see whether we can control this polarization. We can't control this divorce. But we can be the strong link … to a center of gravity and essentially play the role of connecting them either by system, by people or by technology."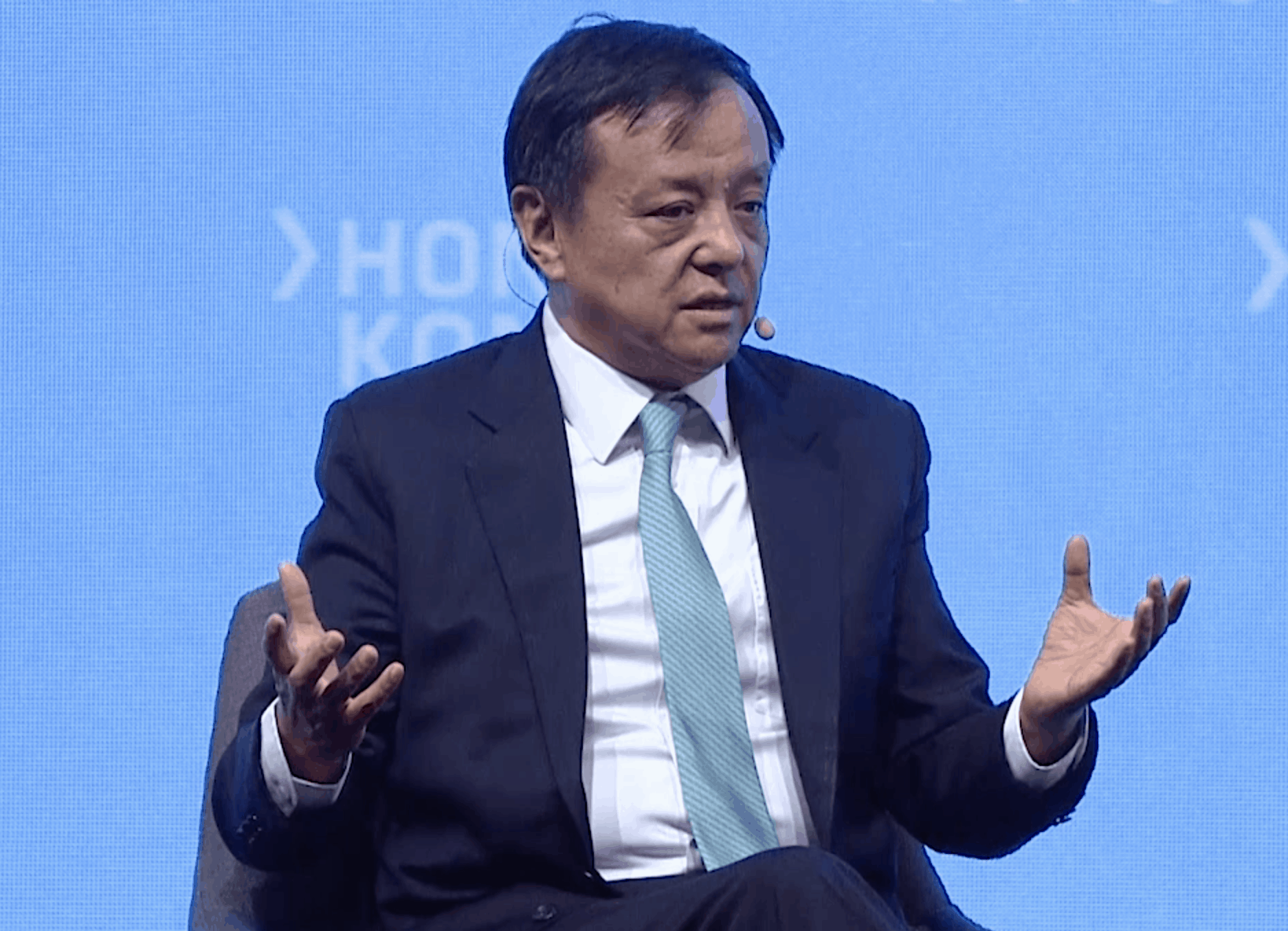 See related article: SFC Aims to Regulate Digital Asset Trading Platforms
Regarding the development of blockchain technology, Li said one of China's competitive advantages is that it is capable of more control over the direction of the economy. In comparison, market economies implement new technologies at different stages.
"Blockchain is very difficult to be implemented in an established, mature economy to replace the incumbent system, because there's just too much resistance and so much vested interest, and there is no real fundamental need," Li said. "But in China, it's slightly different. The government is very powerful [and] has tremendous influence over the economic decisions of all the economic players in the country."
In October, Chinese President Xi Jinping supported the development of blockchain technology in terms of research, investment, and regulations.
"Blockchain plays a core role in the next round of technological innovation and industrial transformation," said Xi in a statement recorded by news agency Xinhua. Xi said that the technology should be boosted to help "China stay on the front line of theoretical, innovative and industrial aspects of blockchain and also occupy a seat in the global regulation-making process of the emerging technology."
Forkast.News Editor-in-Chief Angie Lau sat down with Charles Li to discuss how Hong Kong remains technologically and financially relevant on the global stage despite a changing political and economic environment.