Space Race miners challenged with rapid network upgrades | Space Race Episode 2
Miners have accumulated over 215 PiB of storage power in Filecoin's Space Race, but daily updates have been slowing them down.
This article is based on a sponsored video series in partnership with Protocol Labs and Decrypt.
Filecoin's Space Race, the international three-week contest to create storage space for the Web 3.0 era, is heating up as miners from across six different continents are challenged with rapid network upgrades. More than 340 miners have been competing to build space in the decentralized web ahead of Filecoin's (FIL) upcoming mainnet launch this fall.
How much storage? So far, miners from around the world have created more than 215pebibytes (PiB) of storage since the competition started on August 24. That's more than 225 million gigabytes (GB). If an average laptop can store 256 GB of storage, then the current storage accumulated during Space Race is enough to host more than 870,000 laptops — and this number just keeps on growing.
Achievement unlocked: the Filecoin Space Race just hit 200 PiB!

Don't worry, the fun doesn't stop here… We're thrilled to announce Space Race 2, a second phase of competition building on the massive network grown during Space Race so far. 🚀🎉https://t.co/7uVZ6vpmIa pic.twitter.com/qgc2bcWhIA

— Filecoin (@Filecoin) September 12, 2020
IPFSMain, a team of just two miners, is currently leading the way, contributing over 20 PiB, putting themselves in a position to bag about 160,000 FIL (and counting) in potential rewards.
6Block is hanging closely in second by closing in on 20 PiB, while IPFS-Force has passed on 16 PiB for third place. The top 3 teams of the global leaderboard have the chance to reap almost 450,000 FIL all for themselves.
But the week has been nothing but easy. On top of having to tend to bots impersonating potential clients that come to make new deals every hour, miners have been flooded with daily updates. To test whether Filecoin's network can handle large scale use, miners have been challenged with different simulations including rapid network upgrades and outages of the distributed randomness (Drand) network.
"I have to also upgrade my software, so I'm more tired than excited," said 6Block's Lee White. While teams such as 6Block have found success in Space Race despite rapid network upgrades, not all teams were able to replicate their success.
Teams such as KJ Planet struggled to adapt to the scenarios initially, but are making up for lost time. "Our success rate has been going up from zero percent, now up to almost 50%, back on the storage success deal." said Crystal Han of KJ Planet. "On the retrieval deal success rate, we are 100%. "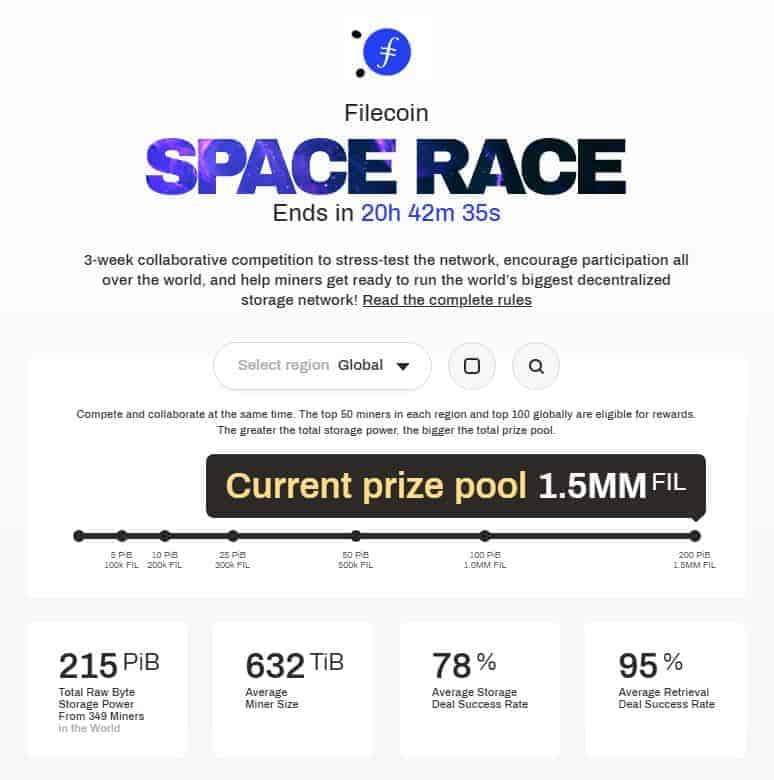 The two main objectives of Space Race is to increase storage power and maintain a high success rate when bots visit every hour. These challenging objectives have meant several teams have had to choose which to focus on to stay in the running.
While some have decided to prioritize efficiency in deals, others have sacrificed this to focus on more storage power. However, such a strategy could backfire: Failure to achieve an 80% success rate by the end of Space Race could lead to disqualification.
As the competition has continued, so has the storage capacity. As it reached 200 PiB, Filecoin has raised the 1 million FIL prize pool to 1.5 million FIL. So there's still plenty to play for.
Real-time updates and exclusive behind-the-scenes contents from Space Race can be found right here — on Forkast.News.