More traditional investors are eyeing cryptocurrency to diversify their portfolios
Traders use commodity trading adviser funds to reduce risk of custody or money laundering, says Jan Brzezek, founder of Crypto Finance AG.
Cryptocurrencies are not known for their stability as an investment, yet growing numbers of institutional investors are diversifying their portfolios with digital assets, according to a survey by Fidelity Investments.
The survey found 47% of institutional investors saw cryptocurrencies as suitable to add to their investment portfolios, and the same percentage of respondents appreciated the innovation behind the digital assets.
Institutional investors are using funds to invest in cryptocurrency and "get exposure without [risk], as it is a cash settlement so you don't have any custody risk, nor do you have any [money laundering risk with] tainted coins. These are issues you have all the time otherwise," said Jan Brzezek, founder and CEO of Crypto Finance AG.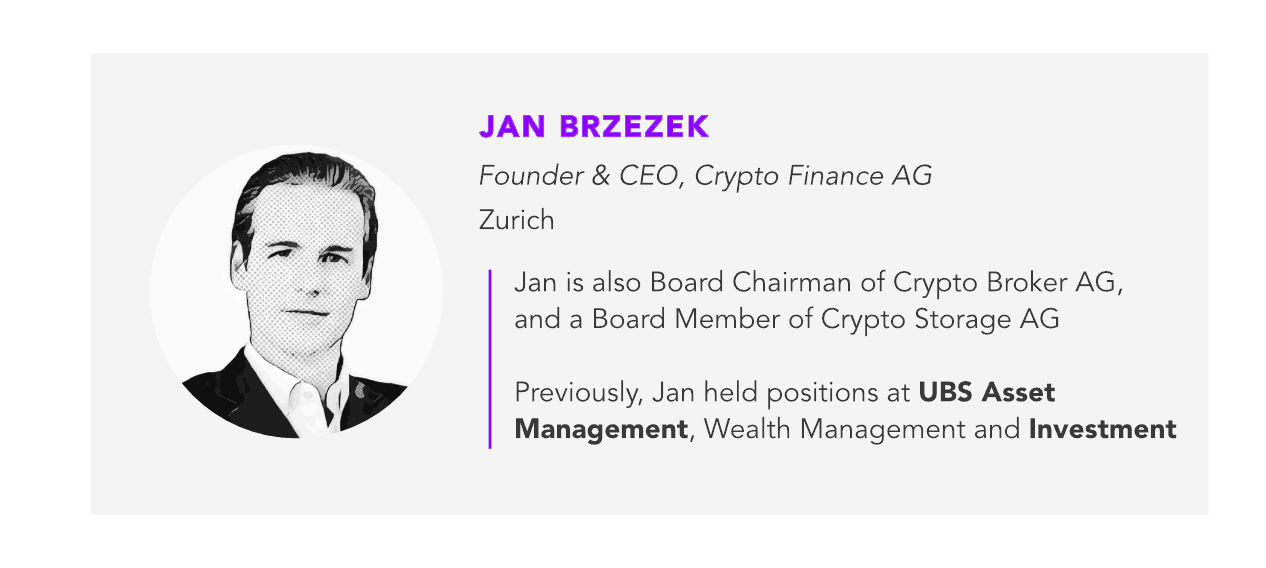 Crypto Finance is a crypto asset management, brokerage and storage platform that aims to mitigate the risk involved in investing in various cryptocurrencies. Despite the volatility of cryptocurrencies such as bitcoin, a growing number of investors are experimenting with them as an asset class.
Earlier this month, the New York State Department of Financial Services granted a license to Fidelity Digital Assets, a cryptocurrency branch of Boston-based Fidelity Investments.
Tom Jessop, President of Fidelity Digital Assets, told Reuters that demand for digital currencies has been changing, and that they are "Seeing strong demand and greater diversity of client types … there are more traditional investors. When we started it was crypto funds and hedge funds."
Nonetheless, Bitcoin prices have recently dropped nearly 50% in value from their highest point in 2019, and is trading at around USD$7,000, according to CoinDesk.
One reason why investors may be seeking out cryptocurrencies is global economic instability affecting traditional assets amid an ongoing trade war between China and the U.S. Moreover, 46% of respondents to Fidelity's survey said that they found digital assets' low correlation to other assets as a positive factor.
Hong Kong may become a testing ground for the use of digital assets as a financial instrument as the city's Securities and Futures Commission (SFC) recently announced a new regulatory framework for virtual asset trading platforms.
SFC CEO Ashley Alder said at Hong Kong FinTech Week that the new rules will cover aspects of financial security including custody, know-your-customer requirements, anti money laundering rules and market manipulation.
See related article: Behind the Scenes Conversation with: Ashley Alder, CEO of Securities and Futures Commission
A lack of regulation for cryptocurrency in numerous countries has been one aspect hindering wider adoption from traditional investors, and observers will watch to see how the legitimacy of obtaining an SFC license will affect the industry.
Other financial organizations experimenting with cryptocurrency include the owner of the New York Stock Exchange, Intercontinental Exchange Inc., and CME Group Inc.
Forkast.News Senior Editor Sam Reynolds spoke with Brzezek on the sidelines of Hong Kong FinTech Week to find out how traditional investors are starting to adopt cryptocurrencies.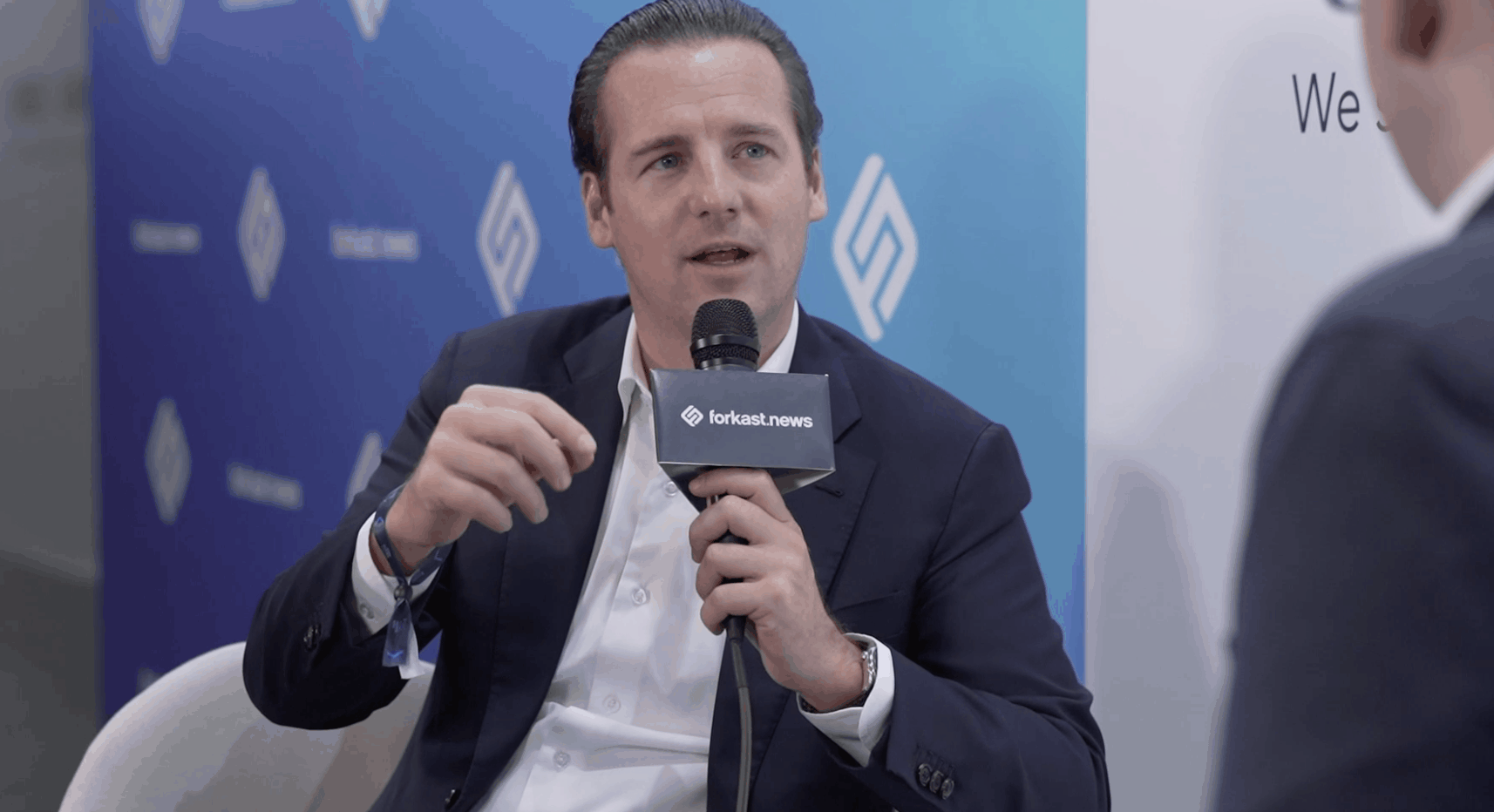 Full Transcript
Sam Reynolds: We are back at Hong Kong FinTech Week and we're talking now with Jan from Crypto Finance. Crypto Finance offers a fund that gives investors some exposure to crypto. Jan, tell us about your product and how would it differ from investing directly in crypto.
Jan Brzezek: Yeah, thanks very much for having me here. We're not just doing asset management, we have two other offers as well, which is brokerage and custody infrastructure. But back to your question on asset management. What we do is we come from traditional finance.
We aim to fulfill all the best practice in the traditional world, and give clients and traditional investors access to this asset class without the operational risk on top, which is normally pretty high in crypto, and that's what most of the investors are still cautious on. That's why they are not currently investing.
Sam Reynolds: Well, that's a good point. When you talk about risk, that is pretty much synonymous with crypto, so perhaps you can go into how this risk is avoided with your products.
Jan Brzezek: So what we do is we set up a CTA fund. That's a long/short fund and algorithmically quant-driven fund where we just go long and short the bitcoin futures at a CME. Currently, the only CME bitcoin futures are the only regulated proper futures which have proper liquidity.
Obviously you have Bakkt now as well, but liquidity there is still rather small. And with that, you can really get this exposure without [risk], as it is a cash settlement so you don't have any custody risk, nor do you have any [money laundering risk with] tainted coins. These are issues you have all the time otherwise.
Sam Reynolds: We had the Crypto Winter, which was a time where crypto assets, be it coins like Bitcoin or Ethereum or other projects, experienced quite a big chill. Talk to me about this Crypto Winter and how you guys survived it.
Jan Brzezek: It was definitely not fun for everyone in the space, but I think it was very healthy. There was such a hype before and now you really see most of the not really professional or sustainable businesses disappear. So you have very good companies here who are strong, tech-wise, business-wise, professionally set or professionally managed, and I think that's exactly what we need in the space.
Sam Reynolds: So we are at Hong Kong FinTech Week. What is your favorite trend you've seen here so far in the show floor?
Jan Brzezek: I think Asia is very progressive in general. For Hong Kong, obviously, as a very big financial hub, it was very important to be here as well and to meet investors, partners, other fintechs. You have very good companies here in Hong Kong in the crypto space.
And for me, it was good to feel a little bit the spirit, and to see what's going on, exactly what they are doing. Maybe we can cooperate. You know, it's this is about an ecosystem. It's not just about you or me. It's about working together and really building this foundation and this technology.
Sam Reynolds: Exactly. Definitely seeing lots of that at the show, cooperation and building a stronger ecosystem. All right. Well, thanks for your time.