ConsenSys' Joe Lubin on Ethereum, DeFi and regulation in 2021
In this edition of Forkast Forecasts, the founder of ConsenSys shares his views on Ethereum 2.0, the dialogue with regulators and trends on DeFi adoption in the new year.
Welcome to Forkast Forecasts 2021. In this series, leaders, innovators and visionaries in blockchain-related fields tell Forkast.News what they see as the most noteworthy developments for this industry in 2020 and their predictions for the year ahead.
Joseph Lubin
Joseph Lubin is co-founder of Ethereum, the popular open-source platform for decentralized applications, and founder of ConsenSys, a blockchain software developer.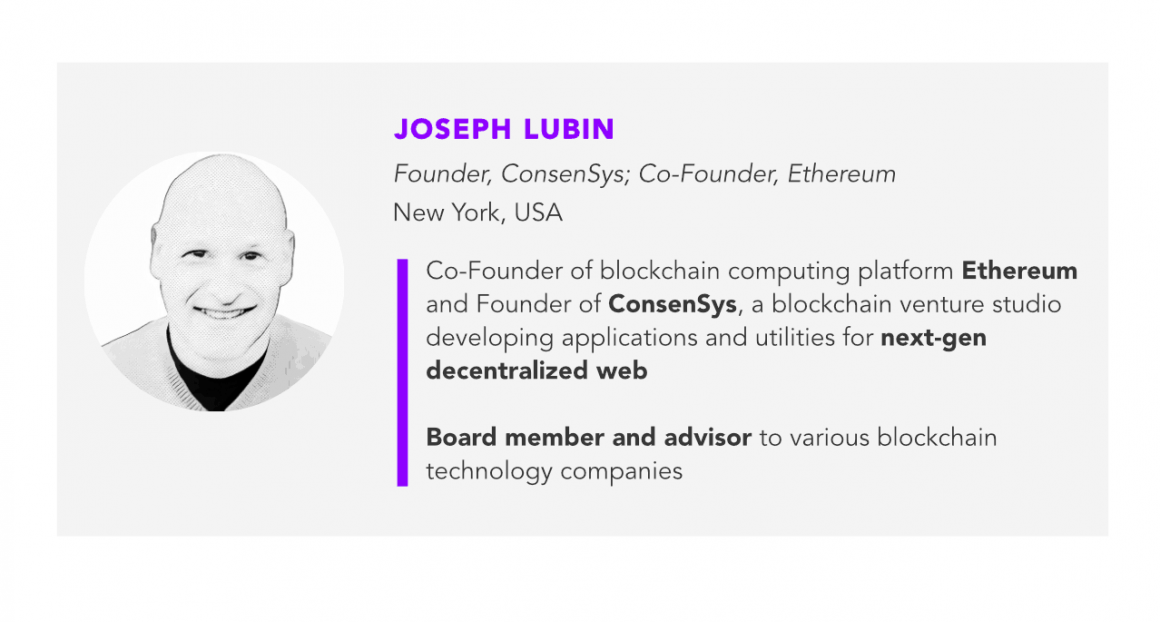 ConsenSys has incubated over 50 projects on the Ethereum network, including Kaleido's Blockchain-as-a-Service, MetaMask's Web3 onramp, Truffle's developer suite, and Ethereum infrastructure provider Infura. Earlier this year, ConsenSys acquired enterprise-grade Ethereum-variant platform Quorum from JPMorgan Chase, which Lubin described as "a match made in blockchain heaven." ConsenSys has also been tapped by more than half dozen central banks around the world to study or develop central bank digital currencies (CBDCs), including Hong Kong's Monetary Authority, the Bank of Thailand and the Reserve Bank of Australia.
See related article: ConsenSys founder Joseph Lubin says Ethereum can be a trust layer for the planet
Lubin is a prominent advocate for decentralized technology and the Ethereum network. Prior to founding Ethereum and ConsenSys, he was director of the New York office of Blacksmith Software Consulting and was vice president of technology in private wealth management at Goldman Sachs.
Biggest developments in 2020
The growth of decentralized finance (DeFi) and the rise of CBDCs: "We've seen open-decentralized finance flourish astonishingly. And so the global economy, monetary systems, nation-state issued currencies are thinking about what they want to be in their next incarnation. And it's looking like they're feeling like they need a next incarnation. Central banks need new ways of implementing enhanced monetary policy that might include taking dirty paper money and dirty coins out of the hands of fragile human beings because they might carry disease, for instance."
See related article: 2021 may be the year of China's DCEP and other digital currencies
On the democratization of financial infrastructure: "We're seeing the democratization of the building and utilization of different protocols for borrowing, lending, insurance, digital asset issuance, full lifecycle asset management, and so many more use cases. And all these protocols are getting wired together in really interesting ways. ConsenSys has done some really exciting things in the enterprise blockchain space. We onboarded JP Morgan's Quorum and have become stewards of the Quorum ecosystem… Our Metamask wallet has grown tremendously in usage."
See related article: Joe Lubin of ConsenSys on acquiring Quorum: 'a match made in blockchain heaven'
Predictions for 2021
On the need for public dialogue with regulators:

"We're going to have to have a dialogue in the coming year about appropriate usage, appropriate understanding, interpretation of [blockchain-related] technology. So there are some discussions amongst regulatory circles in the United States about non-custodial wallets, for instance. And so I predict that the discussion goes well, that people in power in different parts of the world understand that throwing the baby out with the bathwater is the dumbest thing you can do."
"There will be a public discussion in [the U.S.] and others and then it'll go well. It's just such a slam dunk how valuable this technology is. So I look forward to whether it's me or others, to us all having the opportunity to help regulators and politicians understand why we're on the same team."
See related article: Joe Lubin and other prominent crypto leaders decry the STABLE Act
Ethereum's transition to 2.0 stays strong: "Ethereum 2 will very smoothly, unobtrusively, absorb Ethereum 1 applications running on Ethereum 1…. We're already achieving scalability and we're going for global massive scalability within one to two years."
See related article: Ethereum's big transformation arrives with launch of Ethereum 2.0
Increased adoption of public mainnet Ethereum and DeFi: "There's already a ton of capital on DeFi. And so with that capital, with people lending lots of money, there will be lots of companies who see that as very interesting. It will be hard to get cheated or to engage in deals that aren't really crisp and clear because these are financial protocols that are readable. And so I think DeFi is going to be very attractive to enterprise, and I expect between 9 and 12 months that we'll see some significant enterprises using DeFi mechanisms. One of our projects is Infura, which is an infrastructure element that handles billions of queries per day from our ecosystem, and [another is] the Filecoin-IPFS, ecosystem. We just announced a transaction service which enables organizations to pay ahead of time for gas so that they don't have to worry about maintaining an ether wallet and they don't have to."
See related article: Filecoin explained: Decentralizing cloud storage for Web 3.0